UPTOWN — Jerzy "George" Skwarek survived a childhood in Nazi-occupied Poland and life as a young adult behind the Iron Curtain before eventually fleeing to Chicago, where he became one of the foremost photojournalists documenting Polish life in the city.
Now, Skwarek's work is being archived at the Polish Museum of America, 984 N. Milwaukee Ave., where his photos showcasing Polish American life in Chicago will be available for future generations.
Since he came to Chicago in 1971, the 84-year-old Skwarek has worked as a photojournalist, author and travel guide, where he specialized in leading Polish immigrants on tours of America and the world. He has published Polish-language travel books on the National Parks, Florida and an "Around The World" guide and continues to lead domestic and international tours.
But some of Skwarek's most impactful work was for the Polish Daily News, the Chicago-based publication that is the oldest and largest Polish-language newspaper in the country.
After getting a job at a photo lab in the Prudential Building in 1971, Skwarek decided to try to get hired at the Polish American newspaper.
"I said I'm a photojournalist and I have experience in Poland," Skwarek said. "They hired me on as freelance. Then I was doing all the Polish gatherings, the parades and events."
Skwarek's photos showcase life in Avondale and other Polish enclaves in Chicago, which has one of the biggest Polish populations outside of Warsaw. The photos depict a way of life that has changed dramatically, thanks to demographic changes on the North Side and other parts of the city.
Skwarek has also documented some of the most momentous occasions in the history of Polish immigrants in Chicago, including the 1979 visit of the Poland-born Pope John Paul II.
Some of Skwarek's work has been on display for years at the Polish Museum of America in West Town. Soon, however, a much larger portion of Skwarek's photos will be archived at the museum.
"When he brought in the materials, I said, 'Wow, it's special,'" said Julita Siegel, curator at the Polish Museum of America. "It's a great record of that time, and there are so few records of that time."
While he has spent much of his life documenting other peoples' existences, Skwarek's own life reads like a novel, and is the embodiment of the American dream.
Leaving Poland
Skwarek was born in Warsaw in 1935, four years before the Siege of Warsaw that saw Nazi forces kill as many as 40,000 city residents.
He was still a young boy during the Warsaw Ghetto Uprising of 1943, and Skwarek vividly remembers the conflict.
"Everyone was running," he said. "You literally had to run under the machine gun fire" to escape.
After the war, Skwarek worked as a ski instructor in the Polish highlands, where he honed his photography and tour-leading skills. Life behind the Iron Curtain in Soviet-occupied Poland was not easy, and Skwarek dreamed of a better existence.
While working as a ski instructor in the Tatra mountains region, Skwarek met an American who said she would send him an invitation to the United States.
Skwarek came to the United States via Montreal in 1971. He told authorities he was here on vacation (hence the written invitation for proof), though he didn't have plans to leave.
"In Poland, America seemed like a paradise," Skwarek said. "It was impossible to even dream about."
Finding A Home In Chicago
During and after World War II, as many as 450,000 Poles immigrated to America, with many of them settling in Chicago. So when Skwarek managed to make it to America, he followed in family members' footsteps and headed for the city.
With such a large contingent of Polish immigrants in Chicago, Skwarek had no trouble finding inspiration for his photos. He has documented everyday life in communities like the Polish Triangle and covered the visits of Polish dignitaries and entertainers. He photographed seminal events in Chicago, like the election of Mayor Harold Washington and visits from three presidents.
Skwarek's work has been used heavily in the WTTW documentary "A Night On Milwaukee Avenue," which documented the Polish entertainment venues along the street. His photographs serve as source material for the book "Avondale and Chicago's Polish Village," co-written by Dan Pogorzelski, who also worked on the WTTW documentary.
"If not for his work, we couldn't have made the film," Pogorzelski said.
Skwarek's apartment in Uptown is filled to the brim with his life's work. Photos he has shot hang on the walls below boxes and boxes of his pictures. Movies he shot during his travels share shelf space with photo books and memorabilia he has collected from every corner of the earth.
Skwarek is constantly going through his work, and he continues to shoot photos, write and lead tours across the world. (The tours were a passion project that turned into a job, but at one point they served to validate his travel visa. Skwarek has since received a permanent visa to live in the United States.)
Skwarek has taken an active role in archiving his collection at the Polish Museum of America, which plans to make his photographs available on the internet.
Now 84, Skwarek has surrounded himself with his work to remember his "dream" life in Chicago. Plus, he wants to make sure the documents are around for as long as possible.
"I'm extremely proud" of his work, Skwarek said. "I can't let it go, because I want to make sure it's always around."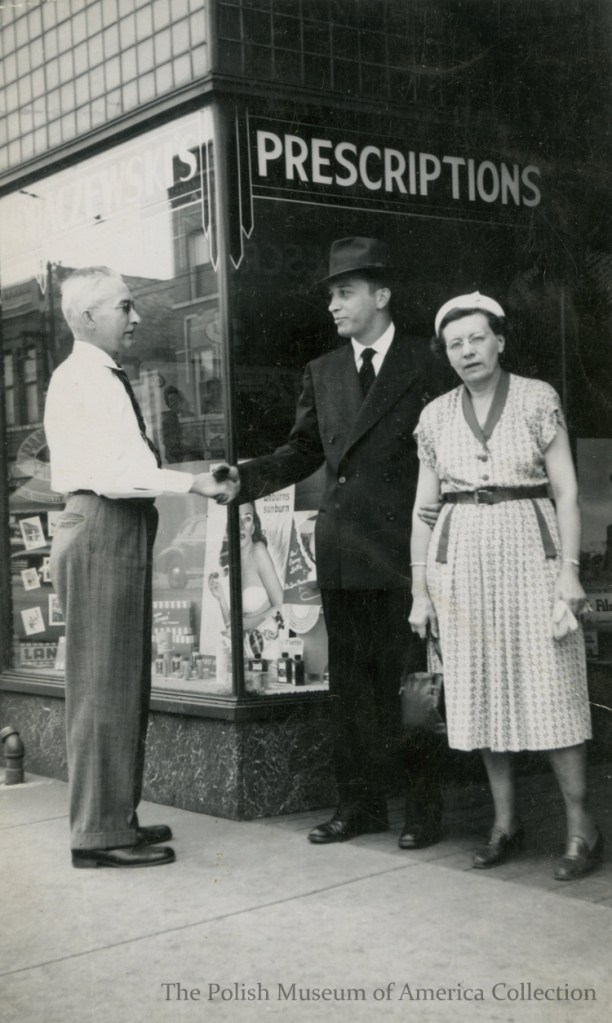 Do stories like this matter to you? Subscribe to Block Club Chicago. Every dime we make funds reporting from Chicago's neighborhoods.
Already subscribe? Click here to support Block Club with a tax-deductible donation.