WEST RIDGE — Daniel Boone Elementary School's playground once inspired the #CPSPlaygroundSoBroke campaign to fix broken play equipment. Now, the school will soon be the recipient of a new, $1.5 million schoolyard.
Boone, 6710 N. Washtenaw Ave., is one of five CPS schools this year to receive a Space To Grow grant, which helps construct environmentally friendly school yards that often feature playgrounds, sports surfaces, outdoor classrooms and community gardens.
The new schoolyard is designed to store at least 150,000 gallons of rainwater, helping to alleviate flooding that has impacted the area, said Daniella Pereira, vice president of community conservation at Openlands, which helps administer the Space To Grow grants.
The neighborhood could use flood relief, said Boone parent Cassandra Kaczocha. After heavy rains, the school's massive, paved lot turns in to "Lake Boone."
"If you have kids like mine who can't resist a puddle, you end up bringing a lot of extra clothes up to school," Kaczocha said.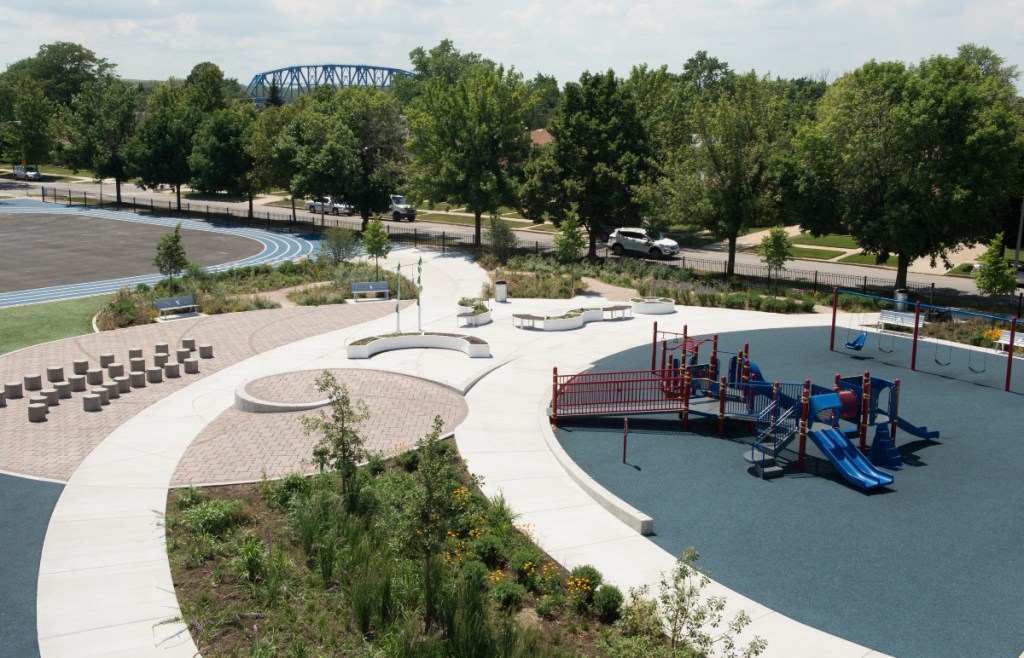 Kaczocha started the "playground so broke" social media campaign after moving her kids to Boone, which was the second consecutive school the family saw to have busted and dangerous playground conditions.
The campaign was successful, with Boone receiving new playground equipment for this school year and more to come, Kaczocha said.
RELATED: Fed Up With Busted Playgrounds, Mom Starts Campaign To Put Pressure On CPS
Other potential features include an outdoor classroom, playing surfaces and a garden, which will be maintained by Boone students, Pereira said.
Space To Grow officials visited Boone in December to discuss the new schoolyard's design with neighbors and school parents. Among the community requests were a swing set and a cricket field, Kaczocha said. The community also requested more shaded areas, Pereira said, which Space To Grow will accommodate through landscaping and other design features.
A final design for the playground will be unveiled in mid-January, Pereira said.
"We work to make sure it's a community based process," she said of the design. "We envision it being a tremendous asset to the community."
Space To Grow funds new schoolyard construction that seeks to add to Chicago's green infrastructure. The program, administered by Openlands and Healthy Schools Campaign, is partly funded by the Metropolitan Water Reclamation District of Greater Chicago, which was ordered to build new rain-storing green infrastructure as part of a 2015 federal consent decree.
Five schools received funding for new schoolyards this year: Barry Elementary in Hermosa, Melody Elementary in Garfield Park, Sherwood Elementary in Englewood, Harold Washington School in Burnside and Boone. Each school receives $1.5 million for the new lot.
The goal is to complete Boone's new schoolyard in time for students to return to school in the fall, Pereira said.
The new schoolyard will not only help Boone students, but will be a tremendous asset to West Ridge, Kaczocha said.
"It's a very popular community spot," she said. "We're really excited about the new space, and the opportunity to literally grow."
Do stories like this matter to you? Subscribe to Block Club Chicago. Every dime we make funds reporting from Chicago's neighborhoods.