IRVING PARK — Donors are rallying behind a family that watched their house burn down on Christmas Day in the Irving Park neighborhood.
Jacklyn Benyamin and her fiancé Jeremy Fragueiro's home caught fire in the 4000 block of North Drake Avenue at about 7:30 p.m. on Christmas Day. Everyone got out safely, including the family pets.
But the family's three children — a 2-year-old girl, 4-year-old boy and 10-year-old girl — saw their furniture, clothes, Christmas presents and house near the intersection of Drake and Belle Plaine avenues destroyed.
Bevy Benyamin, Jacklyn Benyamin's aunt, said the family was only able to save "the clothes on their backs" during their escape.
"I don't want this to be their Christmas memory. I want it to be of people coming together for them. Let's give them a better memory of this Christmas. Thank you in advance for any prayers," Bevy Benyamin said. 
She launched a GoFundMe campaign on behalf of the family on Thursday. As of Tuesday, it raised $3,005 of the $5,000 goal. 
Jacklyn Benyamin said she was cooking a Christmas ham in the kitchen when she began to notice a burnt smell. Her family joked she was out a practice cooking.
But when she opened cabinets in her kitchen she could smell a strong smell of smoke coming from the floor below.
"I was just about to serve Christmas dinner," Jacklyn Benyamin said. "My mother-in-law's wedding was the next day and she was still on the second floor apartment getting things ready for that."
Once they realized there was a fire, the family ran out of the home barefoot, the kids in their onesie pajamas and her mother-in-law trying to save her wedding dress.
"Our neighbors were amazing. They brought us socks, shoes and water. It was a good feeling and helped a lot," she said. "We had so many neighbors, some we didn't know, wanting to give back and help us that night. It was comforting."
Jacklyn Benyamin also wanted to let the firefighters who responded to the fire know she was thankful for how they treated her family and especially her pets. 
"The firefighters were all amazing to us. My pets were stuck downstairs and I was just able to get them out, but they were stuck in the smoke. They gave my cat oxygen, which was great," she said. Estimates from contractors who have taken a brief look at the damage say the home will need at least six to eight months of work to be livable again, she said.
The family is staying with relatives right now while they try to figure out a more long term housing situation in the Irving Park area while their home is repaired.
"My oldest goes to Murphy Elementary so I want to make sure we're in the area so she can stay there and continue some kind of normal routine," Jacklyn Benyamin said. 
The chaos the fire created didn't stop Jacklyn Benyamin from making sure her future mother-in-law's wedding stayed on schedule.
"We went through with it. We were running on no sleep. My fiancé was standing up in the wedding," Jacklyn Benyamin said. "I was able to run out to Ross [Dress For Less] last minute in order to replace everyone's suits. I was scrambling in slippers and sweat pants but I made sure everyone else was dressed and replace everyone's stuff last minute."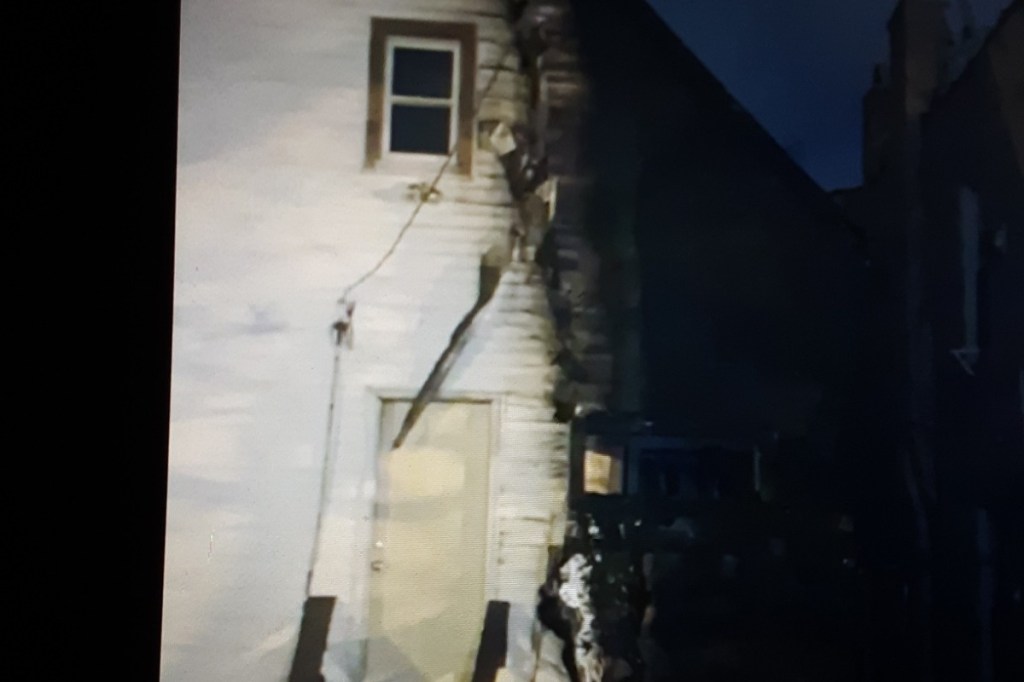 Firefighters took one person to Swedish Covenant Hospital for treatment of minor smoke inhalation, according to Chicago Fire Department spokesman Larry Langford.
Fire officials still don't know what caused the fire.
Do stories like this matter to you? Subscribe to Block Club Chicago. Every dime we make funds reporting from Chicago's neighborhoods.
Already subscribe? Click here to support Block Club with a tax-deductible donation.