HUMBOLDT PARK — We may never know who put their pet alligator into the Humboldt Park Lagoon this summer, setting off a weeklong search that captured our city's fascination.
It's a question even Frank Robb — the beloved, bearded "Alligator Robb" who came from Florida to catch the gator — can't answer.
But he can answer a lot of other questions. During a recent visit to Chicago — Robb's seventh after never being here before the gator surfaced— Block Club Chicago caught up with him and got him to share some untold facts about the story.
Here are 15 things you didn't know about the Chance the Snapper saga:
1) Chance didn't stay in that lagoon the whole week. That's right. He walked among us — and nobody noticed. Except Alligator Robb, that is. He spotted the telltale signs on his first day in Chicago — footprints and "tail drag" marks.
"Chance did leave the lagoon," Robb said. "They had the area fenced in, trying to keep him contained. Which didn't work. All it did was kind of add an extra step to the process of trying to get him.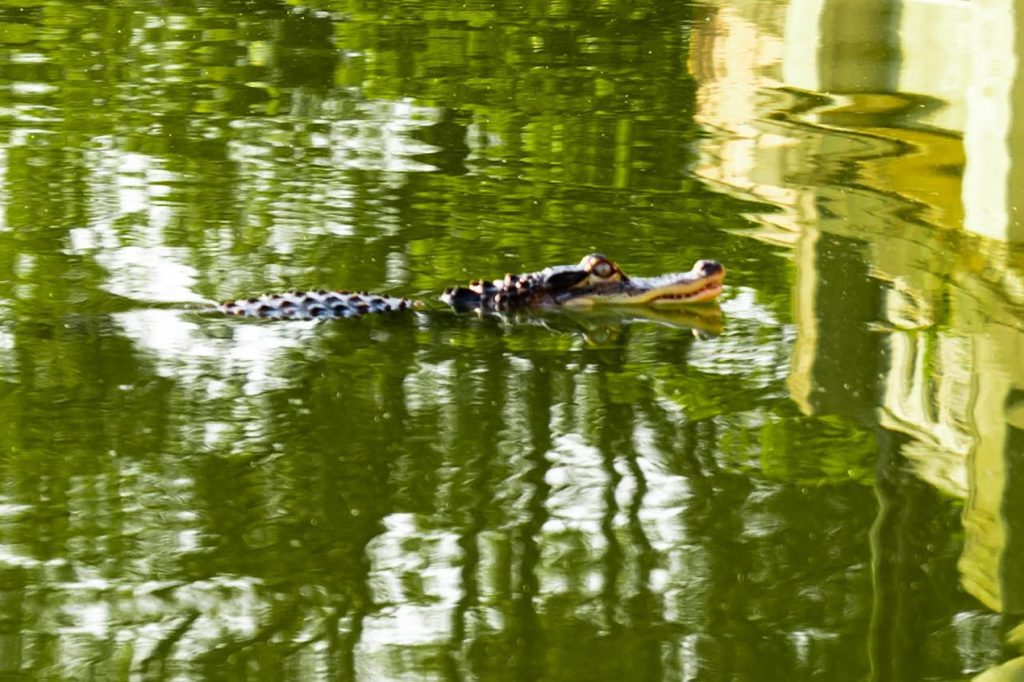 "Alligators move across land and do what they want to when they want to. And yes, he had traveled out of the secure area there they had. And traveled quite a ways where that little river system goes to the south. He had traveled out of the actual lagoon system to a different body of water and had traveled back. I tracked him there, I found him coming and going. Footprints and tail drag to go along with it."
2) The cute bow tie Chance was wearing at his press conference was a cat collar — initially intended to keep overzealous fans from trying to rescue him in front of all of those TV cameras.
"The No. 1 thing you don't know about Chance the Snapper: the bow tie he was wearing. That was actually a discussion I was having with Kelley Gandurski, the director of Animal Care and Control, and some other people.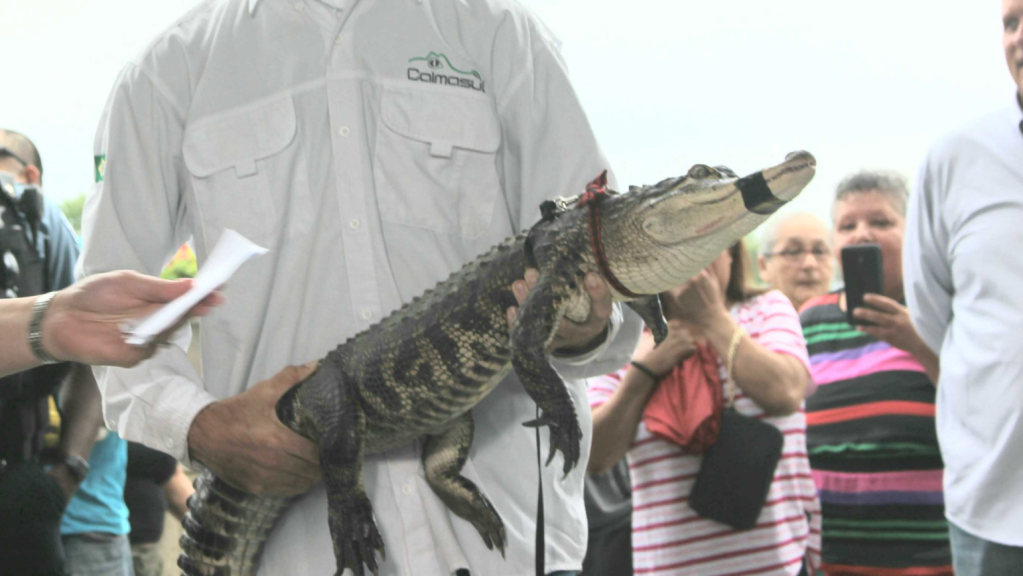 "We were in her office talking, and I said, 'Kelly, there are a lot of people who are very attached to this alligator and they do not want him taken from the lagoon. … I'm worried that someone might try to grab him from me and toss him back into the lagoon. So it would be nice if we could have something that I can put on him to hold onto in case someone tries to do that. I want a way to hold onto him.'"
Gandurski produced the cat collar.
"She takes the cat collar and puts it on him, and I'm like, 'Kelly, that's super cute and a great idea, but that's not going to hold him on there.' If you look at the pictures, I actually took a dog leash and made a harness. I have my hand in the dog leash's harness. So I'm holding onto it, just in case the worst thing happened. If he went back in, I was going with him."
3) Mayor Lori Lightfoot was VERY interested in the capture, calling Robb directly before he got started and repeatedly calling others for updates.
"Before I ever got started that night, she called into the office at the boathouse and kind of wanted to know what was going on, what my plan was," Robb said. "'What's the plan? How are we going to do this? What kind of plan are you setting forth?' So we talked probably for 15 or 20 minutes maybe. Going over it. She likes to cross her T's and dot her I's. She's no joke. She's a serious woman. She had put someone on a mission and wanted to make sure that mission was going to get done. She was no holds barred. She was not kidding around."
4) Chance could have survived a Chicago winter.
"OK, so there you go, that's No. 4 that people don't know," Robb said. "If you're standing at the boathouse looking north, to your right there's a manmade structure there in the water. We call those a 'sump' back home or a 'culvert.'
"Well, there was a sump there with a culvert attached to it. And the front of the sump has a grate on it. And the grate was rusted out. So that's the first place I saw and went and looked. I actually popped those manhole lids and dropped in there and crawled around, because I was hoping he was going to be in there.
"Because yes, if he got in there, where it's warm, under the roads, he could have possibly have made it. And it was rusted out, like basketball-sized. He could have fit in there."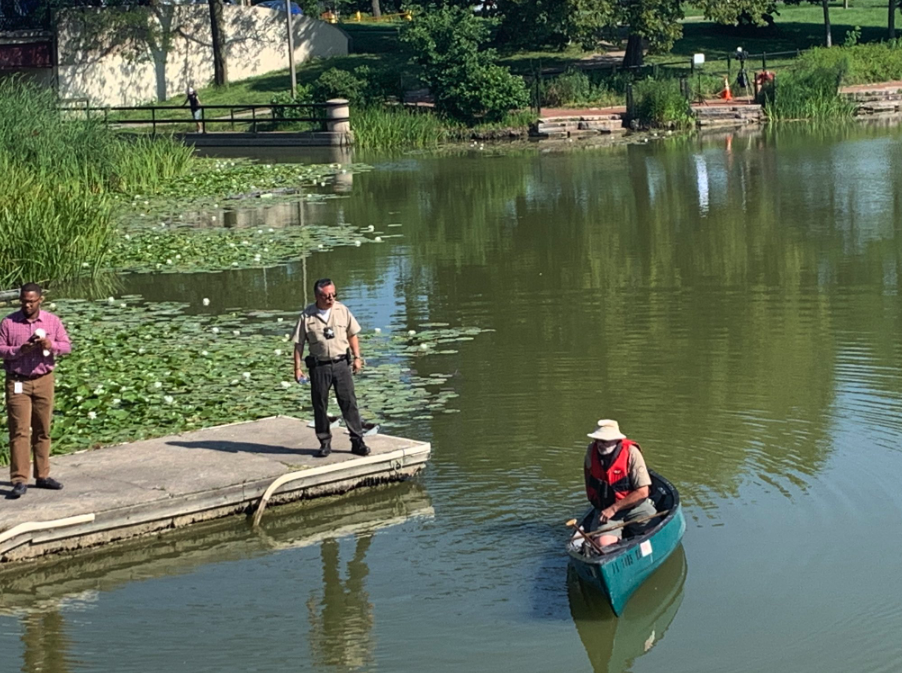 5) There are giant bullfrogs in the Humboldt Park Lagoon.
"The biggest bullfrogs I ever saw in my life. Their eyes are about the size of a dime. And I was getting eye-shine off of those guys, from a quarter mile away, across the pond, thinking it was an alligator, and I'd get there, and well, that's embarrassing, that's a frog."
Chance likely didn't eat when he was in the lagoon, Robb said, but if he did, those frogs would have been his choice.
"No, I don't think he [ate], but if he did, probably frogs and snakes. There were some garter snakes around there and a lot of frogs."
6) Robb had no idea what to charge Chicago to catch Chance. He came up with a $2,500 fee and $2,166.34 in travel and lodging reimbursement.
"I remember having that discussion with my uncle. I'm like, 'What do you charge for something like that?'" Robb recalled. "He said, 'I don't know, Frank, get your expenses paid for.' He's like, 'Don't be trying to get rich off of it. But get your time paid for.' I'm like, 'OK.'
"I remember people saying, 'You got $75,000 for that, didn't you?' I'm like, what world would you get $75,000 for that? No, man. Listen, I'm not a rich guy. I just wanted to come up here and do something good and get back home and bring the animal with me. It was never about the publicity or about the money. That was the last thing on my mind. I knew what I was going into was going to be a super pressure cooker, but I did not expect any of this. To be back here seven times now, I did not expect that."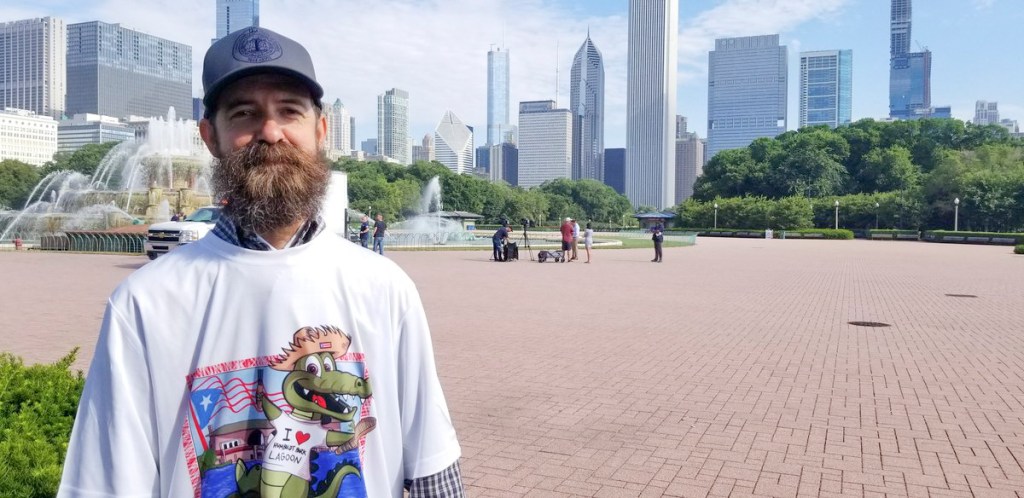 7) Chance tried to bite Alligator Robb when he caught him.
"He was not excited about it. Meeting me was not on his list. He fit up to his name, Mr. Snapper. Oh yeah, he was not excited. He was excited not to be part of what I wanted to be part of."
8) Chance was shy when he was first relocated to a gator preserve in St. Augustine, Florida. Now he's very friendly … and has two gator girlfriends referred to as "Chance's Angels."
Robb said Chance, at about 3 years old, is too young to reproduce. "Not that's it's stopped him from trying."
9) Chance will always have that distinctive bent nose. He got it from being in a cage or enclosure that was too small before being released into the lagoon, Robb said.
"One hundred percent a pet. Zero doubt. The eye color [from being in darkness] and the bent nose from being in captivity.
"He had been in a small container in a closet or in a room, somewhere that was dark. Probably just feed him and move away," Robb said of his mystery owner.
10) Chance isn't coming back to Chicago.
"He's settled where he's at."
11) And he's going to be a big boy.
"That animal, you wait, you give it three years, he's going to be a boss. That's going to be a boss alligator. Give it three or four years, he'll be 7 feet. He'll be bulking up and people will be like, 'Is that the same animal?' But he's always going to have that same unique nose, that bent nose. So you'll always know who he is."
12) Alligator Robb might have a TV show in the works. But he can't talk about it yet.
"I have a non-disclosure agreement with a company. We're going to find out something here pretty soon," he said.
"I actually signed that a couple months before this all ever happened. We've been working on this long before this ever started. A couple of months beforehand."
13) Alligator Robb and his friends loved Block Club's gator naming contest.
"We were laughing about them back home. We were laughing so hard about Frank Lloyd Bite. That cracked me up so hard. Ruth Gator Ginsburg, that was pretty hilarious. We often laugh about them, yes. The right one got picked."
14) Chance the Snapper's buddy has not yet met Chance the Rapper, but he'd like to someday.
"I wouldn't mind saying 'howdy' to him," Robb said. "I've never heard his music. I know that, ironically, I released a coloring book and the name of his album was 'Coloring Book.' That's pretty fun. We have that in common."
15) Alligator Robb had never seen snow before a recent trip to Chicago.
"I still haven't seen snow fall. I want to see it," he said. "I want to make a snow alligator, a snow man and a snow angel. I'm not asking for a whole lot. That's all I want."
Alligator Robb has a nonprofit called Environmental Education Awareness Research Support and Services (EEARSS). Check out the website here. He's also selling his coloring book here.
Do stories like this matter to you? Subscribe to Block Club Chicago. Every dime we make funds reporting from Chicago's neighborhoods.
Already subscribe? Click here to support Block Club with a tax-deductible donation.
Our goal is to reach 10,000 subscribers by the beginning of 2020. With just a few hours left in the year, we're pretty close to that goal. Can you help us get across the finish line? Subscribe here or buy a subscription as a gift here.