CHATHAM — It was all smiles inside the gymnasium of Chatham's Jane E. Neil Elementary Friday afternoon as students were greeted by Santa and a few of his helpers bearing gifts to keep them warm this winter.
Three hundred students received new coats, scarves and hats compliments of Aramark's annual coat drive. The neighborhood school, 8555 S. Michigan Ave., was transformed into a winter wonderland. Some students shared Christmas wishes with Santa, while others snapped photos at the selfie station, or pop 'n locked on the dance floor to the sounds of DJ Chuck, a fitting way to celebrate the final day of school before holiday break.
Neil Principal Tawane Knox said she was pleasantly surprised when Aramark representatives reached out about the coat donation.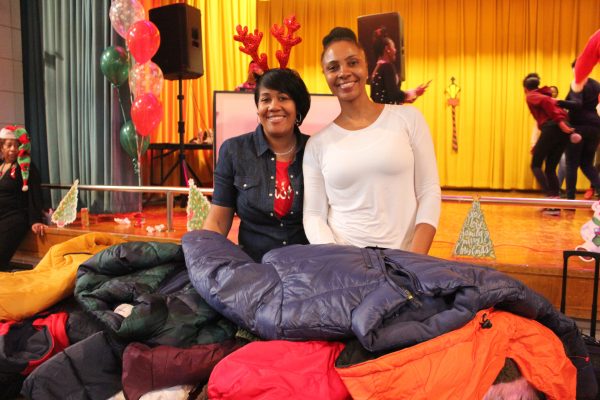 "I'm so thrilled that we were chosen. The kids really love the coats and they're having a ball today," said Knox, who has led the school for seven years.
Knox and her staff have worked diligently to create a familial atmosphere at the school, where 46 percent of the student body have disabilities and medical needs, some requiring in-school nursing aides. Neil is a safe haven for students who have transferred from other schools where their challenges often made them targets for bullying and harassment.
"It takes a special kind of kid to be at this school, and they look out for one another here. They fight like sisters and brothers, but they love each other," said Knox. "We try to give them a sense of normalcy."
To that end, Neil receives a lot of support from the community. A team of parent volunteers come to help throughout the day, and police officers from the 6th District keep an eye out for the students, helping them on Field Days and other events. The school recently held a holiday breakfast to thank them. Ald. Roderick Sawyer (6th) stays in contact, providing support whenever he can. And partnerships with other schools that teach students with diverse learning needs, like Ray Graham High School, and colleges like Chicago State University, keep the students engaged.
It was the familial atmosphere that made Neil the perfect choice, said Angeila Faison, Aramark's director of community engagement.
"We've held drives for other schools across the city, from north to south. We work with Chicago Public Schools to find which school has the greatest need, and what they desire, and then we try to help as best we can,"Faison said.
It's an organization-wide affair, with Aramark employees from Navy Pier and McCormick Place pitching in to shop for the coats after receiving the students' measurements, and purchasing extra coats just in case. From there, employees assemble gift bags containing the coats, gloves, scarves and hats, dropping them off at the school for distribution. A dozen or so employees remain at the school to help out, with one donning a Santa costume to bring the kids some Christmas joy.
On this day, Santa — who works as a facilities manager when he isn't listening to Christmas wishes — posed for pictures with the students, lovingly encouraging those with limited mobility to make a muscle, or throw up the "peace" sign.
"A lot of them take occupational or physical therapy, so they need that kind of support. It really helps," Knox said.
When the program started in 2013, Aramark consulted with CPS's Department of Family and Community Engagement and local faith-based groups, determining the best course of action. Initially, they'd serve three schools each season but eventually felt it was best to focus on one.
"We wanted to figure out a way to better engage the community," Faison said. "It was important for us to do what we could, to be a good community partner."
Ciera Whitaker, whose children Kiari and Kimani have attended Neil for years, was grateful.
"The experience has been really awesome today. The kids were really appreciative, and they had a good time," said Whitaker, a parent volunteer. "Something like this doesn't happen every year. This is something they'll take with them."
Do stories like this matter to you? Subscribe to Block Club Chicago. Every dime we make funds reporting from Chicago's neighborhoods.
Already subscribe? Click here to support Block Club with a tax-deductible donation.
Our goal is to reach 10,000 subscribers by the beginning of 2020. With just a few days left in the year, we're pretty close to that goal. Can you help us get across the finish line? Subscribe here or buy a subscription as a gift here.