CHICAGO — Rapper, educator and Hyde Park resident Matt Muse has launched a holiday charity drive that aims to collect natural hair care and skincare products for Chicagoans in need.
The rapper born Dexter Matthews announced The Love & Nappyness Hair Care Drive last week, with eight collection locations across the city's South and West sides. The drive benefits three local charities: A Long Walk Home, which works to end violence against girls and women, Ignite, which helps youth experiencing homelessness, and St. Leonard's, which assists people released from prison without resources.
Those three organizations have a special meaning to Muse.
"All of these people are trying to have some type of transition into regular life, whether it's employment or escaping some type of violence," he said.
Hygiene and hair care products have the power to help people feel their best as they are starting a new life, he said.
"If I'm going to a [job] interview with my hair looking right, my skin looking good, that's positive," Muse said. "But it's also good for internal self care — healthily taking care of your body and your mind."
The drive asks for people to donate sealed and unused hair care, skin care and personal hygiene products, especially paraben-free, all-natural shampoos, conditions, hair and skin moisturizers, aftershaves, soaps, natural deodorants, face wash, scrubs, feminine hygiene products and toothpaste.
People can donate products at the following locations through Jan. 4:
Christian Field Style Bar, 6550 S. Cottage Grove Ave.
The Silver Room, 1506 E. 53rd St.
Good Beauty, 2777 N. Milwaukee Ave.
Healthy Hood Chi, 2242 S. Damen Ave.
Groomology Barber and Beauty, 18236 S. Kedzie Ave.
Young Chicago Authors, 1180 N. Milwaukee Ave.
Grooming Solutions, 2234 W. Taylor St.
Let Us Breathe, 1434 W. 51st St.
In a season crowded with holiday drives, Muse sought a unique cause for his collection, and he found inspiration in his relationship with his own hair. He started growing his hair in 2015 while attending Northern Illinois University and has not cut it since.
Muse has also explored his hair's significance in his recent musical projects, 2018's "Nappy Talk" and 2019's "Love & Nappyness." Across the two releases, he says, "the topic was about how growing my hair coincided with me finding self-confidence and ultimately finding a new state of self-love."
On "Shea Butter Baby," his 2018 collaboration with Shawnee Dez, Muse raps: "The more you put up on them strands, the stronger they'll stand / the power's in your hair, yeah I heard what you're sayin.'"
Local businesses agreed to participate in the drive thanks to Muse's relationships in Chicago's creative communities. Muse works at Young Chicago Authors as a teaching-artist, so the arts foundation's support was "automatic," he said. Muse has a "nice relationship" with The Silver Room in his native Hyde Park and has performed and hosted a writing workshop there.
His friend Tara Carsner also helped connect him with her friends who work at the various salons and barbershops also participating in the drive. And the staff at Christian Fields Style Bar agreed to not only collect donations, but offered to donate product themselves.
"It was people being excited about the idea, and being excited about the idea of giving back," Muse said.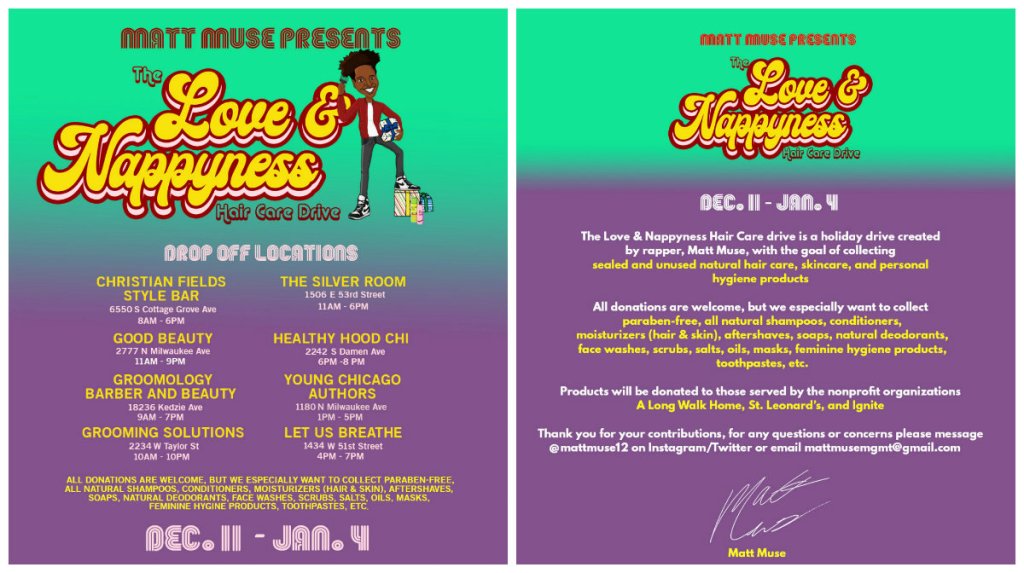 Though Muse welcomes all donations, the flyer posted to his social media requests "paraben-free, all natural" personal hygiene products. This preference originates in Muse's own experience.
"I don't care about cosmetics," he chuckled, but he does care about feeling healthy in his skin. He recalls experiencing breakouts from over-the-counter products before he realized "these products are not designed for me and my skin and my hair as a Black man."
Muse arrived at his current routine through his own research and recommendations from "my village and my community, putting me on," he said.
"Luckily I had people around me to tell me that 'those products might not be good for you, but try these out that are made by us for us.'"
Despite the drive's lofty goals, a natural product is by no means mandatory, and Muse said any donation can make a difference.
"For the people who might not have the finances to buy some of these more expensive products, or just don't know where to go, or want to make it easier on themselves, just go buy some Q-tips or some feminine hygiene products," he said. "We're taking everything. We'll take toothpaste."
For future drives, Muse hopes to secure sponsorship and bulk donations from larger hair-care companies and to partner with local independent brands, too.
He hopes to make the drive an annual event.
"One-hundred percent I want to do it every year," Muse said. "Not even a question."
Do stories like this matter to you? Subscribe to Block Club Chicago. Every dime we make funds reporting from Chicago's neighborhoods.
Our goal is to reach 10,000 subscribers by the beginning of 2020. With just a few weeks left in the year, we're pretty close to that goal. Can you help us get across the finish line? Subscribe here or buy a subscription as a gift here.