THE LOOP — If you think of the Pedway, Chicago's navigational-defying network of underground tunnels, as the Upside-Down, then it makes a weird kind of sense for this thoroughly artificial, enclosed space to host an exhibit touting the city's newest outdoorsy coming attraction.
Through Jan. 17, the Pedway's passers-through can get an early look at renderings and a diorama of the Douglass 18, a revamped, student-designed minigolf course set to open by summer 2020 in Douglas Park, 1401 S. Sacramento Drive. (And yeah, it's minigolf, according to the World Minigolf Sport Federation, which apparently is a real thing.)
Swing by 2-6 p.m. Wednesday for a chance to pick up a putter and play a couple of makeshift holes. The exhibit is mounted in the Pedway's Space p11, a gallery established to get people thinking differently about the Pedway. The best directions we can give are: Enter the Pedway via Macy's lower level — ideally through the candy department — turn right, and if you pass what we recollect as an LA Fitness sign, you're getting close.
RELATED: The Pedway Is About To Get Even Weirder And That's A Good Thing
The Douglass 18 has been a work in progress for nearly two years. The purpose of the Pedway exhibit is to showcase the project's creative evolution from concept to near-completion. The display incorporates early sketches of course holes, papier-mâché props and a just-finished rendering that was unveiled Friday.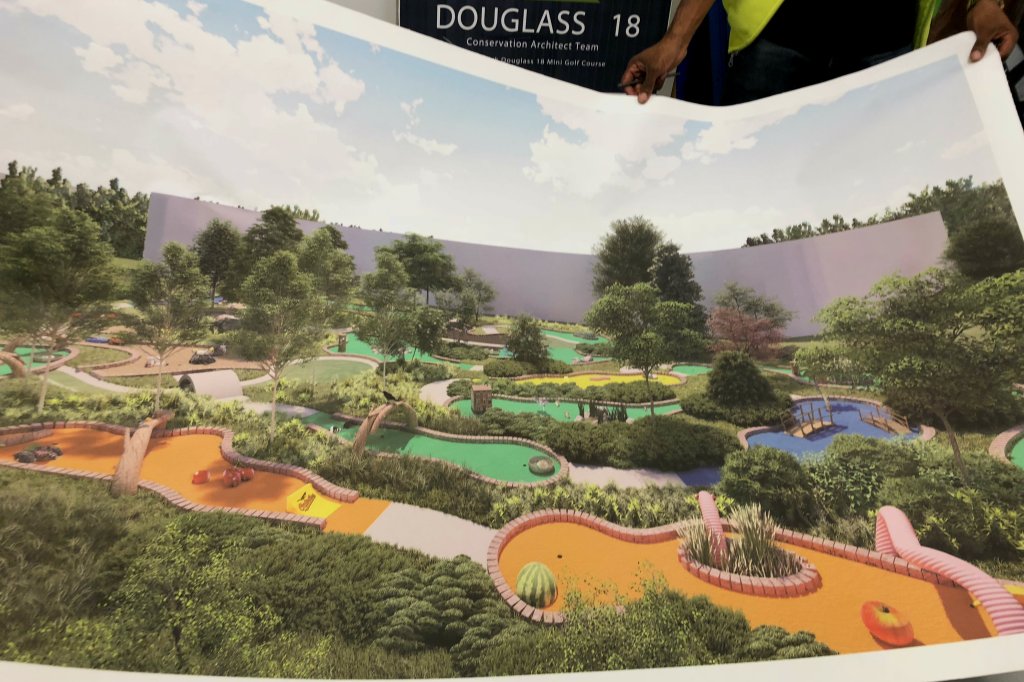 "It's an acknowledgement of the work that's been happening. It's a celebration of the process," said Eric Hotchkiss, a lecturer at the School of the Art Institute of Chicago, who helped students design the golf course's obstacles. "Now that [students] are seeing the models, that what we're doing is actually going to happen, it's becoming real."
For those who've been working on the project behind the scenes, the time feels right to build excitement city-wide.
"We're ready for people to know," said Jaeda Branch, a team member from the Lincoln Park Zoo, one of the Douglass 18 partners.
A highlight of the exhibit is the aforementioned diorama, an utterly charming, exquisitely detailed 3-D miniature model that will have visitors wishing for a "Honey I Shrunk the Kids" moment in order to experience the course on the spot.
El Tan, a student of Hotchkiss' at the Art Institute, meticulously created the diorama, going so far as to haul a 3-D scanner to Douglas Park to obtain a true topographical map of the course's site.
"I did this for two weeks straight. I didn't sleep, I didn't drink," said Tan, a Lincoln Park High School grad who grew up in Bridgeport.
The genesis of the Douglass 18 dates back to 2018, when Haman Cross, a Lawndale artist, took a stroll through Douglas Park on a scouting mission for potential art installation locations. He stumbled onto the park's existing minigolf course, long out of use and in disrepair.
Revitalizing the course, and the community by extension, became Cross' mission.
Though, as Hotchkiss noted, it's nearly the same size as Humboldt Park, Douglas Park is underused as a neighborhood hub — improvements to the course, with community participation, could change that.
Cross recruited teens from the West Side to collaborate on designing a new course — they became the Conservation Architect Team — impressive given that many of the youth had never seen or played minigolf prior to joining the Douglass 18 team. (A couple of field trips were booked ASAP.)
Cross also brought in partners including Hotchkiss, the Chicago Park District, Firehouse Community Arts Center, Professor David Brown from the UIC School of Architecture, LL Bean, the Trust for Public Land and Open Architecture Chicago.
Early on, the team chose birds for the course's conservation theme. Each hole will represent, either explicitly or metaphorically, a different bird that makes its home in Douglas Park or Chicago at large, everything from robins to cardinals, seagulls to Cooper's hawks.
Lincoln Park Zoo played a key role in developing the student designers' understanding and awareness of the city's avian residents and their habitats.
"What surprised the kids was that there were so many birds. They were like, 'Yeah, we've seen brown birds.' But now they've started paying more attention," said Branch, the zoo's community learning facilitator for North Lawndale.
At this point, Branch said, students have gotten in the habit of texting her photos of birds, making guesses about the species.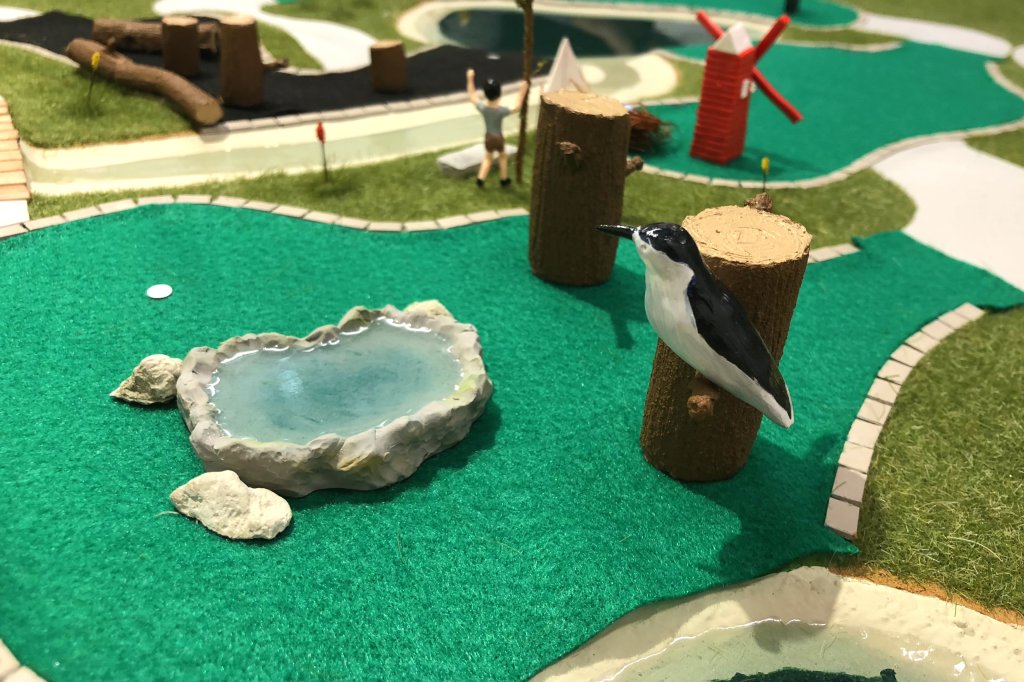 The teens' growing knowledge and skill base is evident in the sophistication their work gained through each phase of the project, all of which can be viewed as part of the Pedway exhibit. Rudimentary wooden prototypes morphed into the final professional designs currently under production by Site Design.
Hotchkiss emphasizes that what's being made comes directly from the students' drawings and has been driven by their ideas. The teens' preference for bold, bright colors, for example, found expression in a number of holes that, in a major departure from typical course design, don't have green greens.
Once the course opens, the goal is to challenge players mentally and physically.
Indeed, when community members had an opportunity to test hole mockups last summer, the most common comment was that the course played "way too hard," according to Branch.
Many of the holes were retooled to make them more user-friendly, but one in particular wasn't, in order to get people thinking.
Terreon Collins, a student who's been with the project from the beginning, was especially struck by the number of birds killed every year by flying into Chicago's buildings, Branch said. His hole, which features a model of the Sears/Willis Tower, is devilishly difficult on purpose, to replicate how hard it is for birds to navigate the city.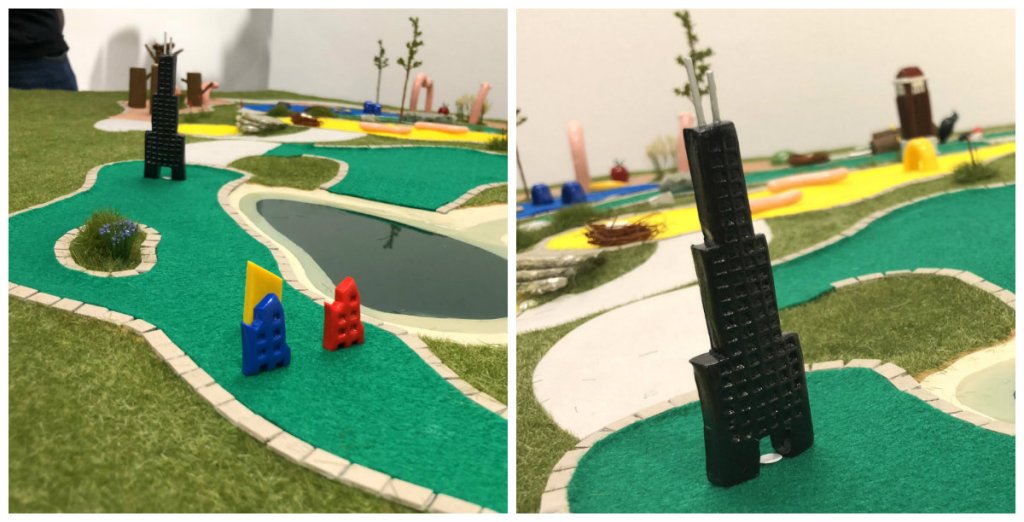 The course "pulls you in with fun colors, but you're going to learn something about birds," said team member Lauren Podgorski, learning exploration facilitator for Lincoln Park Zoo.
A handful of not-insignificant details remained to be ironed out as the project heads toward the finish line: Questions like how to turn the rendering's lush landscaping into a reality, how to staff the course and how much to charge patrons per round.
Hotchkiss is confident the team will have resolved all outstanding issues if not by spring, then come summer. Before it's even opened, though, the Douglass 18 has already succeeded in giving its student collaborators experience in real-world design, introduced them to mentors and exposed them to career opportunities.
"I'm kind of jealous," Hotchkiss said.
As the students' participation comes to a close, their role won't be forgotten — the plan is to place signs with their names next to the holes they designed.
"They've worked hard for two years," giving up evenings, weekends and summers, said Podgorski. "It's been a long journey, they've earned it."
The Douglass 18 exhibit is free. Space p11 hours are: 4 a.m.-7 p.m. Monday–Friday, 8 a.m.-7:30 p.m. Saturday.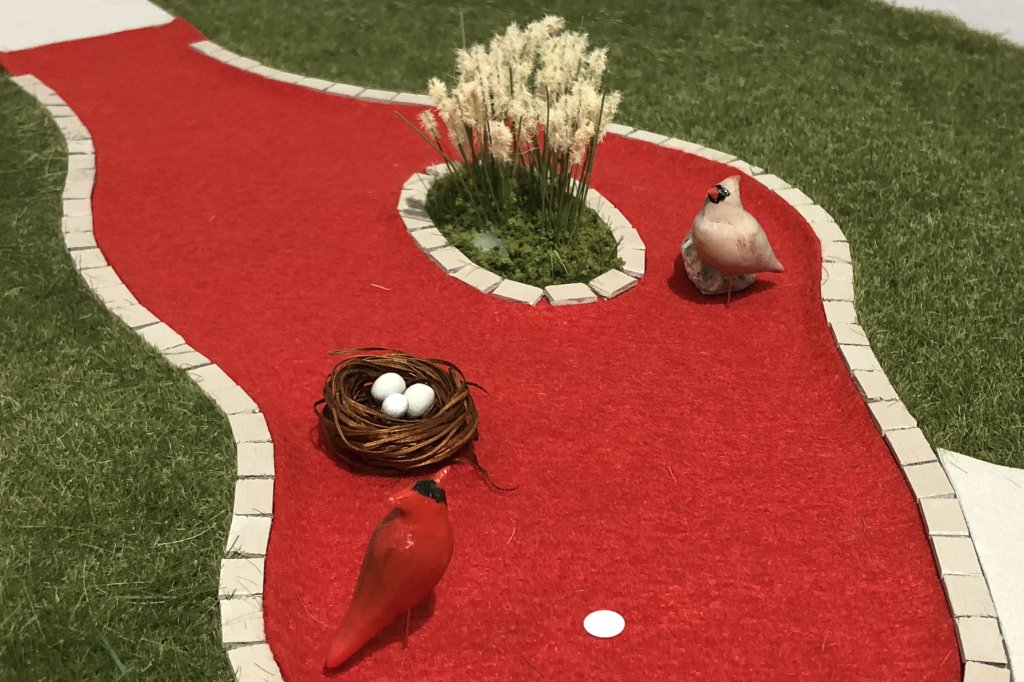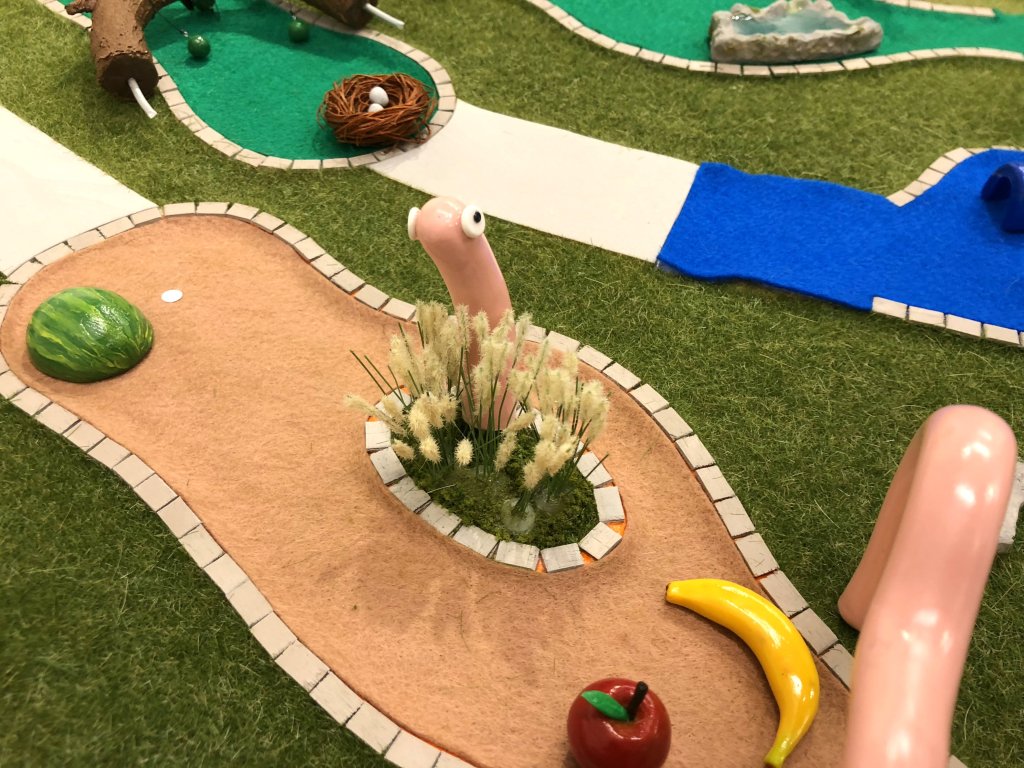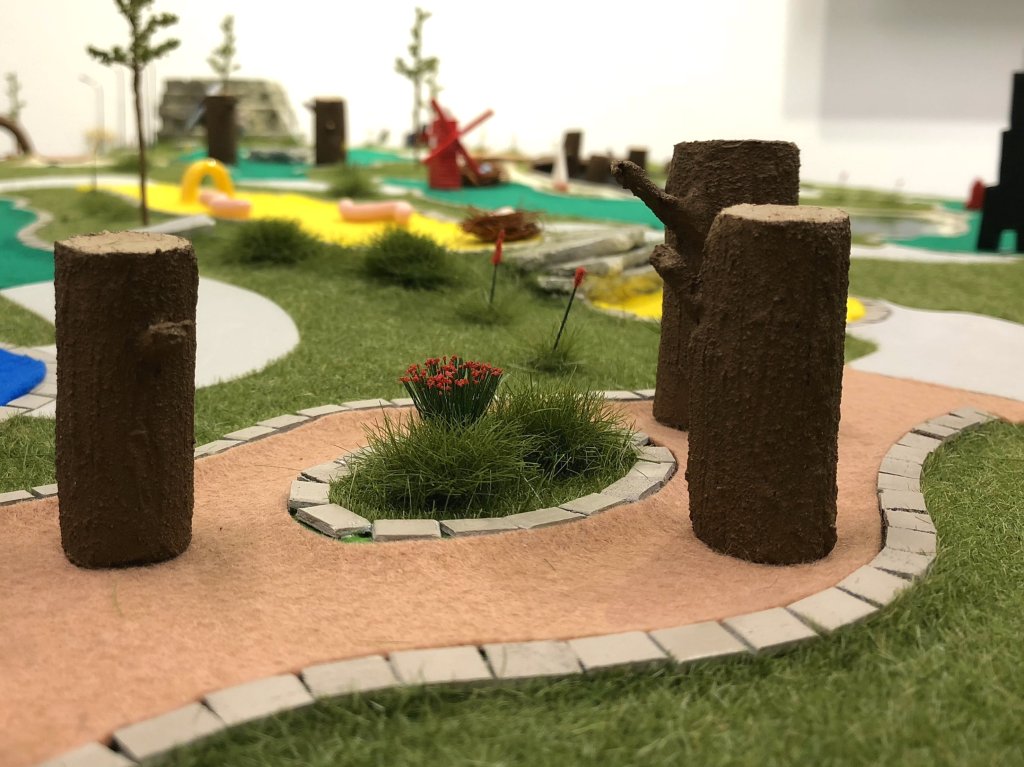 Do stories like this matter to you? Subscribe to Block Club Chicago. Every dime we make funds reporting from Chicago's neighborhoods.
Already subscribe? Click here to support Block Club with a tax-deductible donation.
Our goal is to reach 10,000 subscribers by the beginning of 2020. With just a few weeks left in the year, we're pretty close to that goal. Can you help us get across the finish line? Subscribe here or buy a subscription as a gift here.