ARCHER HEIGHTS — According to Cloronda Morgan, Frazier Preparatory Academy saved her life.
Not only did the West Side charter school give her sons a place to learn, but when she was in a bad domestic relationship 15 years ago, the school also gave her a job — and a way out.
"I lost family members, I lost my soul, and those children saved me," Morgan said. "So I made it my goal every day to get up and go and try to shape them every day. I motivate and I encourage them every day. I hug them and I give them inspiring words every day."
Morgan was one of dozens of West Side community members who traveled to the Southwest Side for Wednesday's Board of Education meeting at Curie High School, where they showed up hoping to spare Frazier, 3711 W. Douglas Blvd., from closure.
"Frazier saved me. And it's my goal to save them," Morgan said.
CPS announced Monday that it was recommending the closure of Frazier and Chicago Virtual Charter School on the Near West Side. In 2018, the schools were placed on a probation list that required them to make significant improvements, but the district deemed that the schools failed to turn things around.
The school has its problems, parents and neighbors admitted. But Lawndale residents insisted that Frazier still provided students with a quality learning environment, and more importantly, supported social and emotional development of students in ways that test scores cannot measure.
West Siders at the meeting appealed for the board to see the value in Frazier, despite the decision from CPS to label it a "failing school."
"My grandmother told me when I was a little girl, 'Ronda, a broke crayon can still color,'" Morgan said to the board. "We can still color. Just don't close us."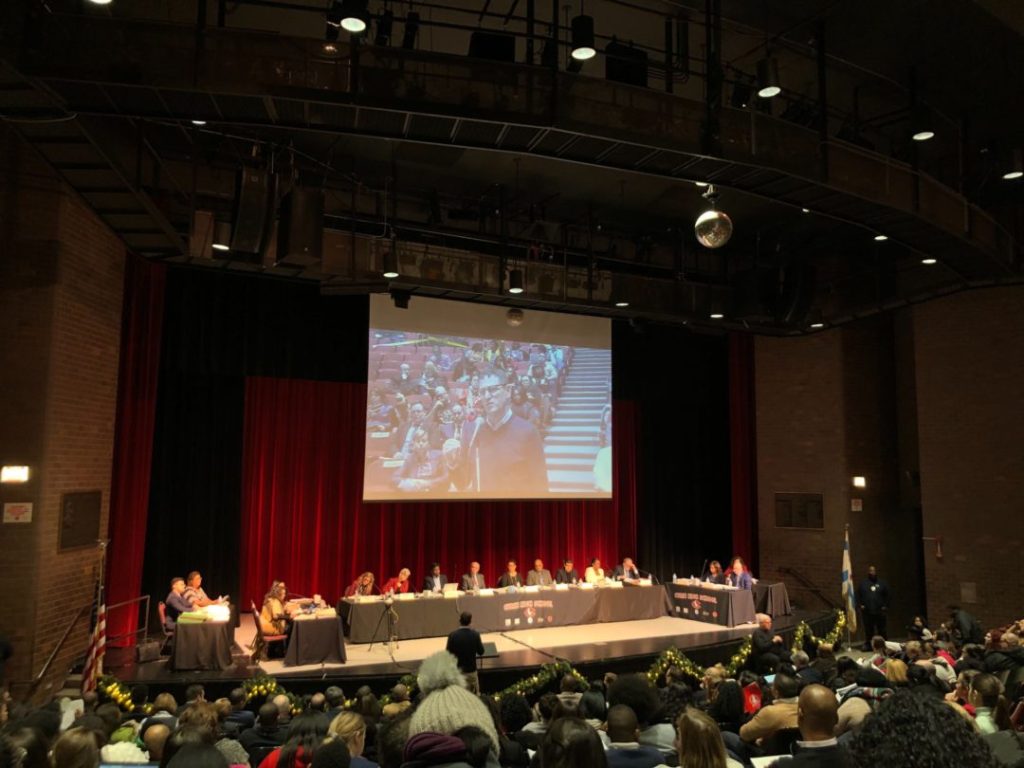 But the Board of Education was largely unmoved. The board voted six to one to close Frazier, with only Austin resident Dwayne Truss voting to keep the school open. Board members offered their condolences to the devastated parents and students, but said the closures are a consequence of the privatized charter model which requires that underperforming schools be closed under the guidelines established in the Charter School Quality Policy adopted by CPS in 2015.
"There is nothing wrong with your children, and there is nothing wrong with you as parents that you find yourself in this position today," said Board member Elizabeth Todd-Breland. "You are caught up in a system that is bigger than yourself."
She denounced the Illinois Network of Charter Schools for throwing its support behind the closure of underperforming schools while also pushing for the expansion of charters in the city.
During the section of the meeting dedicated to public comment, Illinois Network of Charter Schools representative Matt Major advocated for closing Frazier.
"As a charter community, we understand that we have made a promise: increased autonomy for increased accountability. … We also recognize that not all charter schools have met that promise," Major said.
Frazier's Chairman Tommy Duff fired back at Major, criticizing the lobbying group for hanging the school out to dry after receiving years of support from Frazier.
 "I wonder what's going on behind closed doors," Duff said.
Duff also said the system used to designate Frazier a "failing school" was flawed, and said the attendance metric that CPS used to rank the school had been miscalculated.
"We went from one of the lowest-performing schools to a commendable school. We jumped a whole level," Duff said about the state's rating system, which now recognizes Frazier among its second-highest designation.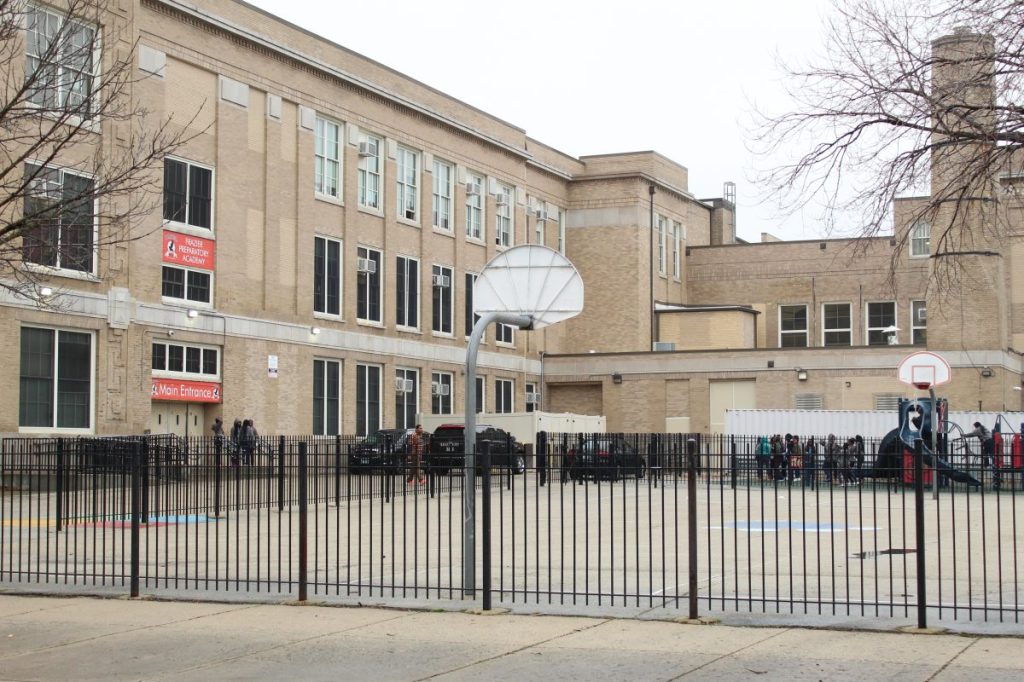 'You are breaking apart my family'
Dr. Anthony Grady, a counselor at Frazier, said the rating system fails to take into account the economic, social and emotional challenges that disproportionately impact students on the West Side.
"Our teachers are here picking up balancing behaviors, trying to be a friend, trying to be that other parent, so their education gets lost sometimes," Grady said.
Athletic director Eric White also criticized the district's rubric for determining that Frazier was failing its students.
"It's very easy to get wrapped up in numbers … or advocate to close a place that you've never walked into. If you've never seen our kids, never spoken to them, then you wouldn't understand how devastating it would be to close those doors," White said.
White also said with contempt that the board had already made up its mind even without hearing from students, teachers and parents that would be impacted by the school closure.
"These hearings seem to be built just so people can feel like they get to try, when decisions have already kind of been made. … In North Lawndale they walk past closed schools all day. Don't close another," White said.
Students and parents consistently spoke of the community at the school as a family that would be ripped apart by the decision to shut it down.
Fifth-grade student Jaiden recalled to the board his own personal evolution and growth that Frazier's teachers, administrators, security team, paraprofessionals and the overall culture at the school has encouraged in him since pre-K.
"The classrooms are very welcoming and the teachers are like family. They genuinely care about the students overall growth, safety and development," he said. "…If you elect to close our school, you are doing more than shutting its doors, you are breaking apart my family."
Another student, Nierra, has been at the school for seven years. She said she planned to stay a part of the Frazier community even after she graduates like the other students that often visit their teachers and mentors.
"I want to be one of them eighth-graders too," she said. "When I graduate I want to come back. I want my teachers to be excited to see me."
Antonio said he and other students have "built so many relationships between teachers and security guards, friends. And all this about to break apart because my school is about to get shut down."
Eighth-grader Kiya spent her entire school career at Frazier, and said she felt speechless and powerless knowing that her school will be shut down. She spent years building relationships with the students and staff at the school, and is especially close with her science teacher. She worried that high schools will look at her with disdain having come from a school labeled by the district as "failed" and closed.
"Shutting down the school is basically packing up my childhood and throwing it in the dumpster," Kiya said.
Third-grader Amina echoed the sentiment that Frazier is not simply a school, but a family.
"Every year we talk about being family because we all care about each other. We will be very sad to see my family break apart. I am asking you not to close Frazier down," Amina said.
After voting to shutter the school, members of the board said they empathized with the emotional testimonies, but had to move forward with the closure since the CPS metrics showed the school wasn't performing well.
With the approval of the board, CPS will move forward in closing Frazier, though the school will still be able to appeal the decision with the Illinois State Board of Education.
Pascal Sabino is a Report for America corps member covering Austin, North Lawndale and Garfield Park for Block Club Chicago.
Do stories like this matter to you? Subscribe to Block Club Chicago. Every dime we make funds reporting from Chicago's neighborhoods.
Our goal is to reach 10,000 subscribers by the beginning of 2020. With just a few weeks left in the year, we're pretty close to that goal. Can you help us get across the finish line? Subscribe here or buy a subscription as a gift here.