CHATHAM — It's been over a year since Boombox Chatham, a retrofitted shipping container turned pop-up storefront, made its debut on the former site of the Rhodes Theater.
When Boombox opened on the empty lot in the 7900 block of South Rhodes Avenue, it was billed as an opportunity to revitalize the neighborhood economy. Vendors could rent 200-1,000-square-feet of space in the containers for $250-500 a week, giving them a dry run at operating a brick-and-mortar store while building up capital to hopefully open their own retail storefront. So far, 150 vendors have made use of five Boombox locations.
And while some believe the experiment has been a success, others, like community leader Worlee Glover, say the shipping container is an eyesore that needs to go. Glover, who moderates the Concerned Citizens of Chatham Facebook Group, has been one of the initiative's most vocal opponents.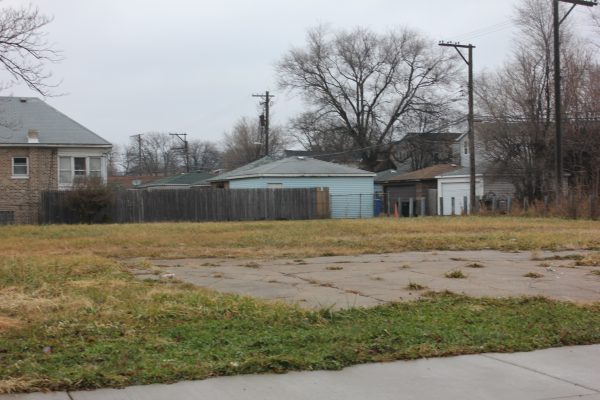 "It's been an epic fail," said Glover, whose family has called Chatham home for more than 50 years. "It was supposed to take small businesses from pop-up shop to a storefront on 79th Street, and it never did that."
Glover said the program, a joint effort from Boombox Chicago, the city's Department of Planning and the Greater Chatham Initiative, failed to attract diverse vendors. Most of the vendors who set up shop in the pop-ups sell "commodity-type items," he said, like jewelry, t-shirts and phone repairs.
"There were a couple of food vendors but they backed out," Glover said. "I think that after they thought about it more thoroughly, they weren't sure it was a venture they should've continued to pursue."
Glover said he has been in discussion with a developer who is interested in building a more permanent commercial space at the site.
Glover also didn't like that the Boombox sat empty for weeks at a time — when vacancy was something it intended to reduce. Glover said he penned an open letter to Ald. Roderick Sawyer (6th) in July 2018 to request that he withdraw his support.
Sawyer agreed with Glover that the Boombox has run its course.
"They have had some success with helping people get into their own stores, but it would stay empty between vendors for far too long," said Sawyer, who confirmed that there are developers interested in the lot. "I'm not anti-Boombox, but it's time to move on."
Which was always the point, according to Boombox Chicago owner Katherine Darnstadt.
"This was never meant to be a 'forever' kind of thing. The idea was to get businesses to stay, for the Boomboxes to lead to something bigger and more permanent," said Darnstadt, who opened the first Boombox in Wicker Park four years ago.
"It's taking a block that was empty for 40, 50 years and showing people that that corridor is viable. It was always designed to be flexible and give vendors an affordable place that meets their needs," Darnstadt added, noting the success of two former tenants — Eméché Cupcakes and A'Vents By August — who went on to open permanent storefronts of their own outside of Chatham in Bronzeville and Hyde Park.
Since opening in 2018, 10 vendors have used the space, but none have yet to permanently set up shop in Chatham.
A returning tenant, Stef-n-Ty, a husband-and-wife milliner team from Detroit, will be occupying the Chatham space for the next two weekends.
Tyrone Dickey and his wife Stephanie have owned their speciality hat shop for 28 years. They spent 12 years in Chicago before moving to Detroit, but would return often for business and family and occasionally setting up shop at Essential Elements, a popular boutique at 1640 E. 87th St. in Avalon Park.
When a friend told the couple about Boombox Chicago, they quickly got in touch with Darnstadt, who offered them a space at Boombox Bronzeville. It was a successful run, according to Dickey.
"We had quite a few people come out to see us, a lot of foot traffic, and a lot of people who have supported us for years," recalled Dickey, who added that he and his wife also made it a point to get acquainted with other business owners in the neighborhood.
The couple managed to replicate their success at the Chatham location, making sure to launch a wide marketing campaign before arriving. Boombox Chicago helped with that, too.
"I can't thank Katherine enough. I'm really loving that woman," said Dickey. "She's always a phone call away and the promotions that they do help. We do a lot when we're getting ready to come, making flyers, sending out emails, letting people know we're going to be there. Boombox helps every vendor with marketing, but the success or failure of a business depends on how hard that person is willing to work for it."
As for complaints about the program, Darnstadt said she couldn't comment because she hasn't heard any.
"No one has said anything to me. It's not like they don't have my contact information. Worlee definitely has it. But I haven't heard from him, the alderman, or from Greater Chatham Initiative," she said. "If there is an issue, I'm unaware of it."
The Boombox is doing what it's supposed to do, she said, with the city's blessing. In addition to the Chatham Boombox, the pop-ups operate in Bronzeville, Englewood, Austin and Wicker Park.
"The Boombox will be moved once a development comes," said Darnstadt.
Glover said Boombox can't move soon enough.
"The lease really shouldn't be extended after this. It's not working," he said.
Do stories like this matter to you? Subscribe to Block Club Chicago. Every dime we make funds reporting from Chicago's neighborhoods.
Already subscribe? Click here to support Block Club with a tax-deductible donation.
Our goal is to reach 10,000 subscribers by the beginning of 2020. With just a few weeks left in the year, we're pretty close to that goal. Can you help us get across the finish line? Subscribe here or buy a subscription as a gift here.