LOGAN SQUARE — Neighbors are concerned about a "sketchy" suspended utility pole in their Logan Square alley — and they said their efforts to get it removed have fallen on deaf ears.
The old utility pole, which looks like a dangling log, is located in the alley between Reno and Passion House Coffee off Kedzie Avenue near Milwaukee Avenue.
According to neighbors, crews installed a new utility pole several months ago and left the old one hanging. Neighbors said they've reached out to ComEd several times to get the old pole removed but keep getting the runaround.
Luis Morell's sister, father and nieces and nephews live in the apartment building off the alley. Morell, who spends a lot of time in the family home, said not only does the old pole look "horrible," it could be dangerous.
"What if that was to fall on somebody? That's a hazard if you ask me," he said.
"They're right next to garbage cans. What if a big fire happens? What if the wind pushes that over and everything lights up? There's a whole bunch of kids in the building."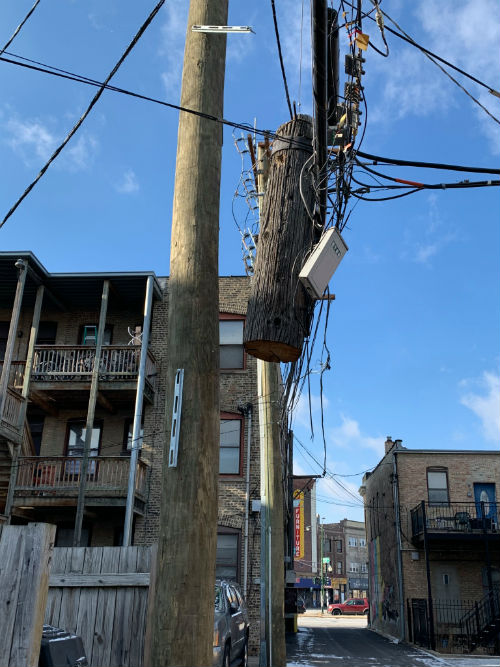 When a Block Club reporter approached Morell on Wednesday afternoon, he was on the phone with ComEd, trying to get them to remove the old pole.
Morell said that was his second call. He said his sister has called at least four times.
Each time they call, ComEd says it will send somebody out to remove it, but it never does, Morell said.
"They look like they were trying to leave it like that. That don't look like later on it's gonna get fixed," he said.
Tom MacDonald, co-owner of Reno at 2607 N. Milwaukee Ave. and Webster's Wine Bar at 2601 N. Milwaukee Ave., said he wants to see the old pole removed, too.
"It does look dangerous. It wouldn't take a lot of wind for it to fall on one of our busboys," MacDonald said.
Col Michael, an employee at Passion House Coffee at 2631 N. Kedzie Ave., described the pole as "sketchy."
"I thought it was from a storm, but then I realized they kinda left it there," Michael said.
ComEd spokeswoman Cristina Meesenburg said the electrical company sent crews to investigate the old utility pole Wednesday, the same day a Block Club reporter reached out for comment.
Meesenburg said the crews determined the wires belong to AT&T, not ComEd, so all they could do was better secure the old pole to the new one.
An AT&T spokesperson didn't immediately respond to a request for comment.
Meesenburg urged customers to reach out via ComEd's customer service line if they ever spot anything out of the ordinary. She couldn't immediately comment on whether the pole in Logan Square presents any danger.
This isn't the first time neighbors have complained about old hanging utility poles in the Chicago area. In Oak Park, ComEd expedited the removal of one after a neighbor complained.
Do stories like this matter to you? Subscribe to Block Club Chicago. Every dime we make funds reporting from Chicago's neighborhoods.
Already subscribe? Click here to support Block Club with a tax-deductible donation.