IRVING PARK — For more than seven months, Brian Welch's front yard has looked like a crime scene.
The grass between the sidewalk and street near the corner of Cuyler and Spaulding avenues was originally dug up by city water department crews in May, and it has since been covered with metal plates, safety cones and bright yellow caution tape, he said.
This week, after months of inaction by the city, Welch decided to at least try to make it look better: He decorated the mess for the holidays.
"We tried to have a sense of humor about it," Welch said. "It's not just our front yard but the whole neighborhood dealing with this."
Welch said he and his wife had been joking about decorating the construction mess since early November. They agreed that if the construction on their block wasn't done by Thanksgiving they should decorate it for the holidays. CBS Chicago first reported on the decor.
"The decorations are kind of cheesy, but we decide it might be a good opportunity to bring some attention to what's going on," he said.
Welch went on Facebook on Monday to show off the festive updates — while commiserating with neighbors who share his frustration. There are other holes in the ground and streets that have been torn up since May in the neighborhood.
"Nobody has touched it — along with the countless blocks of unpaved roads in our neighborhood — in over seven months. Since this seems like a permanent addition to our home, we've decided to decorate it for the holidays," Welch said in the Facebook post.
The city is installing a new water main on Cuyler Avenue, according to city documents that show crews dug up 22 holes in the area between May 1 and Nov. 1. Permits for the work were first issued on March 8 and are set to expire on Dec. 31 — but the work will not be done by then, according to city officials and the office of Ald. Rossana Rodriguez (33rd).
Megan Vidis, spokeswoman for the city's Department of Water Management, said 75 percent of the project has been completed in this "particular instance" but the remaining projects have been put on hold due to "underground utility and other conflicts."
Full restoration of the streets will be completed in spring once the companies that produce asphalt reopen, she said.
For the past two years, neighbors have been under siege by construction, they said.
Vanessa Woppel lives on Welch's street and was walking her dogs past the decorations Tuesday morning.
"I love that he did that. This construction has just been the worst. And it's worse at this time of year," Woppel said. "We just had Thanksgiving and no one we invited over could find a place to park. It was a nightmare."
Rodriguez's office has been getting an earful from residents about the ongoing construction since she was sworn in.
Back in June, Rodriguez hosted a meeting at Horner Park where neighbors could ask representatives from the city's departments of Transportation and Water Management as well as from People's Gas how much longer this construction would continue.
During that meeting, those representatives said some areas of the neighborhood would still see construction through 2020.
The alderman's chief of staff, Kirsten Rokke, said Tuesday they understand the frustration.
"Thank you for bringing some holiday spirit to the ward and for making the best of this frustrating situation," Rokke said of Welch's decorations.
The 33rd Ward office has been leaning on other city agencies to work with the water department so the work can be completed more quickly, she said.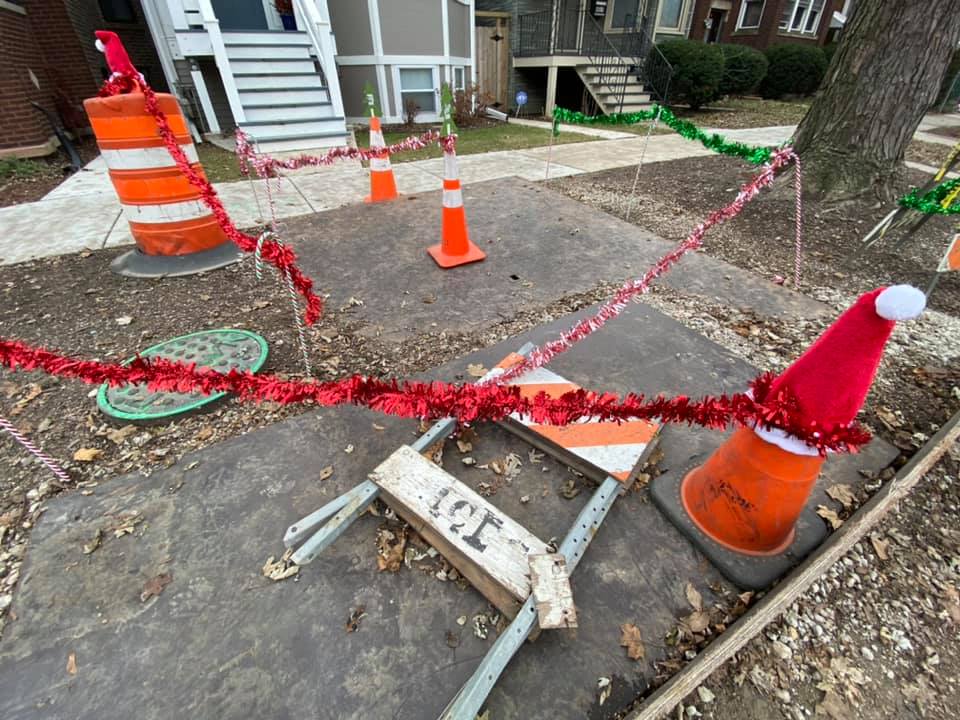 "There have been a few other city agencies whose work has caused significant delays in these water management projects," she said. "We have been and will continue to pressure the other city agencies to finish their work."
Contractors said they are waiting to complete all of the water main work before they finish paving the streets, Rokke said.
"But we have requested that the contractors move forward on repaving the streets that are completed," she said.
These streets include the 3200 block of West Belle Plaine Avenue and Sawyer. Rokke also encouraged residents to sign up for the weekly ward newsletter for the latest construction updates.
"We want residents to see the improvements to these streets as soon as possible," she said.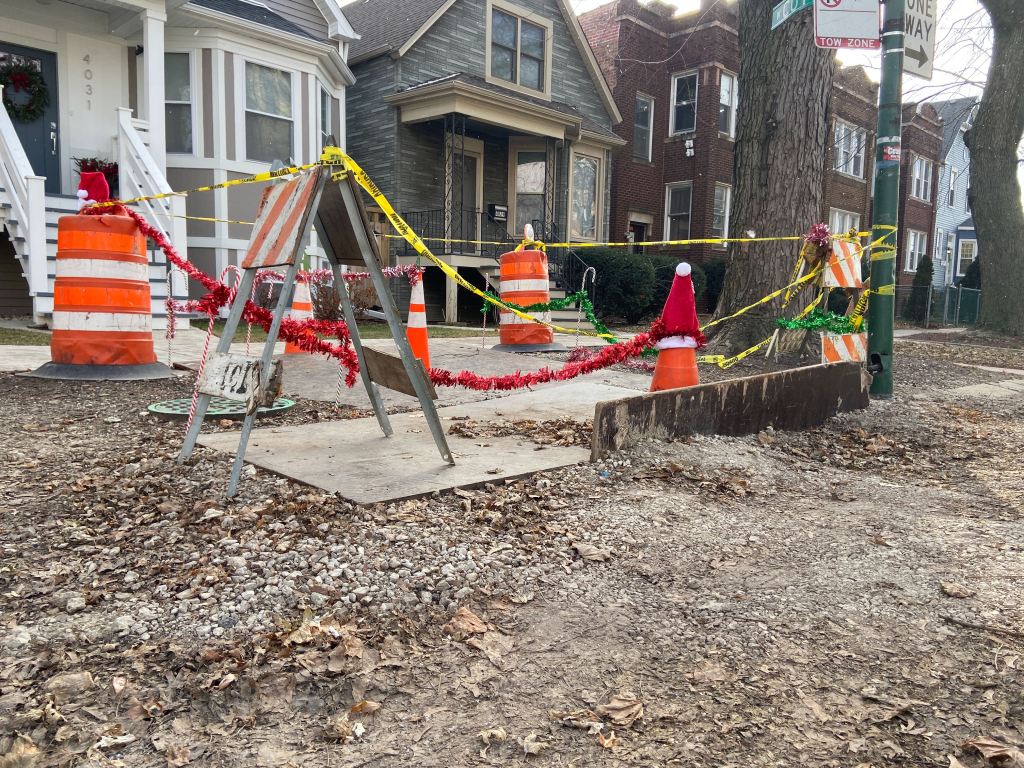 Welch said he isn't opposed to new infrastructure, but he wishes the city would move faster with installing the water main — or that it waited to tear up the street until everything was ready to go.
"At the end of June 2018 they were doing gas line repairs, which went just fine. They actually were relatively quick about it," Welch said. "I think it was probably fixed and restored within a month."
Rodriguez has been doing a good job of updating neighbors on the project's progress, Welch said, but the issue is there is none.
"The newsletter says, 'We're going to try to resolve this as quickly as possible,' but there's no real resolution," Welch said.
"The roads are just deteriorating and getting worse and worse with this weather."
Eden Johnson also lives near the intersection and parks on the street. Since construction began two years ago in the area, she's had to navigate the ever-changing set of parking restrictions.
"Parking already around here is bad. And then they put up street signs saying that we can't park from this time to this time, and then they don't even show up or do any work," Johnson said.
Alejandro Pereceado doesn't live in the area, but he works for a cleaning service that maintains the common areas of apartments on the block.
He's been frustrated with parking, too.
"This has caused so many problems for me in the year we got this contract to clean here," Pereceado said in Spanish. "Looking for parking here is nuts. And all the holes in the ground, the rocks, are damaging my car."
He's already gotten one flat tire due to all the small rocks used to fill the holes dug up in the street for construction.
"They should have a conscience and planned this construction better," he said. "I only come here once a month to clean and have all these problems due to it. I can only imagine how people who live here are suffering."
If neighbors want to look up which projects are going to happen in which neighborhood and track their progress, they can visit ChiStreetWork, an interactive map with information on construction projects, special events and street closures. 
RELATED:
Never-Ending Lincoln Square Construction To Replace Water Pipes Drags On With No Scheduled End In Sight
Is Your Street Going To Get Repaved? New City Map Shows Current And Future Projects (With Permit PDFs Attached, Too)
Do stories like this matter to you? Subscribe to Block Club Chicago. Every dime we make funds reporting from Chicago's neighborhoods.
Already subscribe? Click here to support Block Club with a tax-deductible donation.