CITY HALL — Aldermen still upset with the lack of minority ownership of weed dispensaries got another chance to voice their displeasure Tuesday, this time at a zoning hearing with Joseph Caltabiano, Cresco Labs president and co-founder.
Caltabiano was seeking a zoning change to allow recreational weed sales at Cresco Labs' future Wrigleyville home, 3524 N. Clark St. He wants to move the medical dispensary the company purchased last year, MedMar Lakeview at 3812 N. Clark St., to the new, bigger location and open it under the company's Sunnyside brand.
The Committee on Zoning eventually approved the zoning change in a 7-5 vote. Alds. Pat Dowell (3rd), Anthony Beale (9th), Raymond Lopez (15th), Byron Sigcho-Lopez (25th) and Walter Burnett Jr. (27th) — all black and Latino aldermen — voted no.
Alds. Tom Tunney (44th) — who represents the area — Brian Hopkins (2nd), Carrie Austin (34th), Nicholas Sposato (38th), Brendan Reilly (42nd), James Cappleman (46th) and Harry Osterman (48th) voted to support the zoning change. All of those aldermen are white except Austin, who is black.
Alds. Roderick Sawyer (6th), David Moore (17th), Michael Rodriguez (22nd), Ariel Reboyras (30th), Scott Waguespack (32nd), Gilbert Villegas (36th) and Maria Hadden (49th) were absent during the vote.
Burnett, who last week said he won't support pot shops in his ward unless they have some form of black ownership, told Block Club he thought the meeting sent a message not just to Cresco but others dispensaries hoping for a zoning change.
"I just want to send a message to all these guys that, you know, that there's a potential that you guys could be voted down on this stuff, that you don't get your zoning, that we can vote against it at City Council. You can't ignore the African Americans, the Latinos, the Asians, the women. You know, I mean we are the majority of the city and majority on the council. They gotta be sensitive to that and considerate of that," he said.
After the meeting, Caltabiano said he wasn't expecting the harsh reception. 
"Being just an upzoning of a current property where you have aldermanic and community support, I think I wasn't fully expecting an hour-plus debating the topic of cannabis," he said.
Caltabiano tried to highlight the company's Social Equity and Education Development initiative during the exchange with aldermen. He said that since 2018 the company has contributed more than $1.5 million in scholarship and fundraising support through the program. 
As Caltabiano read through a list of what that money has funded, Burnett cut him off.
"I think we get it," he said. 
"It seems like you're very cognizant of the fact that we're concerned about [a lack of minority ownership], right? If you weren't cognizant about that you wouldn't read through all of those things, you wouldn't have that African American guy sitting right there, right? You wouldn't be talking about your [Social Equity and Education Development] program," Burnett said, motioning to Barrington Rutherford, Cresco Labs' senior vice president of real estate and community integration, who is a black man.
"Why don't you know if you have African Americans invested in your company or if you had any African American partners in the first place?" Burnett asked.
"Sir, respectfully, four people started the company. All of us are white men," Caltabiano answered. 
But as Cresco is a publicly traded company, Caltabiano said, "I can 100 percent assure you African Americans own shares of Cresco Labs if that's your question. I can 100 percent assure you that women own shares of Cresco Labs and I can 100 percent assure you that we are a socially conscious company." 
In an exchange with Beale, Caltabiano said Cresco will provide funding to social equity applicants for the next round of state licenses that will be doled out in May.
"All of that comes with no expectation of ownership, no expectation of repayment, no expectation of equity for Cresco Labs," he said. 
Burnett told Block Club he worries companies like Cresco will eventually buy out all of the minority-owned firms that get a license.
"From what I understand, a lot of these guys have been buying the minority businesses out when they open up. These big companies buy them out, they gobble them up," he said.
"I mean the company [MedMar] that they just got they bought, right?
"And you know, God bless 'em. They probably were potheads and they started a company. I mean, that's cool," Burnett said. "But you know, be sensitive, sensitive to our community, be sensitive of our city, include people and give folks a piece of the pie."
After the meeting, Caltabiano said the Wrigleyville shop will be Cresco Labs' largest dispensary.
"This will be one of the largest dispensaries in the world and Chicago has the opportunity to have that and employ people from all walks of life in that store," he said. "Increasing jobs, increasing revenue and addressing social equity concerns, I think, is a top priority for the city of Chicago."
The full City Council will vote on the zoning change on Dec. 18.
Cresco must then head to the Zoning Board of Appeals to obtain a special-use permit to open. As of now, the dispensary is not set to be considered at the Dec. 20 Zoning Board of Appeals meeting.
Because Cresco chose to relocate the Lakeview medical dispensary, it could still be blocked from recreational sales based on a narrow interpretation of the state's cannabis law that does not allow medical shops to sell recreational weed if they relocate.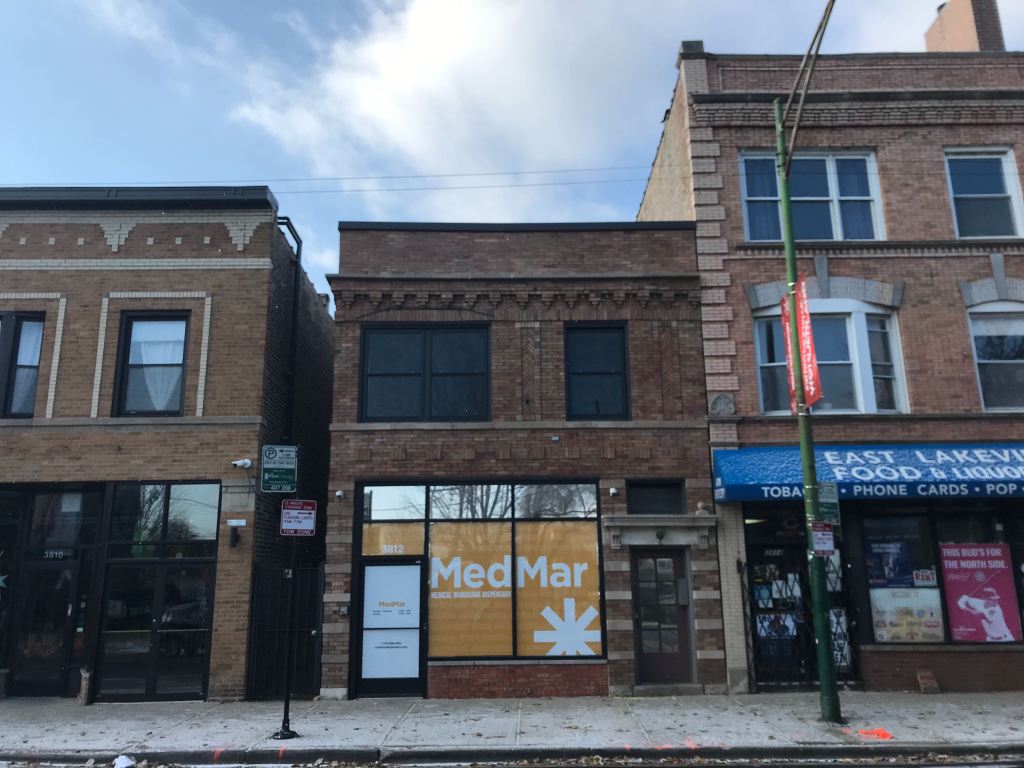 Cresco said the issue has still not been settled.
"This is a new process and we are treating every step of approval equally important and then moving on to the next step," said Cresco spokesman Jason Erkes.
Do stories like this matter to you? Subscribe to Block Club Chicago. Every dime we make funds reporting from Chicago's neighborhoods.
Already subscribe? Click here to support Block Club with a tax-deductible donation.