LOGAN SQUARE — A local architecture firm trying to build a new condo building along Logan Square's Diversey Avenue is pushing forward, despite opposition from an influential community group and the alderman.
Humboldt Park-based Range Design & Architecture bought a row of vintage storefronts at 2758 N. Mozart St. in June of 2018 with the goal of building its first development there, according to Patrick Johnson with Range.
Range drew up a proposal for an 8-unit condo building with ground-floor retail on the site. The firm designed the facade to have a folded look, "a riff on the bay window," Johnson said. The firm also wants to build a single-family home next to the condo building.
"What we liked is its location at the northeast corner of Logan Square. [It] didn't feel like there was a designed transition into Logan Square from the expressway. It just made sense to mark that corner so you know you're entering Logan Square," Johnson said.
But Logan Square Preservation, which works to protect the neighborhood's old buildings, rejected the plan, saying it doesn't support the demolition of vintage and historic buildings.
The buildings are in the process of being demolished against the group's wishes, but the developer still hopes to win them over.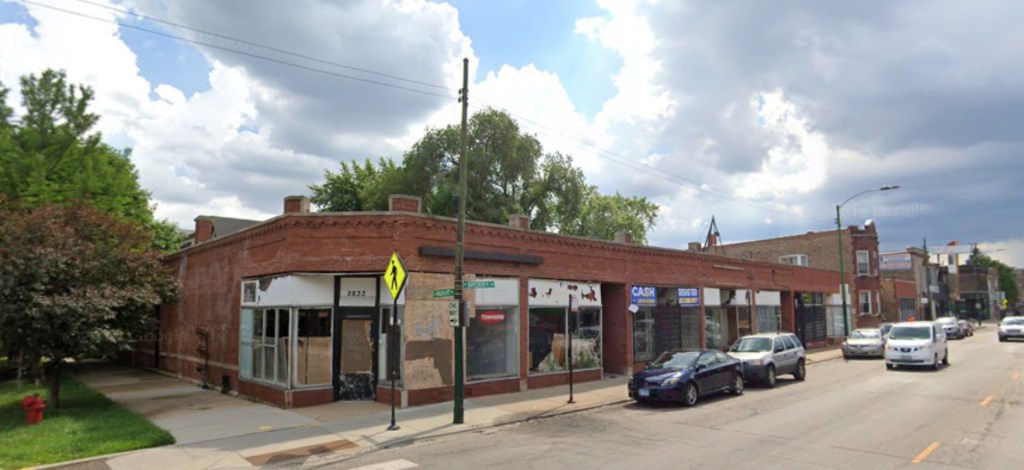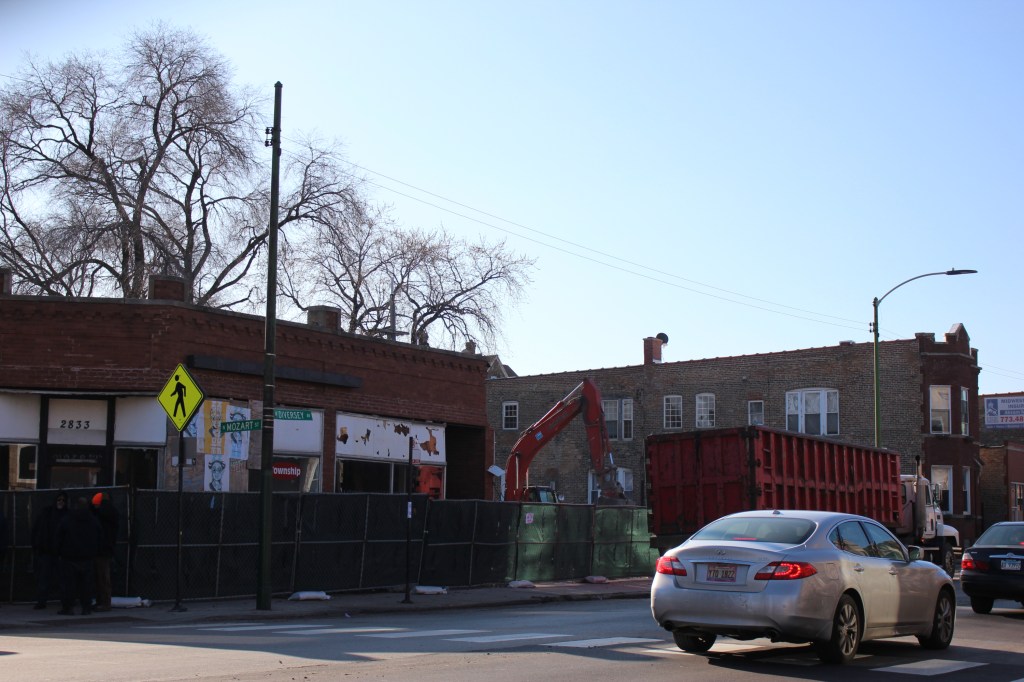 Range brought their condo plan to Logan Square Preservation and Ald. Scott Waguespack's 32nd office in the summer of 2018, hoping to secure a zoning change needed to build the condo development. Currently, only retail and a small number of residential units is allowed under the site's current zoning designation.
Logan Square Preservation issued its rejection letter a year later in July.
"This is a dilapidated building, but Diversey is reviving due to its old store fronts and the current, contiguous B3-1 zoning. That is the correct zoning for this building and the street," the group's letter reads.
"In our opinion, like the Pipeworks building on California, this building has a chance of rehabilitation if the zoning is maintained."
Waguespack followed the recommendation of Logan Square Preservation and ultimately rejected Range's request for a zoning change, according to the alderman's chief of staff, Paul Sajovec.
Still, the building is coming down, Johnson said, adding that it wasn't worth saving. He said it suffered from 30 years of deferred maintenance, a partial roof collapse and being hit by a car.
And despite having been built in the early 1900s, the building wasn't architecturally significant either, he noted.
But Johnson said the main reason he and his team opted to tear down the building rather than reuse it was because of the building's small size.
"It's a very small building and to turn that into a productive commercial property would've been just as much a challenge for anyone as it was for us," Johnson said.
During demolition, the firm came up with a new plan they hope will win over Logan Square Preservation and Waguespack. That plan calls for reusing roughly 6,000 bricks recovered in demolition in the new building facade so it has the look and feel of the original vintage building.
"As they started knocking it down, I realized they were pulling a really substantial amount of common brick out of the building," Johnson said.
"I think there's going to be enough for us to clad the new building with the material we've harvested in the old building so there's an aspect of honoring history."
The new plan is still a long way from reality. Range needs to go back to Logan Square Preservation and Waguespack for zoning change approval before it can start applying for city permits.
Andrew Schneider, president of Logan Square Preservation, said his group hasn't reviewed the new plan yet.
"Any updated renderings or updated proposals will need to be evaluated like we evaluated the last one," Schneider said.
"We will continue to be primarily deferential to the immediate neighbors of this project."
Do stories like this matter to you? Subscribe to Block Club Chicago. Every dime we make funds reporting from Chicago's neighborhoods.