LAKEVIEW — About two dozen people staged a protest outside a Jewel-Osco in Lakeview Wednesday night to demand answers after a man accused of shoplifting mysteriously died in the store after being detained by security last week.
As shoppers visited the store at 3531 N. Broadway on Thanksgiving eve, they were greeted with a black banner reading: "Murderers. What's His Name?"
The man, Eugenio Escriba Guzman, 55, was at the grocery store on Nov. 20 when he was detained by store security, Chicago Police said. Security told investigators the man was detained after he was seen putting toiletries in a bag and walking past the registers without paying, according to police.
A security guard confronted the man and tried to detain him, but the man was combative, police said. With the help of cashier and another person, they handcuffed the man and took him to the store's security office, where they called 911, police said.
At about 6:45 p.m., officers found the man slouched over a crate while handcuffed, police told the Sun-Times. The man was unresponsive and officers began CPR and called paramedics.
He was pronounced dead at the scene, police said.
Detectives are still investigating the death, said Jessica Alvarez, a Chicago Police spokeswoman.
"It has not been determined whether it is criminal at this time," she said.
Guzman lived near the grocery store in the 3900 block of North Pine Grove Avenue, according to Natalia Derevyanny, a spokeswoman for the Cook County Medical Examiner's office. An investigation into the cause and manner of death is still pending.
Outside the store Wednesday, Erica Kadel, a development manager at the Depression and Bi-Polar Support Alliance, said she wants Jewel-Osco leaders to take accountability for what happened.
"The fact that they're really trying to sweep this under the rug is extremely disappointing," Kadel said. "I think that the least they could do is make a public statement and let people know what they've done to handle it."
An employee at the Broadway Jewel-Osco store declined to comment. Calls to Jewel-Osco's corporate office were not returned.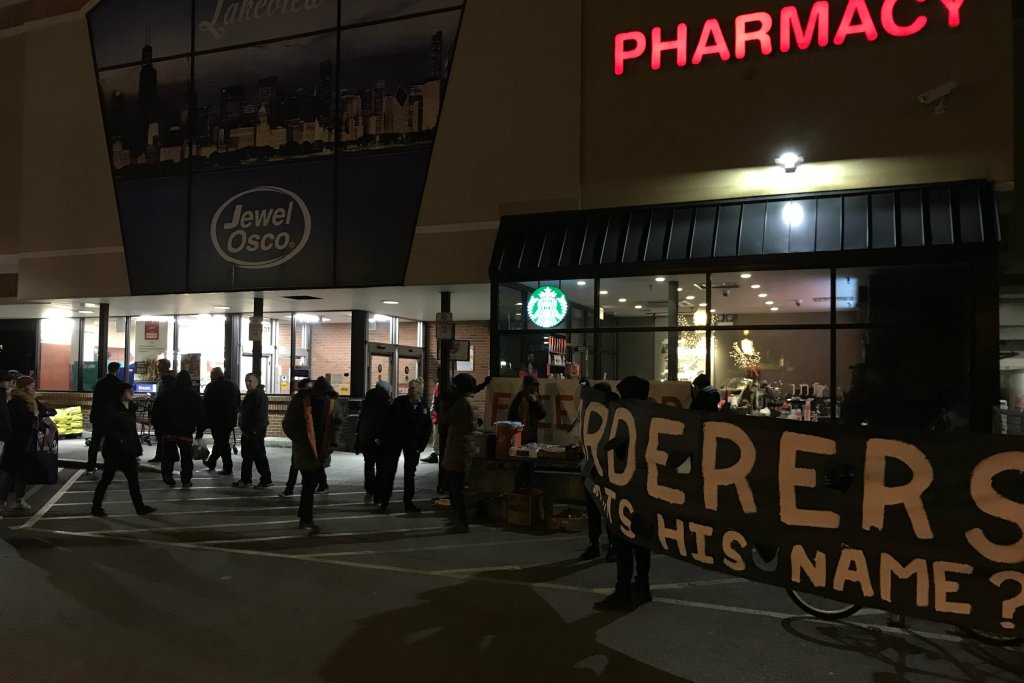 Kadel and Laura Grace, who both live in Lakeview, organized about about a dozen people to hold a sidewalk vigil outside the store for Guzman.
"Are they planning on continuing to have that person or multiple people in the store?" Kadel asked of the security employee's fate.
Before the vigil, another group of protesters set up a table and tried to hand out free food to customers as an alternative to shopping in the store. The group shouted "Jewel Osco are Murderers" and handed out fliers.
The group initially were by the Jewel-Osco entrance, handing out fliers and asking shoppers not to enter the store. But after they were confronted by about 20 Chicago Police officers, the group eventually moved to the sidewalk.
One protester who would only identify himself as "Jerry" told Block Club he wanted shoppers to know a man died inside the store last week.
"[The company] sees fellow community members as potential threats instead of people that are just like them, deserving of care and concern." he said.
Hunter Shields, a neighbor who shops at Jewel almost every day, was shopping inside the store when he heard protesters. He said Jewel's refusal to say what happened to the man "looks bad."
Tressa Feher, chief of staff for Ald. James Cappleman (46th), said Jewel must be held accountable for what happened in the store. The store is in Cappleman's ward.
"Alderman Cappleman is calling on the police and detectives to quickly do their due diligence on this investigation so that the victim's family and the community know exactly who was responsible for our fellow resident's death," Feher said. "Jewel must be held accountable for what happened in their store and let the community know how they are changing their store policies to keep all customers safe."
Do Lakeview stories matter to you? Subscribe to Block Club Chicago. Every dime we make funds reporting from Chicago's neighborhoods.
Want to support Block Club with a tax-deductible donation? Thanks to NewsMatch 2019, your donation will be doubled through Dec. 31. Donate here.