HUMBOLDT PARK — The colorful Christmas decorations that recently popped up along Humboldt Park's Division Street are not the work of the city but of lifelong Humboldt Parker Elizabeth De Jesus.
De Jesus has been putting up holiday decorations around the neighborhood for about about six years. This year the 56-year-old is focusing her efforts on the stretch of Division Street known as Paseo Boricua.
"People stop, they stop their worries, they stop being angry for a second just to glance at something else," De Jesus said.
De Jesus uses her own supplies. Her friend gave her boxes of decorations when he closed a Dollar Store years back. The mix of bows, bells and sparkly garland have lasted her a few years and she sees no reason to ask anyone to buy more.
"I don't like to ask anyone for anything. I understand people got bills and I don't like to be a burden to no one. I just try to do the best I can. … it brings me peace," she said.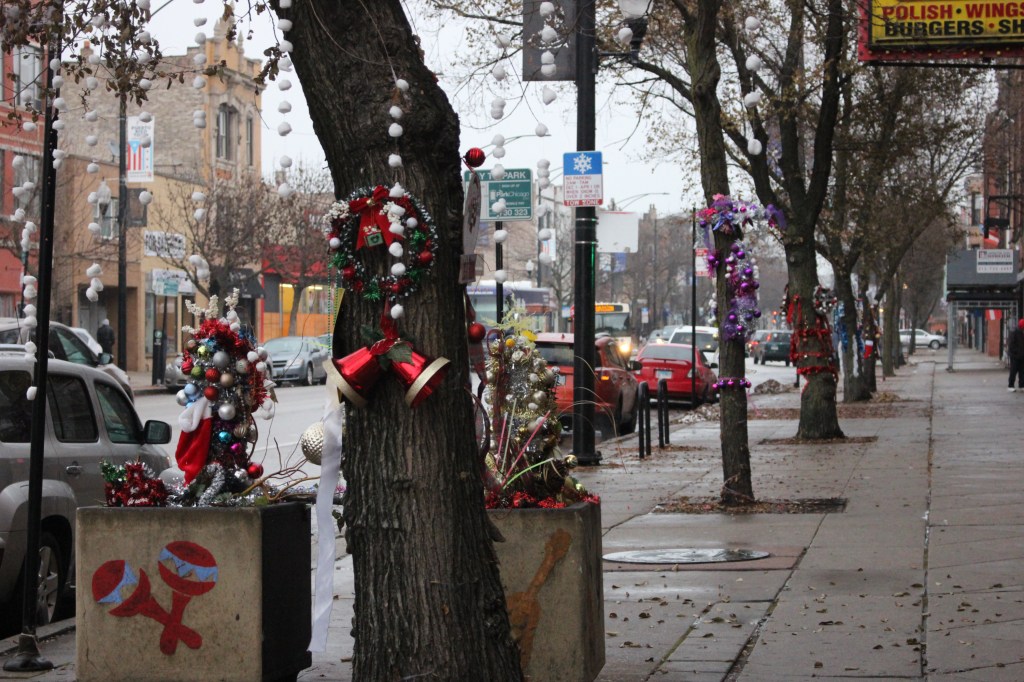 So far this year De Jesus has decorated a handful of trees along Division Street near California Avenue. She's planning on decorating more in the coming weeks so the decorations stretch to Washtenaw Avenue.
De Jesus said she sticks to trees because one year she decorated light poles and city workers took the decorations down.
A few people have offered to help put up the decorations over the years, but De Jesus has kindly shooed them away.
The Humboldt Parker said she doesn't want to burden anyone. Plus, she has a creative vision. She worked in real estate for years and discovered she has a knack for decorating.
"I have my own ideas and I'm pretty set on how I want it to look," she said.
De Jesus said most neighbors are grateful and supportive, but some choose to be negative.
"People say, 'You're stupid. You should be getting paid.' Well, I'm not you. I have my own reasons. I don't want anything," she said.
In other neighborhoods across Chicago, holiday decorations are paid for through taxing districts called special service areas. The district levies a special tax on property owners within specific boundaries for communal services such as holiday decorations, trash pickup and snow removal. 
For De Jesus, decorating the neighborhood is an extension of all the philanthropic work she does throughout Humboldt Park.
De Jesus regularly donates food and other items to people experiencing homelessness in the neighborhood. She also routinely takes care of her ailing neighbor on top of other obligations.
De Jesus usually only has a couple hours free here and there but she finds time to put together the decorations, sometimes out of her car.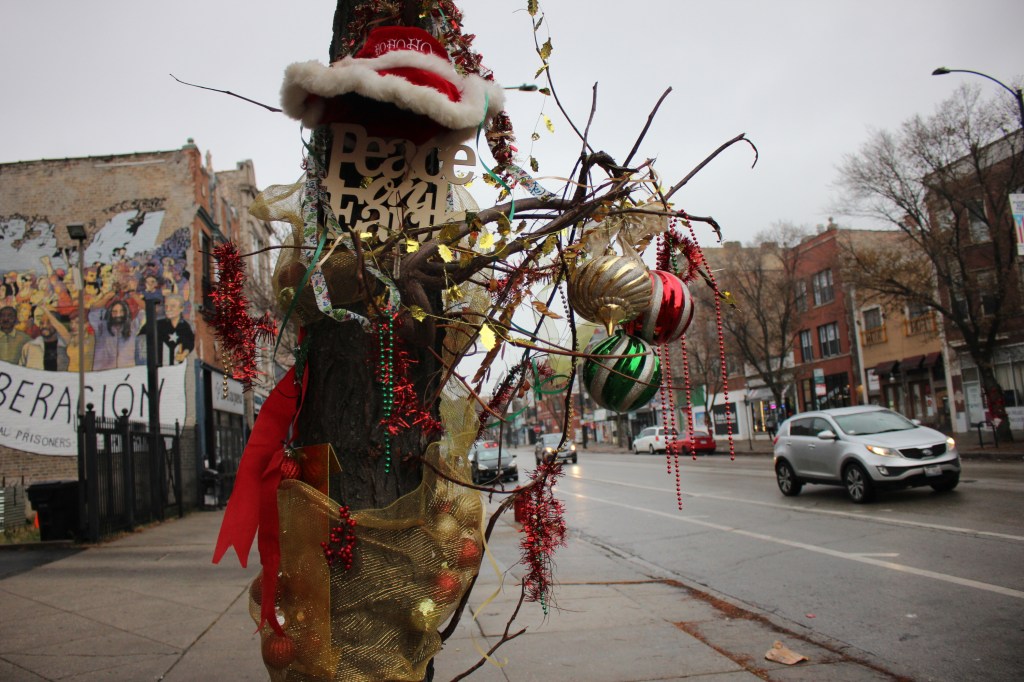 De Jesus herself was homeless up until about six years ago, which is around the time she started decorating.
"I was homeless so I had to get some joy and that was my joy. That's how I found peace," De Jesus said. "I saw everyone else in my situation was doing bad. I just thought we need a little joy, a little happiness."
De Jesus now lives with her brother and is working on getting her own apartment. Life has improved, but things haven't been easy lately. De Jesus said her daughter-in-law just had a double lung transplant and she's in the middle of a "little session" of cancer herself.
Despite the hardships, De Jesus said she hasn't stopped giving to others because "the world doesn't revolve around me."
"I can't be selfish," she said.
Over the years De Jesus has decorated the neighborhood's namesake park and the now-razed Puerto Rican cultural center La Casa Puertorriqueña for Mother's Day, Christmas, Halloween and other holidays, as well as birthdays and family events.
De Jesus is especially proud of the Christmas tree decorations she did one year in Humboldt Park. That year she hired Santa and Santa's wife to come out for very little money, had friends play music and donated gifts to people experiencing homelessness.
"A lot of homeless people said, 'I hadn't been under a tree for a long time. I hadn't received a gift from anyone in years.' So that one year I made sure I had things for men, things for women, things for little kids," she said.
It was gratifying, she said, to hear from people who appreciated her work, but that's not why she does it.
"Whether they thank me or not, I'm going to continue to do what I do. I'm not looking for no recognition, no status."
Do stories like this matter to you? Subscribe to Block Club Chicago. Every dime we make funds reporting from Chicago's neighborhoods.
Want to support Block Club with a tax-deductible donation? Thanks to NewsMatch 2019, your donation will be doubled through Dec. 31. Donate here.