WOODLAWN — State Rep. Curtis Tarver II (D-25th) was arrested Monday evening and charged with carrying a gun with an invalid concealed carry license, a misdemeanor.
Chicago Police officers pulled Tarver over in the 6400 block of Stony Island Avenue at about 8:30 p.m. Monday. He was driving with a non-functioning headlight, for which he was also cited, according to police.
Tarver was issued a no-cash bond and released, according to Chicago City Wire, which broke the news Thursday. He is set to appear in court Dec. 27.
In a statement Friday, Tarver said the arrest stemmed from a "clerical error" relating to his recent firearm license renewals.
His concealed carry permit was renewed in August, but revoked due to an expired Firearm Owners Identification Card (FOID) which was renewed as of Nov. 16, he said.
"While I had no way of knowing, this renewal purportedly was not yet reflected in Chicago Police Department records. The department acknowledged that my FOID was valid as of November 16," Tarver said in a statement. "This was two days prior to the traffic stop, indicating that the concealed carry license should also be valid. I fully expect this case will be resolved quickly and without incident."
The Chicago Police Department said they did not have information on Tarver's licensing status, directing the request to Illinois State Police. The state police declined comment, saying they were legally prevented from sharing licensing information.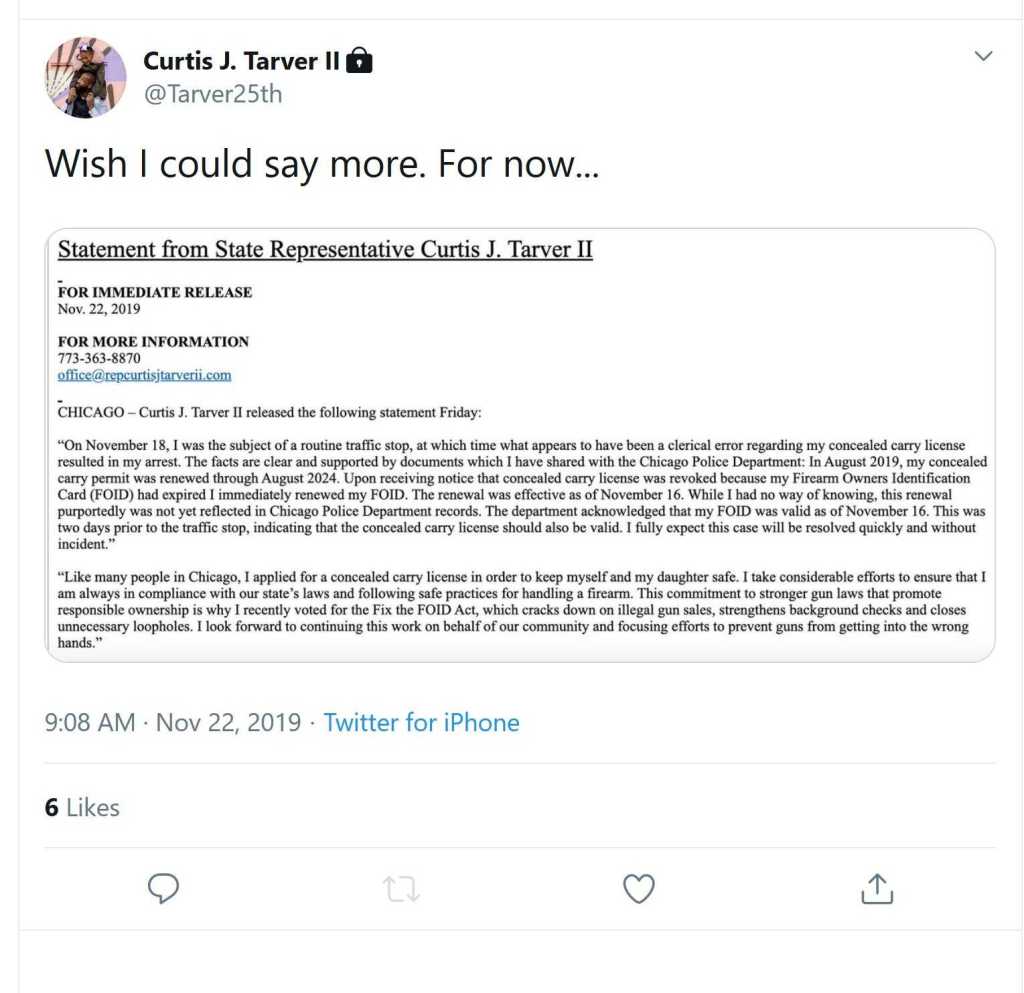 Tarver, an attorney and North Kenwood resident, was elected to serve the 25th House district in 2018.
The arrest comes at the end of a tumultuous year outside the office for Tarver. The representative is co-owner of Vice District Brewing, which closed both of its taprooms, one in the South Loop and another in suburban Homewood, this year.
Tarver and business partner Quintin Cole owed more than $120,000 in rent, court costs, and attorney's fees at the South Loop location, the Hyde Park Herald reported in May.
Cole told the Chicago Tribune in June the brewery intends to open a Hyde Park location next year. Vice District is the first African-American owned and licensed brewery in Illinois, according to Tarver.