LINCOLN SQUARE — It's beginning to smell a lot like pumpkin pie.
From Hyde Park to Edgewater, Chicago's bakeries are prepping for one of the biggest holidays on the pastry calendar, cranking out thousands of pies destined for Thanksgiving gatherings across the city.
At Spinning J in Humboldt Park, co-owner Dinah Grossman said she expects her team will whip up 800 to 1,000 pies, pushing her small shop's capacity to the max.
"There's a lot of math involved," she said. "We have to look at how many ovens we have, how much storage space, how long it takes to bake each type of pie. As the years have progressed, we've tightened up our process."
Some shops started taking orders back in October as they brace for the bakery equivalent of Black Friday. It's so common for pies to sell out, owners have to log into their own systems and reserve a pie or two for themselves.
"My test order is always our first online order because one year I didn't do that and we ended up not getting pie," said Dave Miller, co-owner with wife Megan of Lincoln Square's Baker Miller. "This year the family got really excited about the Koval Whiskey Pecan Pies so obviously we ordered two of those."
Though pie-mageddon makes for an exhausting start to the holiday season, Miller said the boost to the bottom line is worth it.
"It gives us a revenue bump before we hit the winter slump that starts right after the new year," he said. "We try to keep our staff all employed full time whether we are busy or not in the winter time. Thanksgiving gives us a buffer of savings that allows us to do that."
Because a new Thanksgiving customer could potentially become a regular, bakers like Grossman make sure their shop's DNA is evident even in holiday pies.
Her pumpkin pie, for example, is a half-Libby, half-Japanese kabocha squash concoction that plays to Spinning J's "familiar with a twist" strength. She deals with Thanksgiving's red-headed stepchild — cranberry — by pairing it with yuzu curd in a brown butter shortbread crust.
"It was so popular last year, we brought it back. It's citrusy and bright. I think it's really refreshing," Grossman said.
But pumpkin still reigns supreme in most households, for good reason, according to Michael Weber, whose grandfather founded Weber's Bakery in Garfield Ridge.
It tastes like nostalgia.
At a bakery like his, which has been serving generations of families for nearly 90 years, holidays are all about tradition, Weber said.
If someone's grandmother served pumpkin pie, odds are their mother followed suit, and so will they.
"Most people create the same meal every year. They want that same taste," he said, or, perhaps more accurately, "the tradition of that taste."
That holds as true for the Weber family as anyone else's. Michael scrolled through the shop's orders — Weber's will make close to 2,000 pies for Thanksgiving — and found his wife's: one pumpkin whipped cream pie and one chocolate whipped cream.
"That was my dad's favorite," Weber said of the chocolate. "There's no way I'm ever changing that."
Need to order Thanksgiving dessert? There's still time, but just barely. We've rounded up some options below, highlighting items beyond the usual suspects of pumpkin, apple and pecan (though almost every bakery the Big Three on its menu).
Bang Bang Pie & Biscuits: There's no order deadline, but items, including mini-biscuits, will sell out. Bang Bang locations will have additional pies on hand for walk-in customers, Nov. 26-27, on a first-come, first-served no-guarantee-supplies-will-last basis. Pies cost $28-$32. Click here for order information. 4947 N. Damen Ave., 2051 N. California Ave.
Baker Miller: The cut-off for preorders is Nov. 22; pies cost $28-$32. Extras will be on hand Nov. 25-27 for first-come, first-served walk-ins. Click here for order information. 4655 N. Lincoln Ave.
Hoosier Mama Pie Company: Hoosier Mama started taking Thanksgiving orders Oct. 1 and has been sold out for weeks. Try your luck at the walk-in counter, which will be stocked until it's not, Nov. 26-27 and Thanksgiving morning. The menu will include apple, pumpkin, chocolate chess and pear apple cranberry but, repeat after us, no guarantees. Cost: $28-$32. 1618 1/2 W. Chicago Ave.
Edge of Sweetness: If you've ever thought turkey could be improved by tasting more like lemon or banana, you're in luck — the bakery's Turkey Cake can be ordered in a variety of flavors. But pies, $16-$21, are the real star here, including sweet potato and chocolate caramel pecan versions. Orders taken through Nov. 25 (click here). 6034 N. Broadway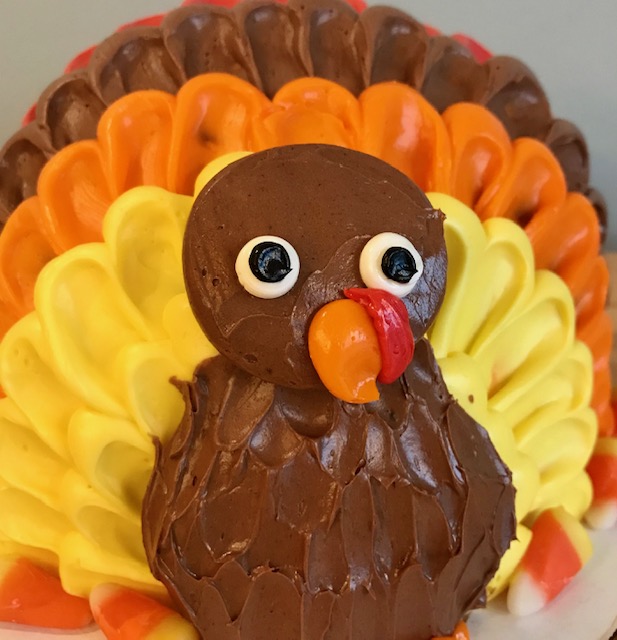 Delightful Pastries: A look at Delightful's menu has us wondering "why?," as in why eat pumpkin when you could have the Elvis Pie, with its Oreo crust and peanut butter cheesecake. There's also a gluten-free coconut chocolate pie and a fudgy solution to the cranberry quandary. Order deadline is Nov. 23 (click here); pies cost $16-$25. 5927 W. Lawrence Ave.
Defloured: This is your gluten-free headquarters, with vegan options too. But click through quickly, the order deadline is Nov. 21. Pies are $28-$36. 1477 W. Balmoral Ave.
Spinning J: Online orders, click here, are open until they reach capacity (realistically Nov. 22, according to Dinah Grossman). Extras will be in the shop's pie case Nov. 26-27 and Thanksgiving morning; cost: $30-$35. 1000 N. California Ave.
Dinkel's: The pies here are advertised as "extra deep" and cost $13.95-$21.95. The Thanksgiving menu includes a Dinkel's original, the Chicago River Bottom Pie — Oreo crust, layers of vanilla and chocolate custard, and whipped cream topped with brownie and toffee bits. Staff tells us it's rich enough to carve into small pieces for an army of aunts and uncles. Order deadline, click here, is Nov. 26. 3329 N. Lincoln Ave.
First Slice: Most bakeries offer a pared down Thanksgiving menu, but not this one, which means decisions, decisions. On the traditional side, we're partial to the sweet potato praline or pumpkin cheesecake with chocolate gingersnap crust. Then there's the adorable almond cream polka dot pie, which is so yummy, we never notices it's also gluten-free. Last day to order is November 23 (click here); pies come in small and large sizes, $15-$30. Locations in Andersonville, Ravenswood and Ravenswood Manor.
Vanille Patisserie: Sacre bleu!, the French have beaten us at our own holiday. Witness the patisserie's Thanksgiving, including a Chocolate Nutella French Silk. J'adore. Order deadline is Nov. 24 (click here). Pies cost $24.95-$32.95; some can be made gluten-free for an additional $5 charge. 5229 S. Harper Ct., as well as locations in Lincoln Park, Lakeview and the French Market.
Weber's Bakery: Don't forget the kids' table. In addition to a full menu of pie options (click here), Weber's also sells a super cute chocolate dipped "turkey" filled with a surprise stuffing — cookies and a cupcake. The order deadline is Nov. 24; call 773-586-1234 or stop by 7055 W. Archer Ave.
Roeser's Bakery: For more than 100 years, this family-owned Humboldt Park bakery has been making Thanksgiving more delicious. The best part? There's no order deadline. John Roeser says there are 16 pie varieties to choose from, but pumpkin and apple are the most popular for the holiday. Want to up your game? They also have a pumpkin cheese pie, which has a sweet cheese above the bottom crust and in between the crust and the pumpkin. There's also a Dutch apple variety, with streusel on top instead of the crust. Call ahead to reserve your pie at 773-489-6900 or pop in to the bakery at 3216 W. North Ave. Wednesday and be ready for some crowds.
Justice of the Pies: Let's all give thanks for Justice's signature salted caramel peach pie, not to mention its cheddar and caramel apple pie, an homage to Chicago-style popcorn. Check out the full menu before placing an order by Nov. 22. Cost: $25-$40. Pickup at The Hatchery, 135 N. Kedzie Ave.
Floriole: You can have your cake, and pie too, with the shop's Pecan Pie Cake — almond pecan cake soaked with bourbon syrup, filled with caramel and toasted pecans, and frosted with caramel buttercream. Items are selling out fast; click here for full Thanksgiving menu. Prices: $30-$40. 1220 W. Webster Ave.
Do stories like this matter to you? Subscribe to Block Club Chicago. Every dime we make funds reporting from Chicago's neighborhoods.
Want to support Block Club with a tax-deductible donation? Thanks to NewsMatch 2019, your donation will be doubled through Dec. 31. Donate here.