IRVING PARK — After a rash of shootings on the Northwest Side, residents packed a community policing meeting this week demanding more information and more police patrols in the area — but the meeting was interrupted by yet another shooting.
Tuesday's meeting was originally going to have Albany Park (17th) Police District Cmdr. Ronald A. Pontecore, Jr. address concerns over staffing and the uptick in violence in the area.
However, minutes into the meeting at the Horner Park Fieldhouse, 2741 W. Montrose Ave., he was called away to the 4300 block of W. Irving Park Road after a police officer and a 15-year-old boy were wounded during a gun battle with a bank robbery suspect.
Now, neighbors are circulating a petition demanding Mayor Lori Lightfoot and interim Police Superintendent Charlie Beck permanently assign more police to the Albany Park (17th) Police District to address the crime wave.
Recent shootings and gang activity in the police district — which includes parts of Irving Park, Albany Park and Ravenswood — have neighbors worried. 
During the standing room only CAPS meeting Tuesday night, more than 40 neighbors expressed their frustration that calls for more police patrols are not being taken seriously by the city. 
"We going to reach out to the neighborhood organizations to get them to contact the mayor's office to make sure the 17th district gets what they deserve," State Rep. Jaime Andrade, Jr. said.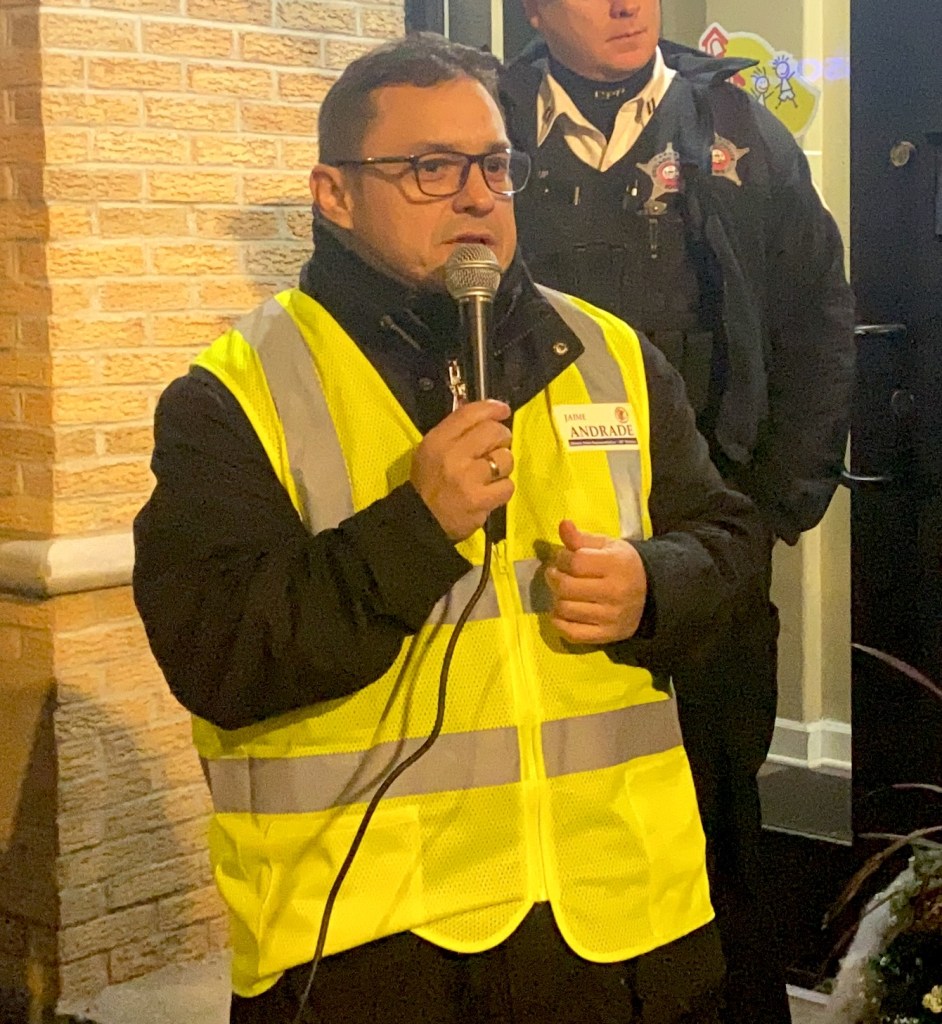 Andrade attended Tuesday's meeting and launched the petition based on the concerns he heard.
Lightfoot announced she was moving 151 officers from desk duty and putting them back on the street in October. Neighbors worry the 17th district wouldn't benefit from this reorganization.
With Cmdr. Pontecore at the scene of the shooting, officers Jerry Zanders and Debbie Iza fielded questions from residents. 
After some recent shootings, additional police patrols were also sent into the area, Iza said. But the officers were not permanently assigned to the district and have since left.
Zanders said officers are conducting nightly "missions" in the district in response to the uptick in gang activity.
Chris Poulos, chief of staff for Ald. Rossana Rodriguez (33rd), was also at Tuesday's meeting. During the recent budget hearings his office has been pressing Lightfoot to get more police assigned to the district, he said.
"The mayor's office was not budging," he said.
This angered the crowd at the meeting. Neighbors asked why those officers were not permanently assigned in response to the uptick in violence. 
"We used to have five tactical teams to a police district. Three teams who just deal with anything and everything and two that just targeted gang activity," Iza said.
Six years ago, the police department rearranged how those tactical teams were deployed in the city which meant they were no longer exclusive to the 17th district, Iza said
"Now when things do happen, like the most recent shootings, we have additional police resources come to our district temporarily," Iza said. "But we're still looking for more permanent solutions."
Zanders and Poulos both told neighbors to reach out to the mayor to let her know they want more officers permanently assigned to the area. To help them accomplish this, Andrade launched his petition.
"There has been a historical trend that, when new police officers are assigned to neighborhood districts, the 17th District and our community has been forgotten and shortchanged," said Andrade, in the petition. "We want to send a message to the new mayor and the Chicago Police Department that this trend is unacceptable."
Resident P.J. Schoeny lives in the 4300 block of North Troy Street. He asked officers about the early morning shooting on Nov. 4 where masked men shot a 35-year-old man in the back. 
"Those 13 gunshots aimed at that guy who was in the car on Troy Street were also aimed directly at my house," he said. "We're all just caught in the crossfire of random shootings."
Schoeny said he appreciates police responded to the shooting within 90 seconds, but asked for more context from police on why these shootings are happening.
Officers told frustrated residents Tuesday they could not share details of an ongoing investigation, which did not ease Schoeny's concerns.
"I just wish there was more information on why this is happening," he said.
Jamie Ponce's child attends the Irving Park Early Learning Center, 3023 W. Montrose Ave. The building was recently tagged with graffiti tied to an apparent gang war.
She attended Tuesday's meeting because parents at the daycare are worried another shooting may happen at or near the address.
"It doesn't take a lot of imagination to see someone pulling around that corner and firing at someone tagging the wall and hitting a bunch of little kids," Ponce said.
Ponce also shared her frustration over the district's CAPS office not being responsive after multiple calls and emails.
"I had a day where I probably called 12 times and no one picked up the phone. I left a message that wasn't returned," she said. 
She finally did get an officer on the phone the next day. When she told him her concerns about the daycare and gang activity, he had no idea what she was talking about, she said. 
"I called the 17th District. Other parents called the 17th District. And your officer didn't know about it," Ponce said. 
She and other neighbors at the meeting said this lag in communication at the district is deeply concerning.
Bardha Kazazi, a manager and program director for the daycare, was also concerned police haven't followed up with her after she's left messages with them.
"I apologize. We dropped the ball on that and we have to do a better job on that for sure," Zanders said.
Parents at the meeting also asked for police to assign a squad car to the daycare when children are being picked up in the afternoon and evening as a deterrent to gangs. 
Officers would continue to give the area around the daycare "special attention," Zanders said. But he couldn't promise a squad car would be there every single day due to the district's current staffing and other 911 calls that happen in the area.
"I agree with you 100 percent. We would like to have that car there but I can't give you a guarantee," he said. "For example, if we have a situation like we have like tonight of shots fired. With something very extreme like this we have to respond. We're dropping everything we got and we're going to it."
RELATED
Chicago Police Officer, Teen Shot During Gun Battle With Alleged Bank Robber In Old Irving Park
Gang War Shootings And Graffiti Unite Irving Park Neighbors To 'Take Back' Their Neighborhood
Masked Men In Gray Acura Shoot 2 People In 3 Separate Incidents Around Irving Park Monday
Teen Shot In Leg In Albany Park Thursday Afternoon
14-Year-Old Boy Shot In Head While On The Way Home From Homecoming Dance In Albany Park
Do stories like this matter to you? Subscribe to Block Club Chicago. Every dime we make funds reporting from Chicago's neighborhoods.
Want to support Block Club with a tax-deductible donation? Thanks to NewsMatch 2019, your donation will be doubled through Dec. 31. Donate here.