IRVING PARK — A Chicago Police officer was shot and a 15-year-old boy wounded during a gun battle with a bank robbery suspect Tuesday night in the Old Irving Park neighborhood.
The officer survived the shooting and is awake and talking, according to Chicago Police spokesman Anthony Guglielmi.
But while police characterized the injury as a graze wound earlier in the night Tuesday, they later said the bullet, in fact, pierced and exited the officer's skull.
"Injuries are more serious than preliminary diagnosis," the department said.
The 15-year-old was shot in his arm and abdomen, and taken to Lurie Children's Hospital, police said.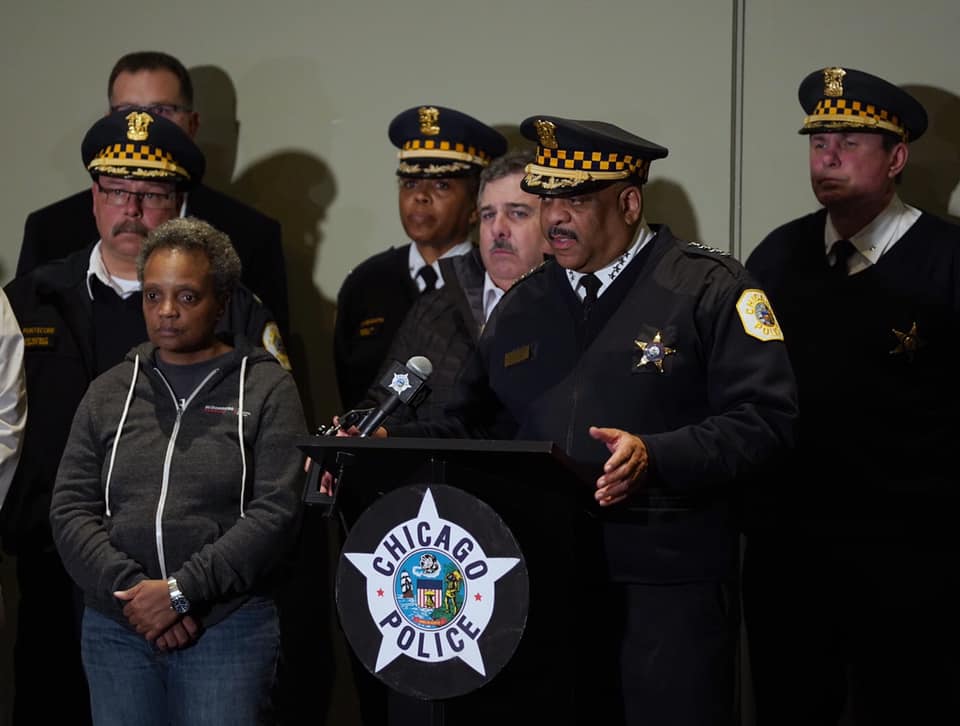 A 32-year-old man wanted by Des Plaines police and the FBI got into a car crash in the 4300 block of W. Irving Park Road around 6:53 p.m., police said.
The man exited the car after the crash and fired shots in the direction of responding officers.
The suspect then fled into a nearby business and police officers from an "outside agency" entered the business and exchanged gunfire with the offender, who died in the exchange, according to police.
Officers blocked the streets around the shooting for hours after the shooting.
Police Supt. Eddie Johnson appeared with Mayor Lori Lightfoot at the hospital late Tuesday, offering prayers for the wounded officer.
The shooting happened not far from where Albany Park (17th) Police District Cmdr. Ronald A. Pontecore Jr. was speaking to neighbors at a community policing meeting at the Horner Park field house.
He was there to speak to neighbors about the increase in violence in the 17th district over the past few months.
Just minutes into the 7 p.m. CAPS meeting, a voice from a walkie-talkie in the room said shots had been fired and an officer needed assistance.
"We need you. There's a situation," said a police officer who poked her head into the door of the room.
Pontecore grabbed his hat and coat and left the meeting with a few officers. Moments later three squad cars with their sirens on headed south on California near Montrose Avenue.