WEST LOOP — After neighbors voiced their concerns about the added traffic a 16-story office building would bring to Fulton Market's north end, the area's alderman is asking the developer to reach a compromise with neighbors.
Trammell Crow Company revealed plans for a 245-foot-tall building that would bring offices and retail to 400 N. Aberdeen St. on a property that is sandwiched between the Metra tracks at a meeting Tuesday night at Catalyst Ranch. At the heated meeting, neighbors complained that the project's density will make the West Loop's traffic and parking problems even worse.
While Ald. Walter Burnett Jr. (27th) said he views the project favorably, he can't formally support it until the developer addresses some of the concerns voiced by local group Friends of River West.
Burnett wouldn't say what a compromise that addressed the neighbors' concerns to his satisfaction could look like. He also cautioned that more development and the traffic that comes with it is inevitable in the booming West Loop.
"Traffic is a foregone conclusion…it's coming to the area," he said. "…We aren't going to make everyone happy but we will work out something with residents."
As proposed, the building's first floor would include a lobby, retail and a fitness center. The second and third floors would include 165 parking spaces. The fourth through 15th floors would be offices and the 16th floor would be a shared amenity space for office tenants, developers shared with neighbors. 
Trammell Crow also plans to widen sidewalks around the building in an effort to make the area more pedestrian friendly.
If approved, the 16-story tower designed by ESG Architects would replace a one-story warehouse, a three-story office building and a parking lot at the site bound by elevated Metra tracks to the north, May, Aberdeen and Kinzie streets. The surface level Metra tracks sit just south of the site. 
'We want to stay and we don't want all of this development to go up around us'
While some attendees lauded the building's design as "beautiful," residents who live north of the proposed development worried how the tower's density would impact traffic, parking and infrastructure, including the area's outdated sewer systems.
During a heated exchange, a person who works in the office building currently at the site offered his support for the project while dismissing concerns about traffic. The comment was met with a backlash from residents who say they struggled with the area's brutal traffic during all hours.
Lynda Bonamici, who said she has lived in the area north of the site for more than 55 years, said the tower would make a parking shortage in the area even worse. The development site is less than two blocks from West Town's border.
"It's a struggle to come to these meetings to be belittled because we want to stay and we don't want to have all this development go up around us," Bonamici said.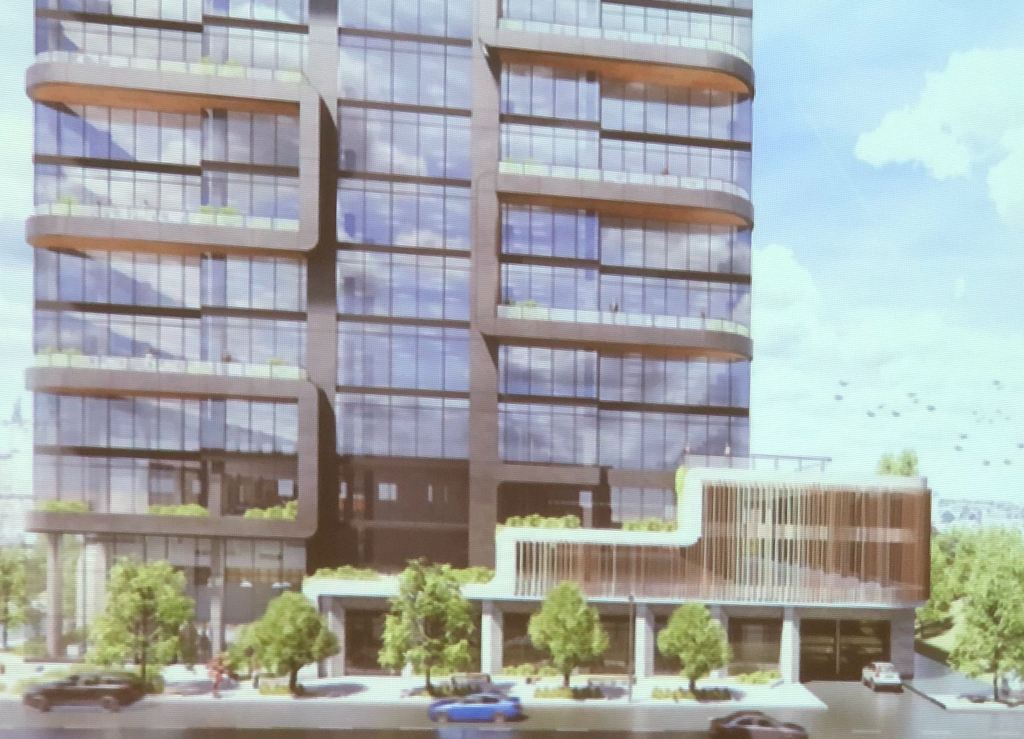 Bonamici said it was "only a matter of time" before development jumps the tracks and displace residents north of Hubbard.
"With all these new developments, I'm finding we are getting pushed out of our homes," Bonamici said, adding that they are impacted by skyrocketing property taxes. "This was our home and with all these developments coming, more and more it doesn't feel like it." 
Alicia Pimentel, a 40 year resident of the neighborhood, agreed.
"We didn't choose to live in Downtown, we chose to live here …and now they are chasing us out," she said.
Trammel Crow is seeking a zoning change for the project. If approved, the developer would pay $4 million into the Neighborhood Opportunity Fund and pay into a separate fund to help fix the Metra crossings south of the project.
Do stories like this matter to you? Subscribe to Block Club Chicago. Every dime we make funds reporting from Chicago's neighborhoods.
Want to support Block Club with a tax-deductible donation? Thanks to NewsMatch 2019, your donation will be doubled through Dec. 31. Donate here.