LOGAN SQUARE — Neighbors are divided over a music venue proposed along the Logan Square/Hermosa border with some saying it would further exacerbate gentrification and others saying it would be an economic boon to the area.
At an emotionally charged community meeting held Saturday afternoon, roughly 55 percent of neighbors in attendance voted "yes" and about 45 percent voted "no," according to Mark Falanga, the lead developer behind the project. Ald. Felix Cardona Jr.'s 31st Ward office wouldn't confirm the vote tally, saying they're continuing to accept votes through the end of the week.
Falanga and his partners — Scott Miles and Evan Meister — are looking to repurpose an old marble manufacturing plant at 2537 N. Pulaski Road and convert it into an 1,000-person-capacity music and event venue with a mini food hall. For comparison, Thalia Hall, The Vic and Concord Music Hall all have a similar capacity.
The three developers bought the industrial building in April but need a zoning change and other layers of city approval to open the venue. The property is currently zoned for industrial and manufacturing use.
"If you vote yes, you're taking a building that's been vacant for 11 years, generating nothing for the community and creating a cultural, economic and visual benefit to the neighborhood," Falanga said.
Gentrification took the spotlight at Saturday's meeting, which ran nearly three hours long. Some said they're worried the so-called "hipster concert venue" will drive up rents and property taxes and push longtime residents of their homes. A few neighbors heckled the developers during their lengthy presentation, demanding they address the issue of gentrification.
"Sure, the music venue alone will not cause gentrification. It is benefitting from gentrification, it is further going to hurt us, further going to displace," said Lissette Castaneda with the Logan Square Neighborhood Association.
An emotional Castaneda also noted that a property tax increase is on the horizon.
"Places like this? They just further that. They just make it harder for us. They just do. We've seen it. We have the statistics," she said.
Another resident said while the project seems like a "really cool idea" on the surface, she doesn't support it because it'll hurt working families.
"Alderman Cardona, you need to work on protecting affordable housing and making that your top priority so we don't have to choose between letting something cool happen and displacing our neighbors," she said.
But others, like Andrew Maratea, shot back, saying opponents are taking their frustrations over gentrification out on the wrong people.
"If you look from Diversey to Fullerton, look at how many houses were gutted in the past year and how many brand new giant houses were done. That's what's going to increase the property taxes. This is not what's going to increase the property taxes. This is the arts following along and trying to [bring] economic development to the area," Maratea said.
One Logan Square resident of 68 years said she welcomes the venue because it'll provide an economic boost in an area that was once filled with "complete and utter blight."
"We need the tax revenue," she said.
Also at the meeting a few immediate neighbors raised concerns over the noise the venue will produce.
"I've been a homeowner for 15 years and one of the things I love about the community is it's diverse and it's very quiet and peaceful," immediate neighbor Unsoo Kim said.
"You know what's going to happen here on this corner? There's going to be Ubers, there's going to be Lyfts, people going down to the Blue Line. …We do not want the disruption. I'm here to say we love our neighborhood exactly the way we have it. We do not need this venue."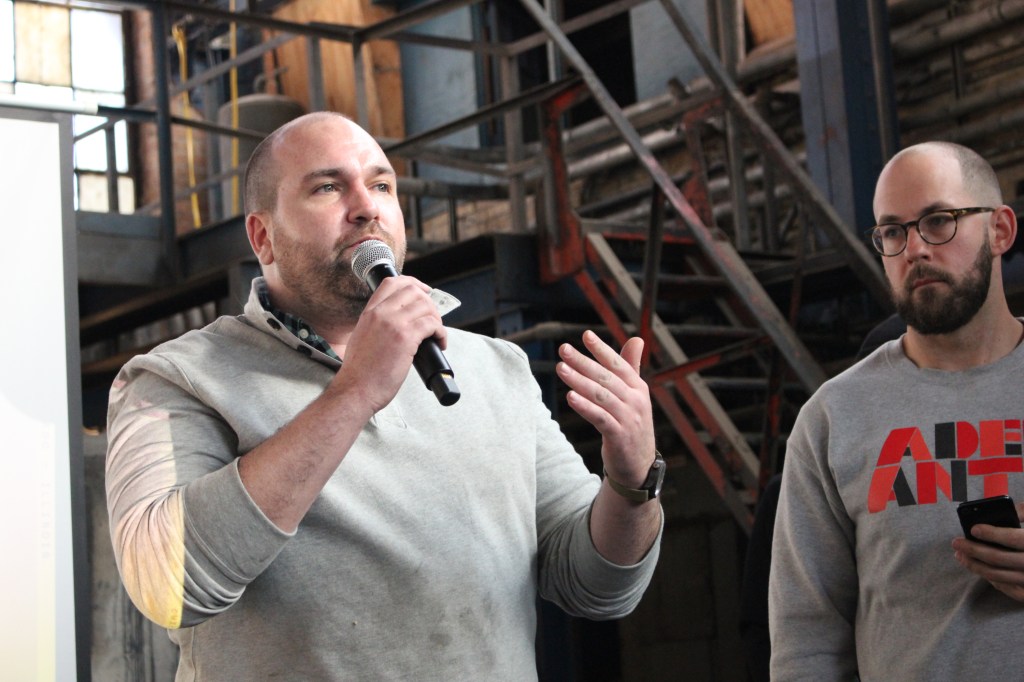 Falanga, the lead developer, argues the venue, called Present Company, will have a decidedly positive impact on the broader neighborhood because it will generate 150 jobs — with employees earning an average of $15 per hour — and it will bring business to nearby restaurants and retailers.
Addressing concerns over gentrification, Falanga said he and his partners had entered a community benefits agreement at the request of Logan Square Neighborhood Association, but the neighborhood group has since pulled out of the agreement.
Under that agreement, the developers were prepared to send 25 cents per ticket to the group's affordable housing land trust, offer Spanish language music programming and hire locally 25 percent of the time, among other things, according to Falanga.
During the presentation at the top of the meeting, Falanga stressed that they're planning a "strong" Latin music program. The developers have tapped the organizer of the Cuban Music Festival to lead it. They're also looking for a local restauranteur to take over the food hall.
"I saw a lot of conversations online that it's a high-end restaurant but I assure you it [will be a] very affordable and approachable place," Miles said.
Do stories like this matter to you? Subscribe to Block Club Chicago. Every dime we make funds reporting from Chicago's neighborhoods.
Block Club Chicago is also participating in NewsMatch 2019, allowing all donations to our 501(c)(3) newsroom to be matched dollar for dollar through Dec. 31. You can donate here.