UPTOWN — Ben Tompkins moved to Uptown from Michigan in 2014, not knowing many people and having no family in town. So when it came time to celebrate Thanksgiving that year, he decided to attend the Peoples Church's Thanksgiving potluck.
The community dinner — and the people he met there — helped Tompkins feel more at home in Chicago. Now, on the five year anniversary of his first holiday in Chicago, Tompkins will release a podcast about Uptown.
"I didn't have any real close connections in Chicago," Thompkins said. "I felt comfortable going to [the potluck]. And I felt a sense of community there."
Tompkins then began attending services and events at the Peoples Church, which owns and is headquartered in the historic Preston Bradley Center, 941 W. Lawrence Ave. The Peoples Church is a progressive Christian congregation founded by Preston Bradley, who built his namesake building in 1926.
The building is now home to two other churches, artists' housing and a homeless shelter. Tompkins has met all walks of life there. And while meeting those people has endeared Tompkins to Chicago, watching how the various groups interacted and helped each other showed him why Uptown was special, he said.
"I want to extend the coexisting that happens in the Preston Bradley building with the rest of the Uptown community," he said.
Tompkins will soon launch the Uptown Community Podcast. The podcast is intended to not only highlight interesting figures and neighborhood history, but to foster a dialogue between Uptown residents and help foster a greater sense of community.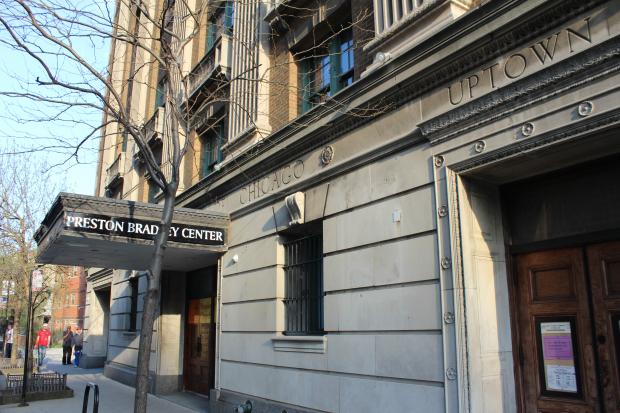 Tompkins will record the podcast in a room within the Preston Bradley Center where its namesake pastor broadcast his radio shows. The official launch of the podcast will take place on Nov. 24, when the Peoples Church will host its annual Thanksgiving potluck.
At the potluck, Tompkins will have microphones set up so that he and others can have conversations about Uptown, community building and other topics. The conversations — and the sounds of the pot luck — will be incorporated into a future podcast episode. (A debut episode will go live on Nov. 24, Tompkins said.)
Tompkins, who is studying for his masters in adult education, is also hoping that podcast can raise awareness of the Preston Bradley Center. Built by renowned architect J.E.O. Pridmore, the building was placed on the National Register of Historic Places in 2000, according to the Peoples Church's website. It also resides in a Chicago Landmark District.
The building has meant a lot to Uptown over the years, Tompkins said. Preserving the building also means preserving a slice of life that makes Uptown unique.
"Sustaining the building is a challenge," he said. "Sustaining the community is also an issue. We want keep together all aspects of this community."
To follow along with the Uptown Community Podcast, follow its Instagram account here. Tompkins has also launched a GoFundMe for the Preston Bradley Center, which can be viewed here.