LOGAN SQUARE — Tacos Garcia, a Mexican restaurant that has called Logan Square's Armitage Avenue home for more than 30 years, is closing.
The restaurant will serve its final customers at the end of the month, according to owner Marisela Perez. Initially, Perez had planned to close Sunday but she said a realtor convinced her to stay open for a couple more weeks to entice buyers.
"We're just not making money. It was hard for us to break even," manager Alfredo Palafox said behind the restaurant counter Thursday.
Reached by phone Friday, Perez said money is so tight that she can't afford to get her liquor license renewed and she's having trouble paying her employees. She said she owes $6,000 in back taxes and another $18,000 to a company that loaned her money. 
This year was a particularly bad year for the traditional Mexican restaurant at 3327 W. Armitage Ave. Business took a nose dive when for years it had been steady, Perez and Palafox said.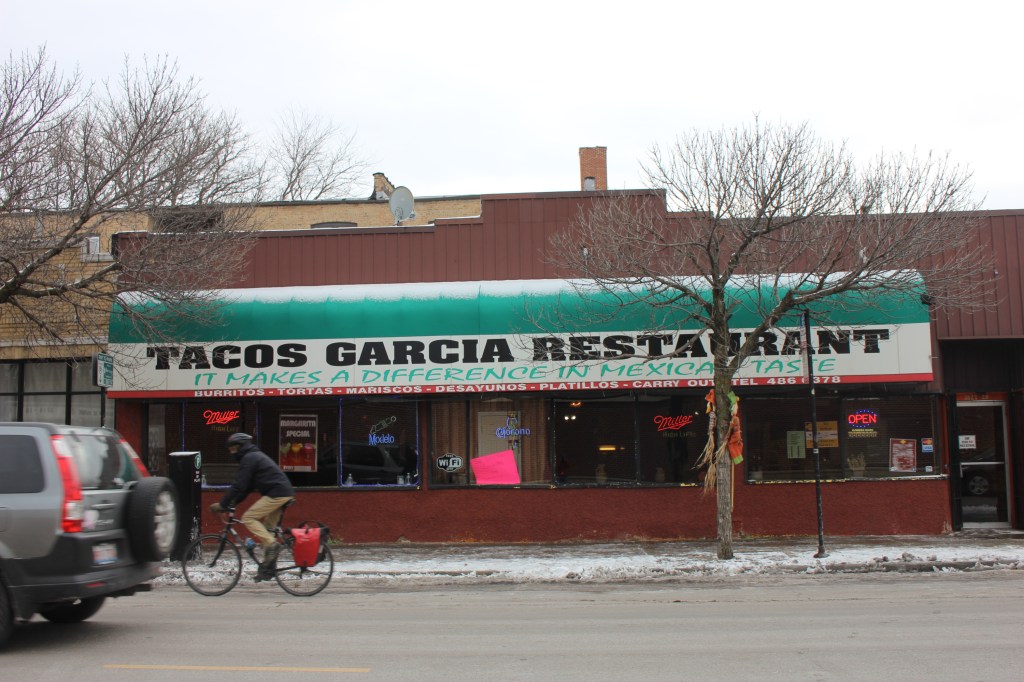 Palafox pointed to the rising cost of supplies, increased sales tax and deferred maintenance as more reasons for the closure. In recent years, trendy bars, restaurants and retailers have popped up along the changing Armitage Avenue stretch.
But Palafox also noted that Perez wanted to start a new chapter.
"Marisela — she's an amazing woman. She gave me a job. She gave home to all of these people, but I would see how stressed she was," he said.
Perez confirmed the restaurant has taken a toll on her health. She said "it's time to move on" and focus on her true passion of being a hair stylist and possibly open a salon of her own one day.
"I love doing hair. That's what I love doing," she said.
Perez said it was her husband, Eduardo, who bought the restaurant 22 years ago. He poured his heart into the business, working long days and nights, she said. Perez took over the restaurant when he died nine years ago.
"When he passed, I didn't know nothing about the restaurant business. I'm a stylist. I decided I wanted to work it even though I didn't like it," Perez said.
Perez and her husband were the third owners of the restaurant, the original owners being the Garcias.
The Garcias opened the restaurant sometime in the 1980s, according to Perez and Palafox.
Tacos Garcia is a family business, and always has been.
Some of the current employees have worked at the restaurant for many years: Olivia, a bartender/waitress, for 10 years; Carmelita, also a waitress, for 23 years; and Antonio, a cook, for 15 years.
Palafox said he was struck by a conversation Perez's daughter once had with a longtime customer.
"The customer was telling [her], 'Oh you're the daughter.' He was like, 'I met your father. I've been coming here for the past 30 years. Your father was a great guy.' Stories like that — they hit. It's like, wow, it's beyond a business. It's a home for a lot of people," Palafox said.
Perez said even though the restaurant was never her passion, she feels "very emotional" having to close it.
"My husband — he used to work so much. He was a workaholic. He had the restaurant and he had another business. He was always working. I hardly see him. He was always stressed out and sometimes in a bad mood. Sometimes I think I'm turning into him. I don't want that," Perez said.
Perez said over the years she tried to grow the business and bring in more customers, but she simply never had the money to make significant repairs and upgrades.
Perez hired Palafox seven months ago to ramp up marketing and events to help bring in more customers.
Palafox helped throw a Halloween party, karaoke nights and Mexican parties in the restaurant's side room. The events were popular, but not popular enough to save the restaurant.
Palafox said over the years they updated the menu and toyed with the idea of raising menu prices but ultimately decided against it. One taco still costs about $2.
"We tried a lot of things," Palafox said.
Perez said it was hard to watch the restaurant stay stagnant because it has so much potential. 
"I feel like that restaurant if somebody would buy it and actually have a team that would be great. Me alone — I really can't. It's very hard and overwhelming. It breaks my heart that I can't do more," she said.
Perez said ultimately, though, closing is the right thing to do — both on a financial and personal level.
"When I lost my husband, it was very painful. I felt that the restaurant was keeping me close to him. But now it's time to let go," she said
Do stories like this matter to you? Subscribe to Block Club Chicago. Every dime we make funds reporting from Chicago's neighborhoods.
Want to support Block Club with a tax-deductible donation? Thanks to NewsMatch 2019, your donation will be doubled through Dec. 31. Donate here.