HYDE PARK — Mikkey's Retro Grill in Hyde Park was shut down by the city because the restaurant was operating without a license for nearly two years.
Mikkey's, 5319 S. Hyde Park Blvd., has been cited three times this year for operating without a restaurant license, according to the city's Department of Business Affairs and Consumer Protection. Despite the citations, the burger joint continued to operate without a license consistently before a cease-and-desist order was issued last week.
The restaurant's last license lapsed in March 2018, city officials said. The department first gave Mikkey's a 30-day notice to correct the issue in March 2019.
But even after receiving the cease-and-desist order from the city ordering the business to close, Mikkey's has served customers off and on, said owner Rico Nance.
At one point last week, Nance said he closed the restaurant because of the expired license. But Mikkey's reopened a day later.
He said he would have reopened the restaurant sooner but he was in the Metro Atlanta area preparing to open the newest Mikkey's location, he said.
On Tuesday afternoon, Mikkey's was open for business and a city sign marking the business as closed was no longer visible.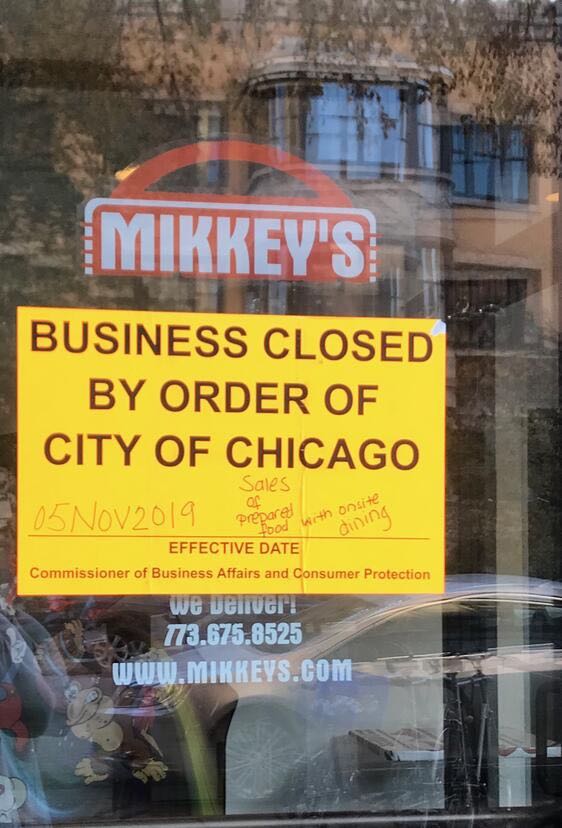 By Wednesday morning, Mikkey's was closed again. Nance said the city reversed course within a day, saying the restaurant "shouldn't operate" until an inspection was completed.
But the city disputes Nance's claim. At no point was the restaurant granted approval to reopen last week as they do not have an active license, a spokesman for the city's Department of Business Affairs and Consumer Protection said. Mikkey's has $8,000 in outstanding fines that must be dealt with before a new license can be issued, the spokesman said.
The restaurant has been fined for violations including operating without a retail food establishment license, failure to display a license and deceptive practices for not having a corporation in good standing.
Nance said he has paid his debts off and is now being asked to pay double as a result of errors in the city's record-keeping systems.
"Something was wrong with their systems and I got played because of that," Nance said. "It's 100 percent the city's fault. As of yesterday, I had to go down and bite the bullet — got to restart the whole process."
A spokesman for the city's department said it has "not experienced a record-keeping error."
Mikkey's was licensed at its Hyde Park location under the name Mikkey's 53rd until March 2018. When that license lapsed, it was not renewed, according to the city.
The restaurant then applied for a license under a new name — Mikkey's Hyde Park — in October 2018. No license was granted due to holds on the account from debt.
A new license application for the location was filed with the city last Friday. No license was issued, and no Health Department inspection was conducted as of Tuesday evening.
When asked Tuesday what city officials he had communicated with to resolve the issue, Nance said he had contacted local investor Ghian Foreman, as he believes Foreman is "like the mayor's right hand."
Foreman is the president and CEO of the Emerald South Economic Development Collective. The organization was created in 2017 with the goal of ensuring Woodlawn, Washington Park and South Shore residents benefit from the planned Obama Presidential Center. He also was appointed president of the Chicago Police Board in May 2018.
But Foreman is not an employee of the city's business affairs, finance or public health departments — the three agencies Nance blamed for his licensing troubles.
Foreman denied any involvement with Mikkey's, saying he "didn't even know they had struggles" with their licensing.
Mikkey's also operates locations in Bronzeville and Avalon Park. Nance owns other restaurants in Hyde Park as well, including LiteHouse Whole Food Grill, Soul Shack and Can't Believe It's Not Meat, a joint venture with his sister Laricia Chandler.
Do stories like this matter to you? Subscribe to Block Club Chicago. Every dime we make funds reporting from Chicago's neighborhoods.
Want to support Block Club with a tax-deductible donation? Thanks to NewsMatch 2019, your donation will be doubled through Dec. 31. Donate here.