ENGLEWOOD — Mental health has long been considered an important tool in addressing the city's gun violence. A recent University of Chicago study discovered that exposure to violence triggered social isolation and Post Traumatic Stress Disorder in adults from neighborhoods where crime is an inescapable reality.
It was also the focus of a community conversation Tuesday night at Kennedy-King College, 740 W. 63rd St., where cast members from WTTW Chicago's "Firsthand" docuseries and director Dan Protess gathered to talk about their experiences.
Reality Allah and Dameka Edwards-Hart — who is featured in the documentary with her daughter, India — were joined by Vaughn Bryant, the executive director of Metropolitan Family Services's Communities Partnering 4 Peace Initiative (CP4P); Christa Hamiltion, the Centers for New Horizons CEO; and Protess for the talk.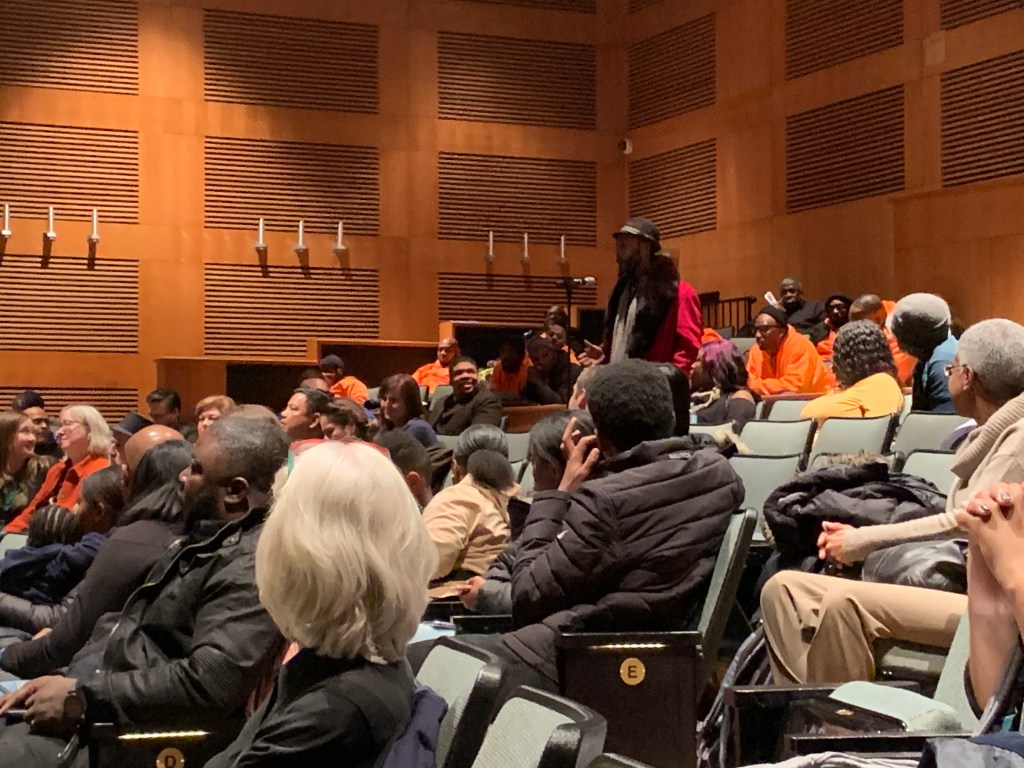 Allah's work is featured in "Firsthand," which explores the effects of gun violence from different perspectives: the families affected by it, the former perpetrators looking to turn their lives around and the community organizations providing care and resources to both.
"Wraparound services are important. If you have a house fire, you don't throw one bucket of water on it," Allah said after the event. "Participants need jobs, they need mental health services, they need housing. All of those services are important to their success."
After serving 20 years of an 85-year sentence for murder, Allah has spent the last two years as an outreach worker for READI Chicago, an offshoot of Heartland Alliance that addresses gun violence by focusing on ex-offenders.
A coalition of community leaders recently implored Mayor Lori Lightfoot to set aside $50 million for gun violence prevention. At October's city budget address, she pledged $9 million, which some considered woefully insufficient.
While Lightfoot has promised to reopen six mental health centers shuttered by her predecessor Rahm Emanuel seven years ago, it is uncertain how soon that will happen.
In the meantime, programs like READI Chicago need more formally trained mental health workers to ease the load, Hamilton told Protess.
"We're hoping that outreach workers will become mental heath practitioners because there is a shortage," said Hamilton. "And these workers are already providing that type of support."
Allah has 30 participants in his caseload, all from Englewood and Auburn Gresham. He is part teacher, part mentor and part therapist, often fielding calls into the wee hours from men in crisis.
According to Allah, employing Cognitive Behavioral Therapy has been useful in keeping the participants focused and motivated to finish the 16-month program.
"When someone gets shot, the first thing they do is ride around to find the person who did it. Now, they take a step back, they go home," said Allah. "You can see the change."
Edwards-Hart's daughter, India, was diagnosed with PTSD after witnessing the shooting of her father last year. Now a college freshman, India is seen in the documentary vowing never to return to Chicago after graduation. Edwards-Hart told the audience that she, too, will soon be move out of state with her husband and 13 year-old son.
"I love Chicago. It will always be home to me. But I have to do what I have to do for my sanity and peace of mind," said Edwards-Hart, who adding that a friend's son was recently jumped on his way from school. "I have to do what's best for my family."
The next "Firsthand" discussion is slated for 6-8 p.m. Thursday at Malcolm X College, 1900 W. Jackson Blvd.
Do stories like this matter to you? Subscribe to Block Club Chicago. Every dime we make funds reporting from Chicago's neighborhoods.
Want to support Block Club with a tax-deductible donation? Thanks to NewsMatch 2019, your donation will be doubled through Dec. 31. Donate here.