LINCOLN SQUARE — The water main and sewer replacement project that began in January in Lincoln Square isn't anywhere near completion, and Lincoln Square neighbors' patience is growing thin.
Neighbors who live on North Bell Avenue and North Leavitt Street between Argyle and Lawrence and on West Ainslie Street between Oakley and Leavitt are tired of torn-up streets, parking restrictions and potholes as construction drags on. The replacement project has caused trees to be torn out, too.
The project, part of the city's push to replace century-old water mains and sewer lines with new infrastructure, has already been delayed twice. Now, with the cold setting in, it's unclear when the project will be finished.
Ald. Andre Vasquez (40th) said he's frustrated that the dates and deadlines provided to his office ultimately weren't met.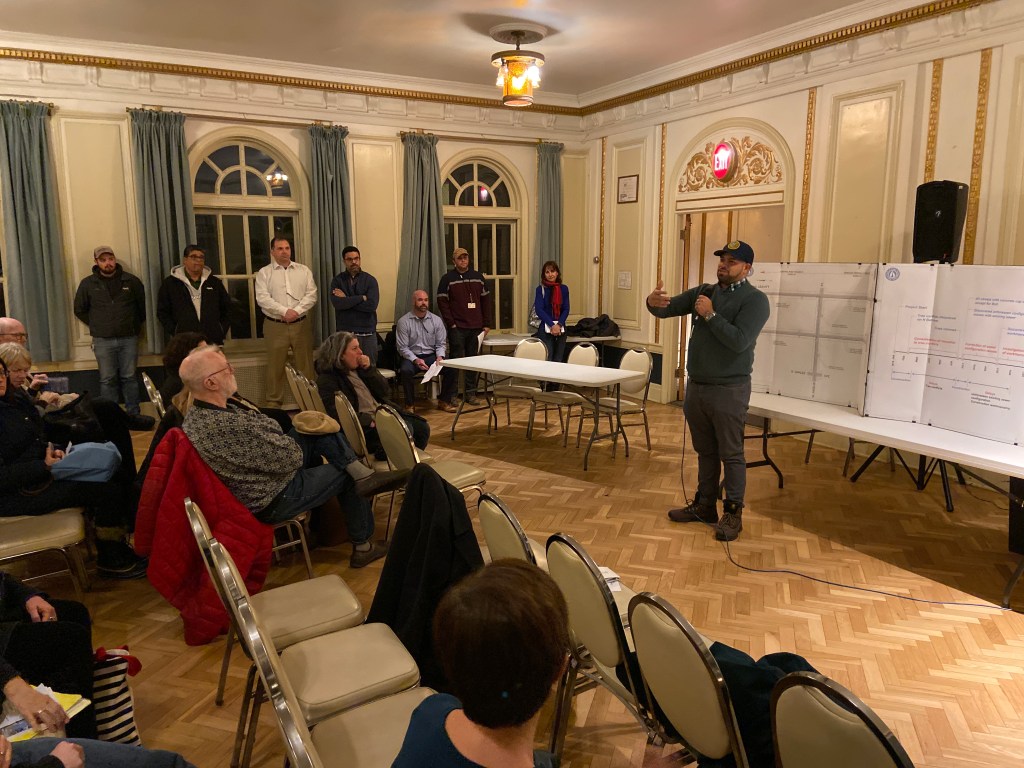 To address concerns, Vasquez organized a town hall Tuesday where leaders with the city's Department of Water Management could directly answer neighbors' questions. About 20 neighbors attended.
The bad news: "The schedule moving forward is still up in the air," said John Hart, a Water Department engineer.
As city crews work, parking has been restricted on several-block stretches for weeks, said neighbor Jennifer Brier.
"One of the biggest problems is not knowing where we're supposed to park," Brier said. "And then they take up an entire block and no one comes to work on the street."
Potholes and ruts in gravel trenches are also causing drivers to avoid the area if they can, said neighbor Sarah Makela.
"It's just been constant construction," she said. 
Lisa Zimmermann, another neighbor, said she's called the alderman to report drivers who dangerously swerve to avoid potholes or detours caused by construction. 
"All the rerouted traffic and drivers see stop signs as more of a suggestion. It's gotten really dangerous," Zimmermann said.
Hart admitted communication with residents could have been much better. Crews could do a better job of walking the area to make sure parking restrictions were up to date and checking the quality of the roads, too.
"This job is still an open project and there's been a unique intersection of issues here," Hart said.
He said sometimes projects "get sort of put on the shelf" and not monitored as they should be.
"That's a constant struggle we have had over the course of the last couple of years," he said.
The first delay started in February and lasted until June as crews removed trees that were getting in the way of the water and sewer main replacement project, he said.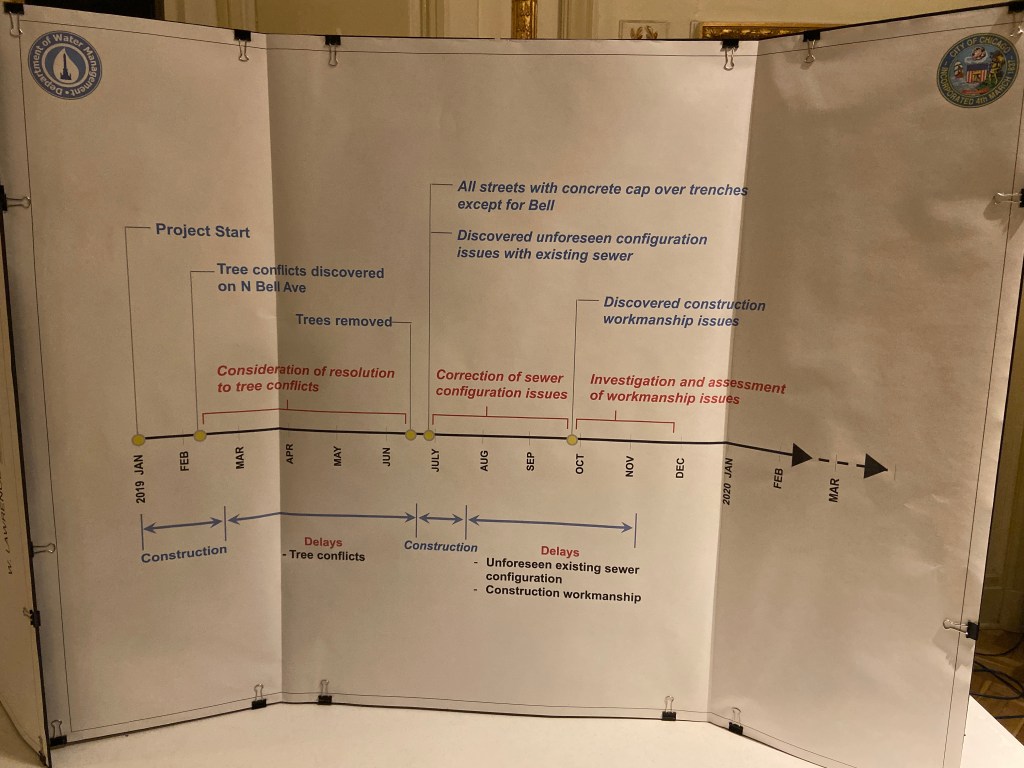 The second delay began in July and lasted until the end of September. This was caused by a "weird" configuration of the older sewer system that is being replaced. 
Before work begins again, Hart said crews are double checking the workmanship of construction that has been done so far. Water Department staff will be reviewing video footage taken from inside the new water and sewer systems to check for "workmanship issues." 
Neighbors who want track the water department's progress can visit ChiStreetWork, an interactive map with information on construction projects, special events and street closures.
Do stories like this matter to you? Subscribe to Block Club Chicago. Every dime we make funds reporting from Chicago's neighborhoods.
Want to support Block Club with a tax-deductible donation? Thanks to NewsMatch 2019, your donation will be doubled through Dec. 31. Donate here.