AVONDALE — On Monday, which saw record-breaking low temperatures, Lisa Johnson was bundled up in two shirts, two sweatshirts, three pairs of pants and two jackets.
Johnson lives underneath the viaduct at Belmont Avenue and the Kennedy Expressway along with about a dozen other people experiencing homelessness. She said she's been "thinking a lot lately" about what this winter has in store for her.
"I do worry. October it snowed, and it's so cold already. I keep saying: It's going to be a long winter," Johnson said.
Keeping Johnson and others experiencing homelessness safe in the extreme cold is a top priority for the homeless advocacy group Chicago Coalition for the Homeless, especially given the early winter blast.
Illinois consistently ranks in the top five states for cold-related deaths per year, according to the Tribune. In 2017, Cook County saw the highest number of cold-related deaths in more than a decade, according to the Sun-Times.
Cook County saw its first cold-related death of this season on Nov. 1 in Avondale, near where Johnson lives. A 58-year-old man, who was experiencing homelessness, was found unresponsive in the 3600 block of West Belmont Avenue and died at a hospital an hour later, according to reports. The autopsy found that he died of cold exposure, among other causes.
Mary Tarullo, associate director of policy and strategy at Chicago Coalition for the Homeless, said the city isn't doing enough to keep people like Johnson safe in the extreme cold.
"Homelessness is a problem with a clear solution and that solution is housing," Tarullo said. "The city is woefully behind when it comes to funding [that housing.]"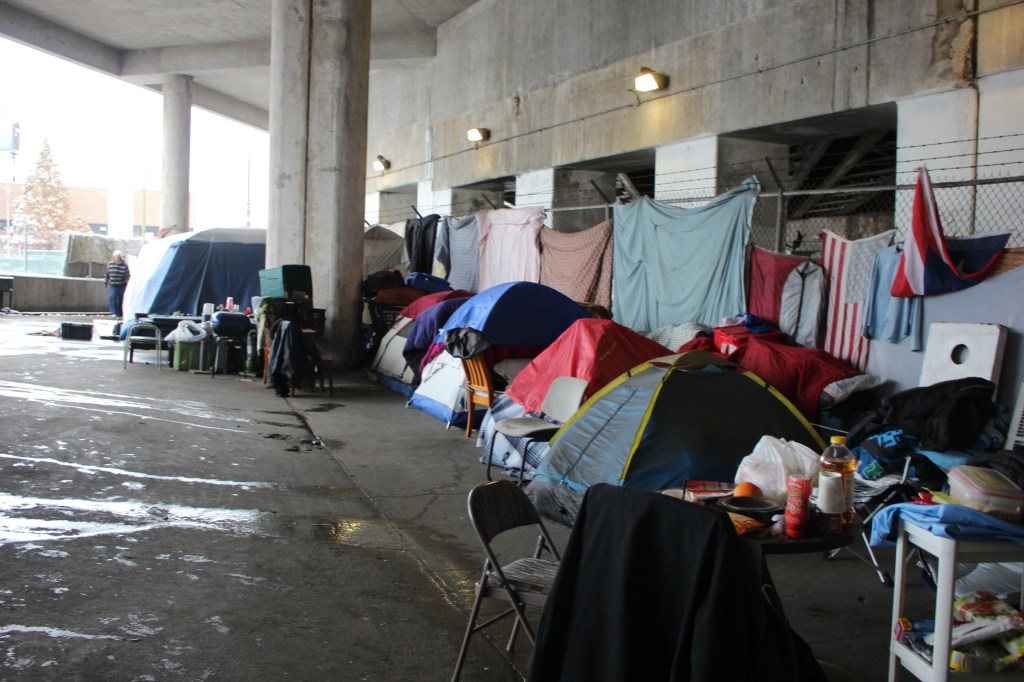 Tarullo's group has been pushing the city to adopt its Bring Chicago Home plan for over a year. The plan calls for raising the real estate transfer tax on high-end home sales and then using that money to fund affordable housing and homeless services.
During her campaign, Mayor Lori Lightfoot promised she'd support the plan, but has yet to follow through on that promise, according to the Sun-Times.
"We don't know if [Lightfoot's] going to continue to pursue this plan in Springfield to try and raise the real estate transfer tax there, or if she's not pursuing that anymore," she said.
The mayor's office didn't respond to a request for comment.
The city's Department of Human Services didn't return several messages seeking comment on its plans to keep people experiencing homelessness safe this winter.
But Tarullo said hand warmers and hot meals only go so far, especially when a polar vortex hits.
"The city does acknowledge when the temperature drops and that they need to increase their services but without a significant amount of funding to actually give people what they need to survive the winter and to survive year-round, there's only so much you can do," she said.
'We cannot go another year without a dedicated revenue stream for homelessness in Chicago'
Monday afternoon, the Avondale tent city where Johnson lives was quiet. When a Salvation Army truck rolled up, a few people emerged from their tents to grab a cup of hot soup.
Teresa Sigerson had been out on the street asking for money when she heard honks coming from the Salvation Army truck.
Sigerson, who has lived underneath the Avondale viaduct for 10 years, said the key to surviving Chicago winters is a lot of layers — and friendly neighbors.
"It's just cold out, but it'll be OK because the community is really good to us," she said. We get a lot of donations — blankets, food and stuff like that — it's just that. … it's cold."
Still, Sigerson said many drivers and other residents ignore her when she asks for money on the street — money she uses to get warm.
"The general public ignores us. They act like we're invisible. … But mostly they try not to look because if they don't look they don't have to acknowledge us," she said.
"I'm out here panhandling, trying to get enough money to go to McDonald's and warm up, maybe dry my shoes a little bit."
Sigerson said she plans to ride the train if she gets too cold this winter, but it's not a sustainable plan.
"I don't want to ride back and forth, back and forth, back and forth. It's just not safe anymore," she said.
Enrique Sanchez and his 26-year-old son live underneath the Avondale viaduct with Sigerson and Johnson.
Sanchez, who has lived underneath the viaduct for a decade, said at one point he had an opportunity to move into an apartment but he had to give it up because the person offering him the apartment wouldn't let his son move in with him.
Sanchez said the city could be doing more to help his neighbors in the viaduct find housing.
Tarullo, with the Chicago Coalition for the Homeless, agrees.
"We've been working on this structural solution — Bring Chicago Home — for over a year now. We've been fighting for this with urgency. This solution is within our reach and we need it to happen immediately," she said.
"We cannot go another year without a dedicated revenue stream for homelessness in Chicago."
Do stories like this matter to you? Subscribe to Block Club Chicago. Every dime we make funds reporting from Chicago's neighborhoods.
Want to support Block Club with a tax-deductible donation? Thanks to NewsMatch 2019, your donation will be doubled through Dec. 31. Donate here.