NORWOOD PARK — In a move that "blindsided" St. Eugene School parents, the Archdiocese of Chicago told them $300,000 must be raised by the end of January or the school will close.
A.J. Acierno, a parent at the school, said the Rev. Richard Yanos and Principal Catherine Scotkovsky told parents the school was in danger of closing at a meeting Wednesday night. Though parents say they knew the Catholic elementary school on the Northwest Side was running a deficit, they said the demand that funds be raised in such a short time left parents shocked, he said.
Two weeks prior, on Oct. 23, teachers were told by the pastor and principal that the school would in fact not close, but that it did need money, according to Acierno.
"They said fundraising might have to take place and they'd let us know," Acierno said. "Two weeks went by and they called an emergency meeting with the teachers and said $250,000 had to be raised by Jan. 31," said Aceirno, who has three children at the school and is an alum himself. 
That $250,000 was on top of a previous fundraising goal that had not yet been met, bringing the amount needed for the school to stay open to $318,000, Aceirno said parents were told Wednesday.
Since then, the archdiocese has agreed to kick in $50,000 toward the fundraising goal, archdiocese spokeswoman Susan Thomas confirmed.
Scotkovsky declined to comment. Yanos was unavailable Friday.
In a statement Friday, Archdiocese of Chicago officials confirmed the school was operating at a deficit and enrollment was below "the optimum level."
"The school and parish community is committed to raising the necessary funds and growing school enrollment to ensure a healthy future for the school," the statement read.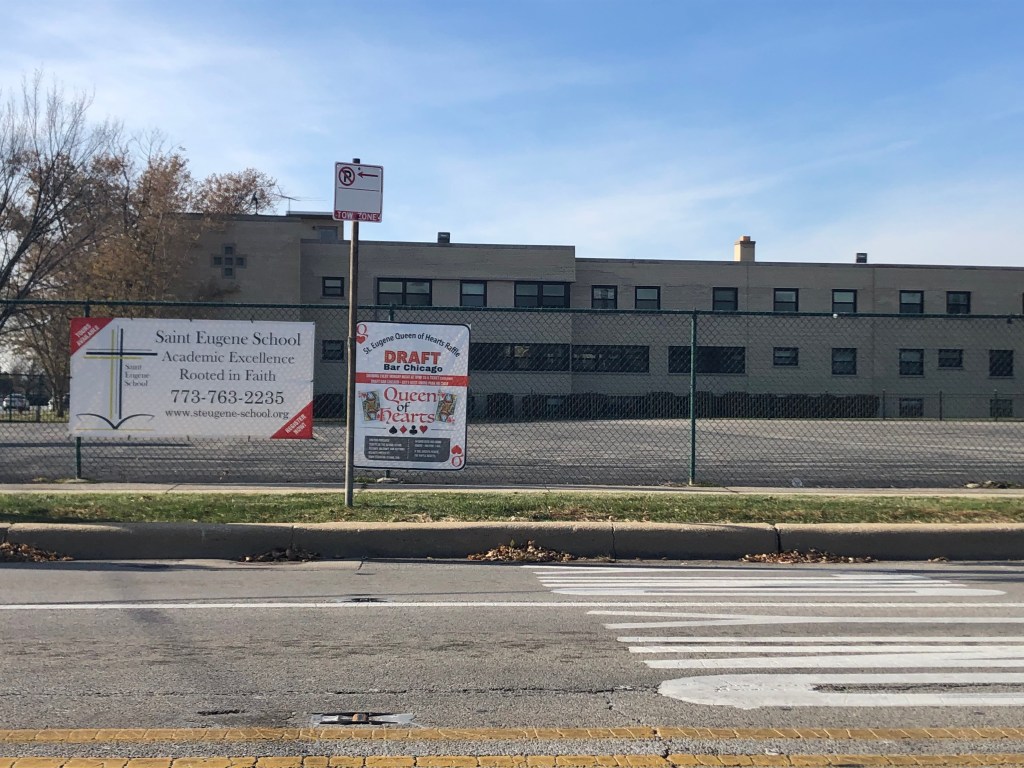 Acierno said parents are most upset about the last-minute notice and want the archdiocese to consider merging St. Eugene with another school.
"The process that the archdiocese has in closing schools is an absolute joke," Acierno said. "They gave us no plan, they just said, 'go out and start fundraising.' We asked the archdiocese a year ago to merge with another school and they refuse to do it. We knew our enrollment numbers were down and we knew revenue was down because of that."
Jim Graziano, owner of West Loop deli J.P. Graziano Grocery and the father of two kids in the school, agreed with Acierno.
"The writing has been on the wall for years. For them to wait to early November to tell us we have until the end of January to raise the money is a dirty trick," Graziano said.
Asked if a merger with another school is a possibility, Thomas said "all options are on the table." She declined to say how many kids are currently enrolled at St. Eugene.
Acierno said he's enlisted the help of a public relations firm that does work for his dental practice to help spread the word that the school needs help. Parents also launched a GoFundMe campaign and website to raise funds. The online fundraiser, launched Thursday, aims to raise $210,000. It's raised $10,300 to date.
Still, Acierno worries it's an impossible task.
"If we raise the [money] somehow, that only keeps the doors open for one more year," he said. "Then what?"
Do stories like this matter to you? Subscribe to Block Club Chicago. Every dime we make funds reporting from Chicago's neighborhoods.
Want to support Block Club with a tax-deductible donation? Thanks to NewsMatch 2019, your donation will be doubled through Dec. 31. Donate here.