NORTH LAWNDALE — A new judge is now presiding over the North Lawndale Restorative Justice Community Court, the West Side's court program that aims to repair harm instead of sending people caught up in the court system to jail.
Judge Patricia Spratt has been named to the post following the retirement of Judge Colleen F. Sheehan. Sheehan was pivotal in the development of the court, which opened in 2017 as the first and only court of its kind in the state.
On any ordinary day, Spratt serves as a judge of Cook County Circuit Court's Chancery Division, overseeing cases on issues involving equity, mortgages, class actions and injunctions at the Daley Center, at 50 W. Washington Blvd. Downtown.
But each Thursday morning, Spratt doles out a very different brand of justice at the West Side community court, which operates out of the youth development center UCAN at 3605 W. Fillmore St.
"If you are new here you will notice that this doesn't look like any court you've ever seen before… it is however a fully certified court of the Cook County Circuit Court," Spratt said at the opening of a session Thursday.
Surrounded by community members and guided by caseworkers, 22 young people facing nonviolent criminal charges had their cases reviewed by Spratt and others working with the volunteer-driven restorative justice court.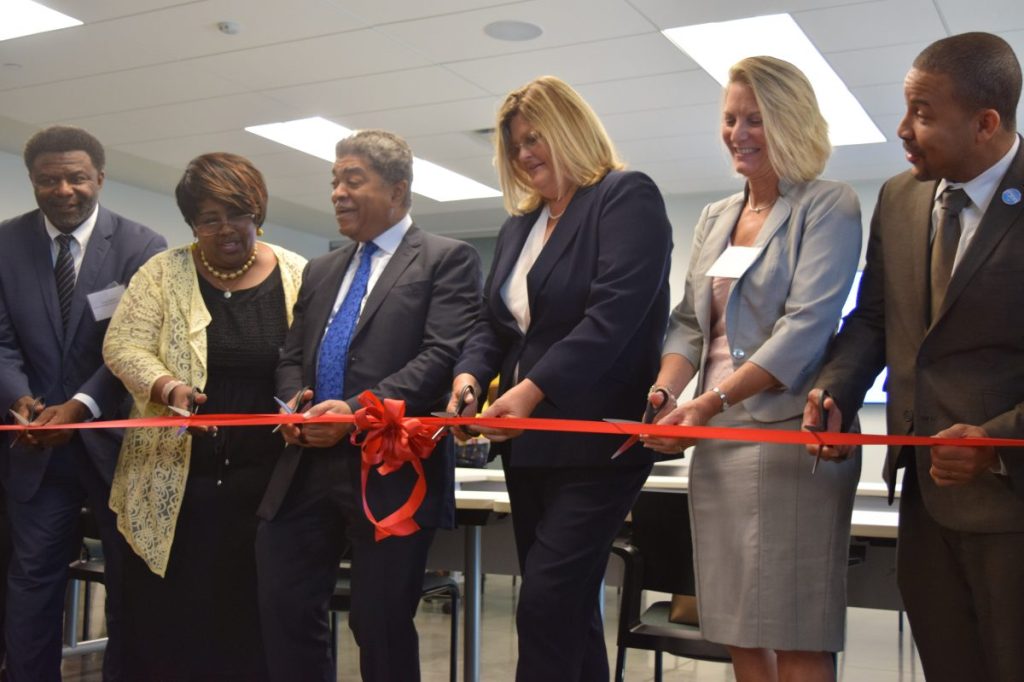 After completing the restorative justice process facilitated by the court, each participant can have their case dismissed by the state if they successfully fulfill the requirements set by the court.
"That's what this court is all about. Repairing harm. Not being retributive and sending you to jail," Spratt said.
Young adults under the age of 26 who live in Lawndale can have their case diverted to the restorative justice court by the state's attorney if both the person charged and the person who was harmed agree to participate. From there, participants join a peace circle under the supervision of a circle keeper who helps them to create a Repair of Harm Agreement that is submitted to the court.
The legal agreement and the peace circles allow an offender to accept responsibility for how they impacted the person harmed by the crime, and also how the community of Lawndale was hurt as well. From there, they work to complete all their requirements stipulated in the agreement to make up for the harm they caused.
The agreement may require a participant to get their drivers license reinstated, to complete a high school diploma, to begin substance abuse treatment, or to take steps towards going to college.
"All these things are intended to repair the harm to you. Because you have also been harmed. All these things are intended to give you a fresh start," Spratt said. "I believe the environment where you've come from, you haven't had a chance. So this court is your fresh chance."
Spratt said she hopes the court can be a "paradigm for the future" in Lawndale and beyond as the court serves more young people. With the success in North Lawndale, the county is using it as a model for future Restorative Justice Community Courts in Englewood and Avondale.
And since the program is only a few years old, Spratt said she is is thrilled to be able to help establish a track record of success for the neighborhood court in hopes that the justice strategy can be replicated elsewhere.
"I'm happy to be here. This is a place I've wanted to be ever since I got on the bench," she said.
Pascal Sabino is a Report for America corps member covering Austin, North Lawndale and Garfield Park for Block Club Chicago.
Do stories like this matter to you? Subscribe to Block Club Chicago. Every dime we make funds reporting from Chicago's neighborhoods.
Want to support Block Club with a tax-deductible donation? Thanks to NewsMatch 2019, your donation will be doubled through Dec. 31. Donate here.