LAKEVIEW — This week, the fans and bands that have frequented Lakeview's Elbo Room over the years mourned the loss of one of their favorite local venues after its longtime owners announced that the building has been sold.
For weeks, the bar's hours have become more sporadic and Elbo Room owners David Cooke and Mick Kallis confirmed Wednesday on Facebook what many regulars had been told over the past week: The bar will have new ownership on Dec. 9 and they do not know what the new owners are planning to do with the venue.
PREVIOUSLY: Elbo Room Expected To Close In December After 30 Years In Lakeview, Regulars Say
"We want to thank all of the bands, patrons, and the community for keeping the Elbo Room rocking for nearly three decades. David Cooke and Mick Kallis (owners for 22 of those years) and current staff of the Elbo Room want to thank you for all of the love and support, we couldn't have made the Elbo Room one of Chicago's staple music venues without all of you," the Facebook post said.
Cooke and Kallis have not responded to multiple requests for comment, and Theodore Kamberos, a listing agent for the property, would not disclose the new owner or their plans for the building. He said it could potentially open under new management.
"I was very sad to find out they were going to be changing management," said Chris O. Biddle, a producer for Bim Bam Boom Burlesque. 
Bim Bam Boom had its first show at the Elbo Room in August and Biddle says working with the owners to put it together was a delight. 
"First of all, they have some of the best lighting in the City of Chicago. It's just a really professional, theatrical presentation," Biddle said. "Something that we can't often get at other venues. You definitely feel like a like a rock star when you're on that stage."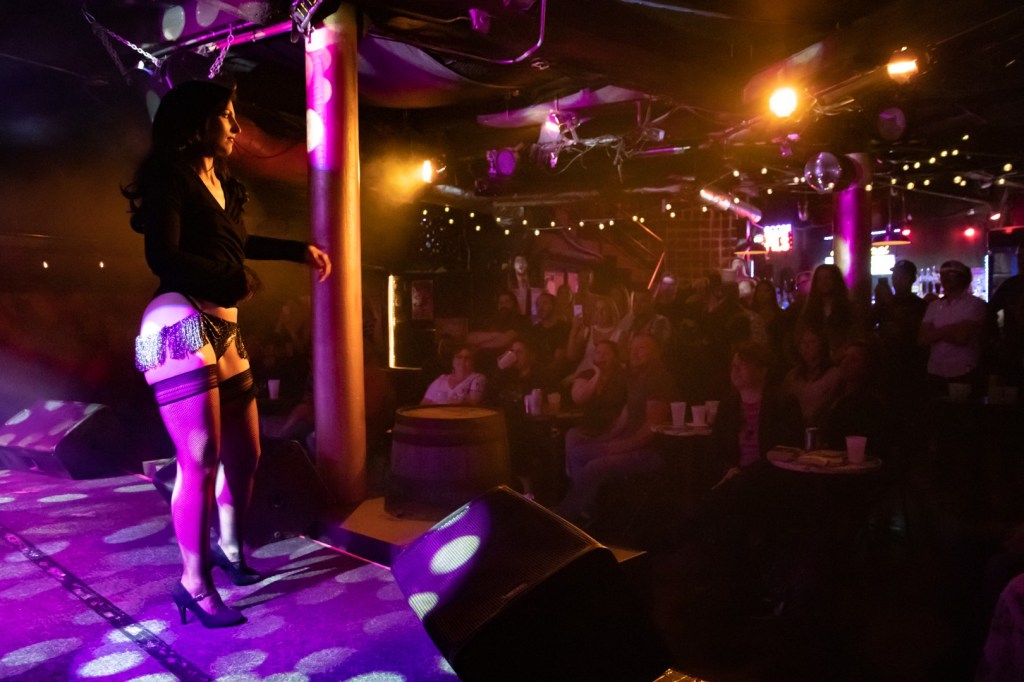 Biddle learned from an Elbo Room employee that the building was going to be sold a few weeks ago. He said that gave him plenty of time to try to make his next show at the venue on Nov. 15 double as a going away party for the venue's current owners. 
"We definitely want them to end on a high note," he said. 
The Elbo Room opened at 2871 N. Lincoln Ave. in 1989 and is known for its live music seven nights a week and Wednesday night open mic nights. Those open mic nights were especially popular with up-and-coming Chicago bands. 
Over the years, bands like the Smashing Pumpkins and Naked Raygun performed at the venue when they were starting out, fans of the venue said. 
"After we set up downstairs and started playing, the light guy put on one of the craziest light shows I think we've ever had," said Ricky Velez, who performed there with his band Uglee Stik in 2008.
Velez was a drummer with a few local bands in the early 2000s but since getting married and having a son over the last few years hasn't had time to perform live music. But thinking back on playing the Elbo Room, he remembers having a lot of fun playing both the basement shows and open mics. 
One gripe he has with the venue though: the big pole in the middle of the basement stage.
"That f*****g pole in the middle of the room," he said. "It just drove everyone nuts because you set up and while you're playing, if you have someone there taking pictures, that damn pole was there just getting in everyone's way."
Back then when he wasn't performing Velez also liked popping into the Wednesday open mics to just hang out and listen to other people play music while having a few beers.
"It sucks that they don't know if the new owners are going to keep it going," Velez said. "But after 22 years of running the place I can totally understand the current owners wanting to do something else."
Arturo Medina is a drummer for Halfdog. He remembers one show at Elbo Room when the owners let his band bring in an ice sculpture of their logo while they performed. 
"It was a shot luge and they were really cool about it. As long as we set it up and took it out when we were done they were okay with it," he said. "And they did everything they could to help out with it."
Medina had also played the venue with his previous band and actually ended up joining Halfdog after watching them perform at the Elbo Room. 
"They were playing and I ended up just talking with them. The fact that they were looking for a drummer came up and then the next thing you know I'm in the band," he said. 
He said that kind of thing happens all the time at Elbo Room because the venue and staff are really welcoming to Chicago's music scene. So it's a great place for up and coming talent to meet and collaborate. 
"Everyone from the promoters to the bartenders to the sound engineer, everyone was super helpful and accommodating to us," he said. "It's definitely a bummer seeing them go."
While the future of the venue is still unclear, Medina said he's happy to know he and so many other performers are part of the Elbo Room's 30 year history.
"Who knows? Maybe it'll stay a music venue. But if not, we'll always have our memories and our experiences being at the Elbo Room," he said.
Do stories like this matter to you? Subscribe to Block Club Chicago. Every dime we make funds reporting from Chicago's neighborhoods.
Want to support Block Club with a tax-deductible donation? Thanks to NewsMatch 2019, your donation will be doubled through Dec. 31. Donate here.