DOWNTOWN — A pooch stolen from River North was found 175 miles away in Wisconsin and happily reunited with her owner, all thanks to a dogged animal lover who knew she had to help.
Thousands of people joined in the nearly month-long search for Caela, an 18-month-old shepherd mix stolen in early October.
Jay Dodd, a volunteer who organized the masses to find Caela (pronounced KAY-luh) and bring her home, said it felt like all of Chicago came together to save the pup.
"This isn't a story about the guy who took the dog," Dodd said Friday, after Caela had been returned to her owner. "This is about the people of Chicago and how hardcore their work ethic is and how much they love dogs."
Caela was on a walk with her owner, James Perry, on Oct. 13 when he popped into a River North restaurant to grab a takeout order. Perry left Caela outside and, when he returned moments later, she was gone.
Perry started his search for Caela immediately and was helped by three friends. Dodd, who fosters animals and has worked with animal rescues for decades, heard about Perry's plight through a post on Facebook and shared tips for what she'd do if her dog was stolen.
That was all Dodd was going to do — until someone commented that people should do something to help.
Yes, they should, Dodd decided. She texted Perry, a complete stranger, to tell him she wanted to help, thinking she could give out fliers and walk the streets. But she quickly realized they'd get nowhere without getting more people in the city involved in Caela's rescue.
Dodd and other volunteers created a Facebook page and Twitter and Instagram profiles centered around bringing Caela home. They posted frequently and reached out to reporters, knowing the more people looking for Caela the more likely she'd be found.
Within weeks they had more than 1,000 followers.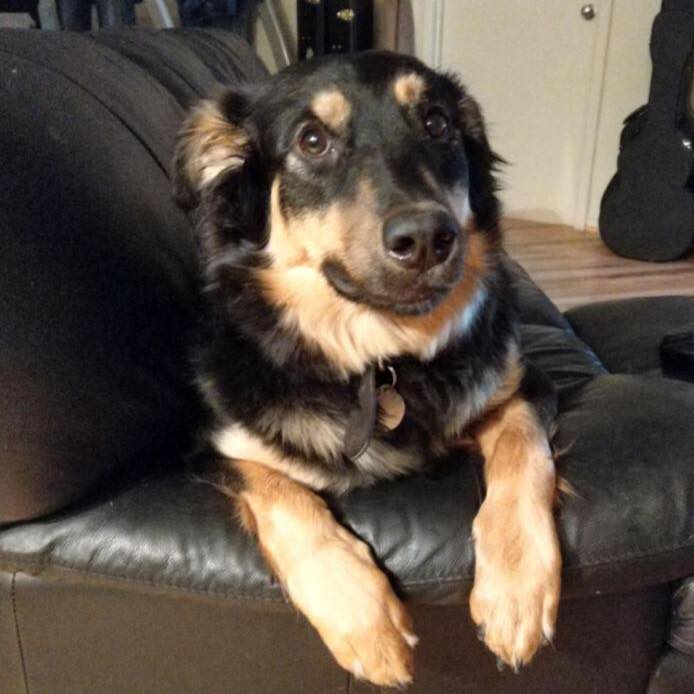 "Once we got that going, to me it felt like when the city came together around Chance the Snapper," Dodd said, referencing the alligator found in the Humboldt Park lagoon this summer.
They had few clues in their search. A black-and-white video from Gus's showed a man walking away with Caela, who looked back at her owner in the restaurant before being led away.
Dodd and the others shared the video and created fliers, using their quickly growing audience to find volunteers who could call around for help, keep an eye for Caela on the street and give out papers with her photo and Perry's contact information.
They didn't hear anything for weeks — but then Dodd and Perry went to a 7-Eleven near where Caela had been taken. The store shared surveillance video that showed a man calmly walking with Caela.
Dodd took the video home and spent hours looking for software that would convert the video into a file format she could use. A friend of hers slowed down the video to make it easier to see — and hopefully recognize — the man.
This Monday, when they shared photos and the video on social media, it "exploded," Dodd said.
A woman saw the video and recognized the man and Caela. She was the property manager of the building where he'd lived, and she remembered him bringing Caela home several weeks before and telling her he was going to have Caela trained as an emotional support animal.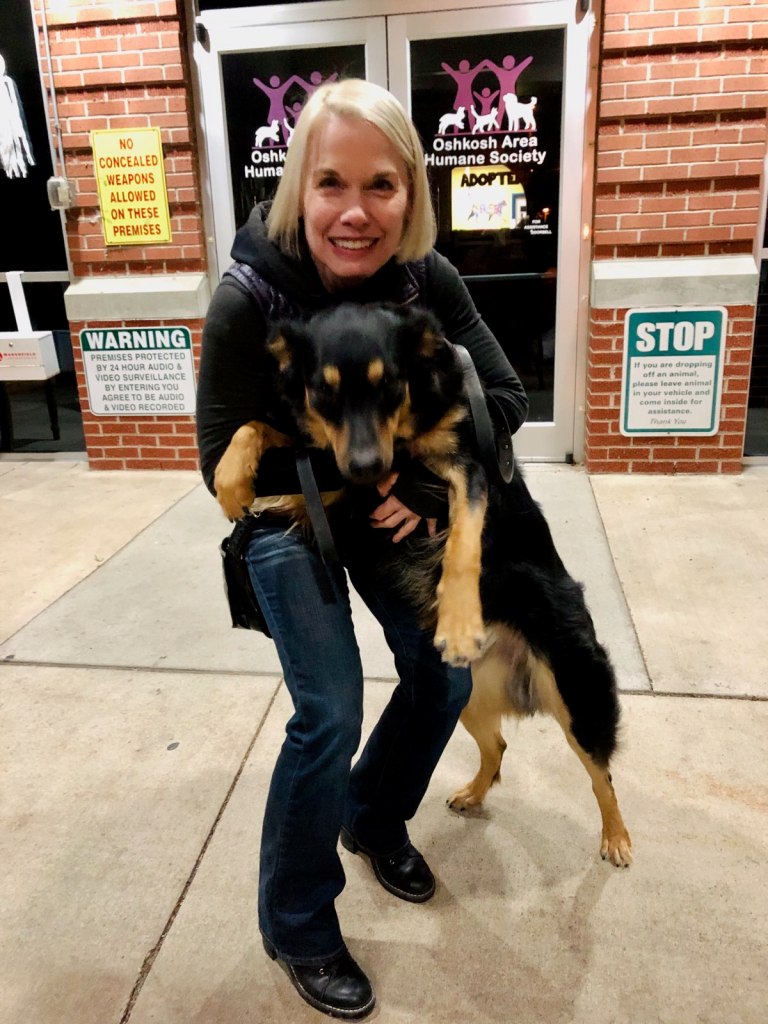 But the man had since moved back in with his family in Oshkosh, Wisconsin.
The property manager called the man's family and warned them the dog he had brought with him might not be his own. After that, she called Perry.
Perry spoke with police who said, since the man was reportedly suffering from emotional and mental health issues, they'd wait until the next day to visit him. They stopped by Wednesday, as promised, and scanned the chip in the dog's ear.
It was Caela.
The police took Caela and contacted Perry. He and Dodd almost immediately took off to get the pooch — Dodd left work in the middle of a meeting — and drove through five and a half hours of traffic and freezing rain to the Oshkosh Police Department.
Once there, they waited outside for Perry and Caela to be reunited.
Dodd knew Perry would want to remember that moment, so she took out her phone and recorded a video: An officer leads Caela out on a leash and, when the dog gets close to Perry, she falls to her belly and crawls to him, her tail wagging excitedly.
Caela jumps into Perry's arms as he hugs her and comforts her. Perry then thanks the officer who rescued Caela, who waited at work even after his shift was over to ensure the reunion was successful.
"I was happy," Perry said Friday. "I didn't cry until I got home. … I didn't care where she was. I was just glad she was found."
The video has already been watched more than 40,000 times by Caela's devoted following, with hundreds of people posting how happy and thankful they are Caela made it home safely.
In another video taken just after the reunion, Dodd, still recording, tells the pup, "Caela, look at you! I don't even know you!" Caela immediately runs to Dodd to kiss her.
Perry has no interest in pursuing charges against the man who took Caela or speaking with him. Caela was in good shape and hasn't shown any signs of being abused, and that's what's important, Perry said.
The man likely needs help, Perry said, and he simply wants him to get that. Dodd agreed.
"We don't believe that putting somebody in jail or making them a criminal or charging them with a crime is going to help them at all," Dodd said. "We never got the impression that it was malicious."
Now, Caela is safely back with Perry in River North. He loves taking the pup for walks — he said if she'd gotten loose in River North she likely could have found her way home to him, they walk so often — and hanging out with her every weekend. He won't leave her tied up outside anymore, he said.
"I'm just happy to get her back," Perry said. "She's not a service dog but she keeps me sane, I think."
Perry said he never expected the huge response he'd get when he asked for help finding Caela. It was Dodd who "spearheaded" the campaign online, he said, and he's thankful to her and the hundreds of others who helped.
And in a twist of fate, Perry learned Dodd fosters dogs for the Anti-Cruelty Society — the same rescue where he adopted Caela last year.
Dodd said she's never before gotten so involved in finding and rescuing a dog.
There are two reasons Caela is home now, she said: "The love of dogs the city of Chicago has," she said, noting the "strong Chicago work ethic" meant hundreds got involved in the rescue. And because of social media, she added.
Now, Dodd's turned her attention to another missing dog: A puppy named Smarties stolen from an adoption center last week.
"For me, the feeling [when Caela was rescued] was definitely happiness. And happiness because I knew that Caela was safe. … I just wanted her home with her dad to be safe.
"I don't think there could have been a better ending to this story."
Do stories like this matter to you? Subscribe to Block Club Chicago. Every dime we make funds reporting from Chicago's neighborhoods.
Want to support Block Club with a tax-deductible donation? Thanks to NewsMatch 2019, your donation will be doubled through Dec. 31. Donate here.