CHICAGO — Chance the Snapper is back in Chicago — or at least he is in a new coloring book.
Chance, the alligator who took the city by storm this summer, is the star of a coloring book created in part by Frank Robb, the man who caught the snapper. "The Adventures of Chicago Chance and Frank Robb" doubles as a coloring book and storybook.
Robb collaborated with illustrator Ben Clark on the book after Clark heard about Robb and tagged the gator catcher in a drawing on Instagram. They teamed up to make the book and got help writing the story from various people, including the director of the St. Augustine Alligator Farm and Zoo, where Chance now lives.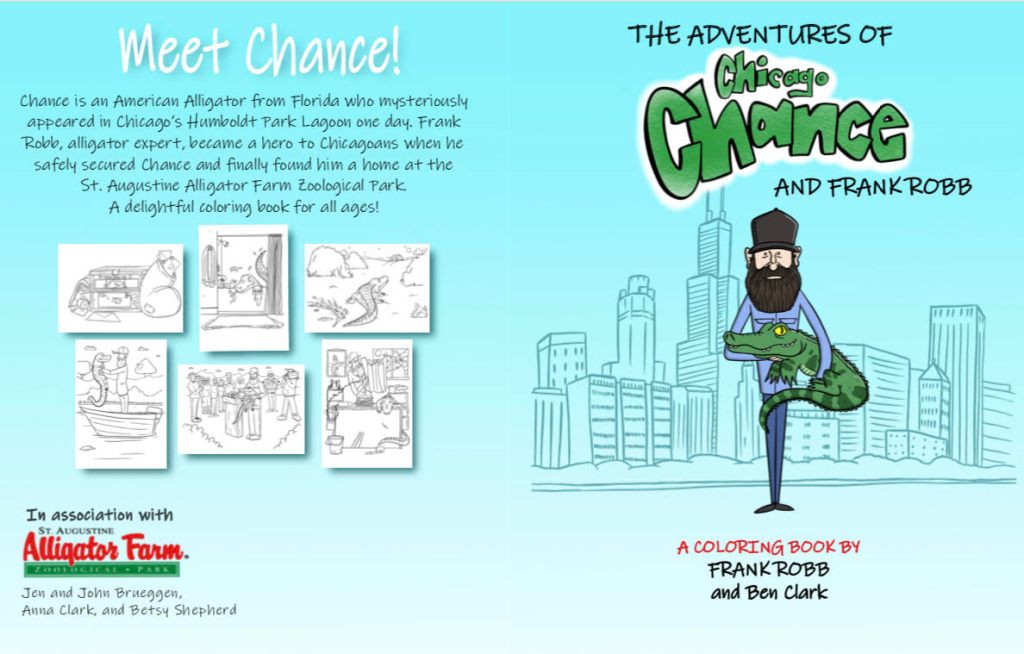 "It's amazing to have the opportunity to share the story of Chance with everyone in this coloring and storybook. This is a story of conservation of a species that I was raised around and truly love," Robb said in a news release. "I look forward to y'all reading the story of Chicago Chance. This alligator and I are linked for life and the blessings of this story will continue to be shared."
The coloring book is appropriate for people of all ages. It costs $16 and is available online and in various stores in Chicago and Florida, Robb's home state.
A portion of the proceeds from the book will be spit between a charity for crocodilian conservation and a charity for first responders, Robb said in a news release.
Chance, who was first spotted in the Humboldt Park lagoon on July 9, had captivated the city for a week before Robb came: Hundreds of people came to the lagoon to get a glance at the gator, who only periodically came up to the surface. Chicagoans tried to catch him with chicken but otherwise danced, picnicked, had family time or met with neighbors along the water's edge.
The city's fascination with the gator, who was named Chance the Snapper through a Block Club poll, made national news.
But experts worried Chance wouldn't survive a cold winter in the lagoon (and he might not be the friendliest to the area's pets and people), so they called in Robb. He planned to "catch the gator incognito," he said.
Robb arrived in the city Sunday, set up Monday and had already reeled in Chance by 1:30 a.m. Tuesday.
And just like that, Robb became a hero to people throughout Chicago. He spoke at a news conference, threw out the first pitch at a Cubs game, was made into a bobblehead figurine and even turned on Buckingham Fountain.
Do stories like this matter to you? Subscribe to Block Club Chicago. Every dime we make funds reporting from Chicago's neighborhoods.
Want to support Block Club with a tax-deductible donation? Thanks to NewsMatch 2019, your donation will be doubled through Dec. 31. Donate here.