EAST VILLAGE — The Fifty/50 restaurant group along with former 47th Ward Ald. Ameya Pawar asked West Town neighbors on Monday to pledge early support for a recreational cannabis dispensary/medical clinic/restaurant/wellness spa in West Town.
Scott Weiner, co-owner of Fifty/50, told neighbors during the monthly East Village Association meeting at Happy Village, 1059 N. Wolcott Ave., he expected West Town to be a very highly sought-after and competitive neighborhood in the upcoming legal weed frenzy.
Established neighborhood support will help any application, he added.
"There are supposedly [going to be] hundreds and hundreds [of applicants]," he said. "There's a good chance everybody's gonna want to come to certain parts of Chicago. … We'll do right by you."
While they still could not specify an exact location for their planned dispensary, Pawar and Weiner took about 30 minutes on Monday to answer a handful of neighbor questions.
When questioned by a neighbor, Weiner acknowledged a vacant parcel next door to Fifty/50's Roots Handmade Pizza, 1924 W. Chicago Ave., would be a "logical" choice.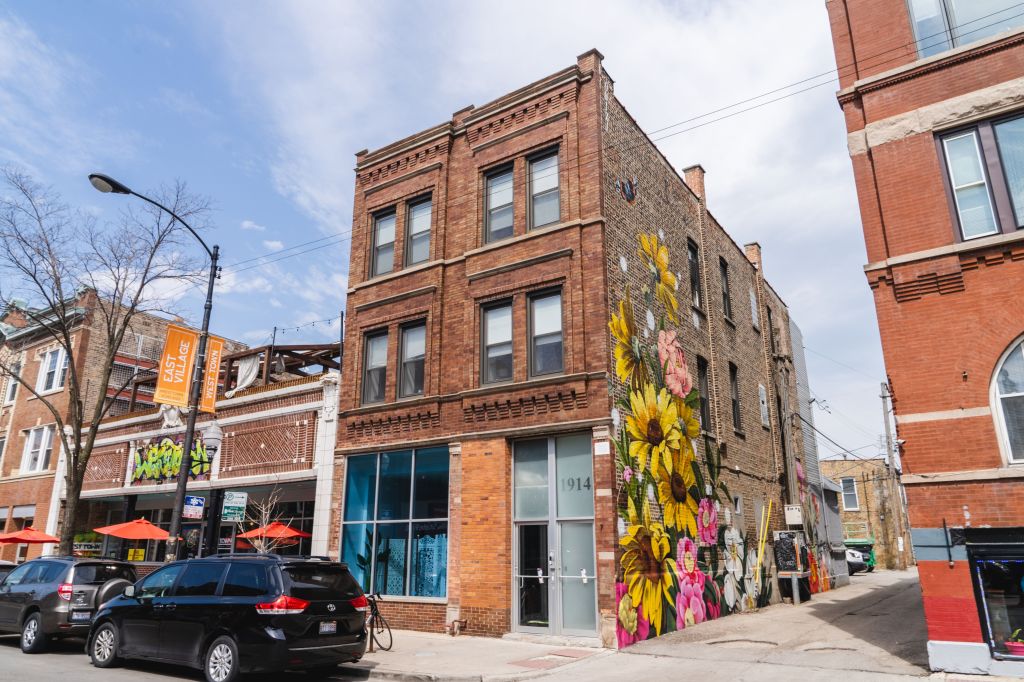 They duo vowed to return to the East Village Association in December with more concrete information.
In the meantime, East Village Association secretary Neal McKnight asked neighbors interested in voicing their opinions to join the neighborhood group before the December meeting. (Members who pay dues have voting rights in the group).
Fifty/50 first announced its plans to partner with Pawar on the dispensary in August.
RELATED: Weed-Infused Spa And Restaurant From Former Alderman And Fifty/50 Crew Coming To West Town
Additional partners joining Pawar and Weiner on the project include:
Dr. George Chiampas, an emergency room doctor and medical director of the Chicago Marathon
Nikki Hayes, president of Laborers International Union of North America, Local 1001
Hanah Jubeh, a political consultant and fundraiser
While Chiampas will focus his efforts on the recovery aspects of cannabis use, a second doctor — an epidemiologist studying spinal injuries — will offer services related to chronic pain, Pawar said on Monday.
Cannabis-infused virtual and augmented reality will be offered as treatment services, too, Pawar added.
Management of the dispensary will be outsourced to Dispensary 33, Chicago's oldest medical dispensary, Pawar said on Monday.
The idea of combining food, medicine and recreational cannabis alone is innovative, but what truly sets this idea apart is that it is a true "social enterprise," Pawar said on Monday.
For example, 100 percent of the project's anticipated 50-plus jobs will be union jobs, he said.
And the business would have an established job-to-wealth pipeline for workers adversely affected by the War on Drugs.
"We're going to make money, but we're not gonna make a killing," Pawar said of himself and his partners. "No one is going to get rich off this."
RELATED: With Legal Weed, South Side Neighborhoods Hurt By War On Drugs Will Get Economic Boost, Officials Say: 'This Is Reparations'
Illinois is the 11th state to legalize recreational cannabis use, and the only state to attempt to address racial disparities head-on.
Currently, 81 percent of owners and founders of marijuana businesses are white, and 73 percent are male.
Gov. J.B. Pritzker's law called for $12 million from the Cannabis Business Development Fund to be set aside to assist people of color in the industry. 
The bill also tackles criminal justice, making 770,000 marijuana conviction records eligible for expungement, according to State Sen. Heather Steans.
Pritzker's office has said it will create a $30 million low-interest loan program to defray startup costs. The state will also offer "social equity applicant" status for those who live in areas affected by the war on drugs, or have been convicted of minor cannabis offenses.
Weiner, who is on the executive board of the Illinois Restaurant Association, told Block Club in August he generally opposes bringing organized labor into the food and beverage industry, because wage increases don't always jibe with the demands of keeping the doors open.
In the case of the cannabis industry, however, Weiner said he's glad this project is involving union leadership from the outset.
"This is one time where I truly feel organized labor, government, business, can all be on the same page here," he said. "Everybody needs this to be successful. … If the business fails, nobody will get any tax revenue."
"This state's only gonna get one chance at legalizing cannabis recreationally," he continued. "We don't have a monopoly on this. That's why I feel organized labor will make a great parter in this because our interests are all aligned."  
The team will be able to apply for a license on Jan. 2, Pawar said.
The group isn't the first to pitch a cannabis dispensary in the area.
Earlier this month, the team behind Emporium Arcade Bar in Wicker Park and Modern Cannabis, a medicinal dispensary in Logan Square, pitched their plan for a recreational dispensary in Wicker Park to neighborhood leaders.
RELATED: Emporium Arcade Owners' Plan To Turn Barry's Drugs Into Recreational Cannabis Dispensary Hits Roadblock In Wicker Park
The Fifty/50 group manages several restaurants and bars throughout Chicago, but neighbors are most likely to recognize the following West Town staples:
Owners Greg Mohr and Weiner opened Roots in May 2011.
Do stories like this matter to you? Subscribe to Block Club Chicago. Every dime we make funds reporting from Chicago's neighborhoods.