IRVING PARK — Police released photos of a car they say is tied to three shootings that left two people injured early Monday.
In all three shootings, men wearing masks and dark clothing were seen driving around in a newer model, dark gray, four-door Acura with a moon roof and tinted windows.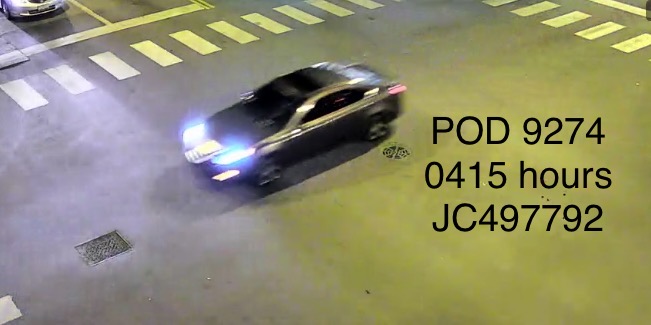 The first shooting happened at 1:06 a.m. Monday in the 4000 block of North Kimball Avenue.
Four men were in the car, but only one man exited it through the rear passenger driver's side door and fired shots. No one was injured in that case. Police say the description of the vehicle and masked men are the same as in the other two shootings.
The second shooting happened in the 4300 block of North Troy Street at 2:52 a.m. Monday.
In that shooting, a 35-year-old man was shot in the back and taken to Illinois Masonic Hospital in stable condition.
The victim told police that he was inside his car when people he didn't know approached and fired shots at him. After he was wounded the victim was able to run to Montrose, where someone else flagged down police to help him.
The third shooting happened in the 4800 block of North Kimball Avenue around 4:19 a.m. Monday.
A 43-year-old man was sitting in his car when the Acura pulled up and someone inside fired shots at him, hitting his right hand.
The victim drove himself to Swedish Covenant Hospital where he was listed in good condition.
In a statement Monday, Ald. Rossana Rodriguez (33rd) said her office was speaking to police about the shootings and other recent crime incidents in the area.
"In the meantime, we know that many neighbors are extremely concerned about recent shooting incidents in the ward, and we share that concern," she said.
No one is in custody and Area North detectives are investigating. Anyone with information should call detectives at 312-744-8261.
Meanwhile, the Albany Park (17th) Police District is hosting the second of two meetings Tuesday night asking neighbors for feedback on creating the 2020 plan for community policing.
The event begins at 6 p.m. at the Irish American Heritage Center, 4626 N. Knox Ave.
Also, Rodriguez will host a town hall on community safety in December. The 33rd Ward office will soon put out more information on how residents can attend and get involved, Poulos said. The time and place are still being determined.
"Community-wide violence prevention initiative is something very important to the alderman," he said. "So we're partnering with UIC and other organizations that specialize in intervening in violent situations and have a track record in reducing violence."