BUCKTOWN — Following a summer-long restoration, Walsh Park is finally open.
Located at 1722 N. Ashland Ave., Walsh Park serves as the easternmost entrance to the 606 park system — a series of parks that connect pedestrians and cyclists to the elevated Bloomingdale Trail, which extends from Walsh Park to Humboldt Park.
Though the park is now complete, the Walsh Park Advisory Council's will have an opening ceremony to celebrate at 11 a.m. Saturday, just north of the brand new playground.
The renovations were long-overdue, Walsh Park Advisory Council president Ananda Breslof has said. She told Block Club in April the previous playground equipment was more than 20 years old.
This summer's construction was funded by an Open Space and Land Acquisition grant — money that the Chicago Park District received from the Illinois Department of Natural Resources in 2014.
That money was actually initially set aside for the creation of a skate park, a plan that Breslof and several other neighbors opposed.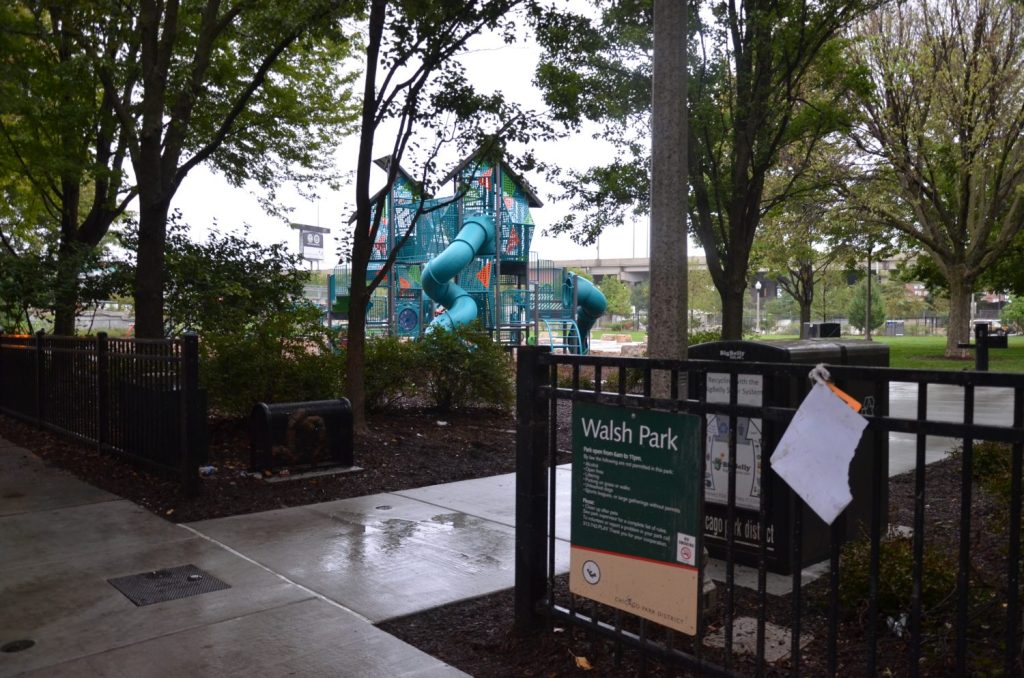 History of Walsh Park
On July 7, 1970, the vacant building that once occupied 1722 N. Ashland Ave. caught fire and burned to the ground.
John P. Walsh Jr., a Chicago Fire Department firefighter and a former U.S. Marine, was one of the firefighters who helped put out the blaze. During the fire he was injured, and died shortly after.
Several months after Walsh's death, the Chicago Park District began working toward developing the scarred site as a neighborhood park.
The park district acquired the 2-acre property in 1972 with the help of grant funds from the U.S. Department of Housing and Urban Development.
The park included playground equipment, an athletic field, basketball hoops and a sand box.
Since then, the Walsh Park Advisory Council has overseen the creation of the dog friendly area and the restoration of the plaque dedicated to John Walsh.