LOGAN SQUARE — A vandal recently tagged the column of the Illinois Centennial Monument, more commonly referred to as the Logan Square Monument, which will cost a public art conservation group around $4,000 to clean.
That's according to Andrew Schneider, president of Logan Square Preservation, which works closely with the Art Institute of Chicago-administered group, called the Ferguson Fund.
The graffiti — a nonsensical grouping of words and letters — popped up sometime in the past 10 days.
Schneider, who has been fielding a deluge of messages from neighbors since the tags surfaced, said the Ferguson Fund has been notified. He expects the cleanup job to be complete by mid-November.
Schneider said this job is much more expensive and time-consuming than your typical monument graffiti cleanup. That's because the column, unlike the base, isn't covered in a special graffiti repellant, he said.
This job will require special tools and will take days to complete, Schneider said. After the job is complete, the conservation group is planning to cover the lower portion of the column in the special graffiti repellant in case ambitious taggers strike again.
Once the column is covered in the repellant, future cleanup jobs will only require power washing, Schneider said. Power washing typically costs about $800, he said.
The Ferguson Fund didn't respond to requests for comment.
Schneider called the recent tagging "just awful."
"I would like to think that people could have enough respect and sense to say this belongs to all of us and let's treat it with the respect it deserves," he said.
The neighborhood group president also noted that the money spent on cleaning the monument could be going to better use. In addition to cleaning Chicago's public sculptures, the Ferguson Fund also funds the construction of new ones.
"Every dollar that goes into fixing a tag is one less dollar that's available for beautifying our public spaces down the road," Schneider said.
Over the years, vandals have scrawled all sorts of phrases on the 70-foot monument, usually on its ornate base.
Back in 2014, Logan Square Preservation and then-35th Ward Ald. Rey Colon teamed up to fund $80,000 in renovations on the monument — in part due to graffiti.
Also in 2014, a 21-year-old Lakeview man was charged with criminal damage to property after getting caught tagging the monument while drinking vodka.
Taggings are up this year compared to recent years, Schneider said, but only slightly.
"I wouldn't say it's up in a way that's statistically significant, but it's up," he said. "The only way we have to measure that is how often we call the Ferguson Fund to clean it. … We've been calling them more frequently."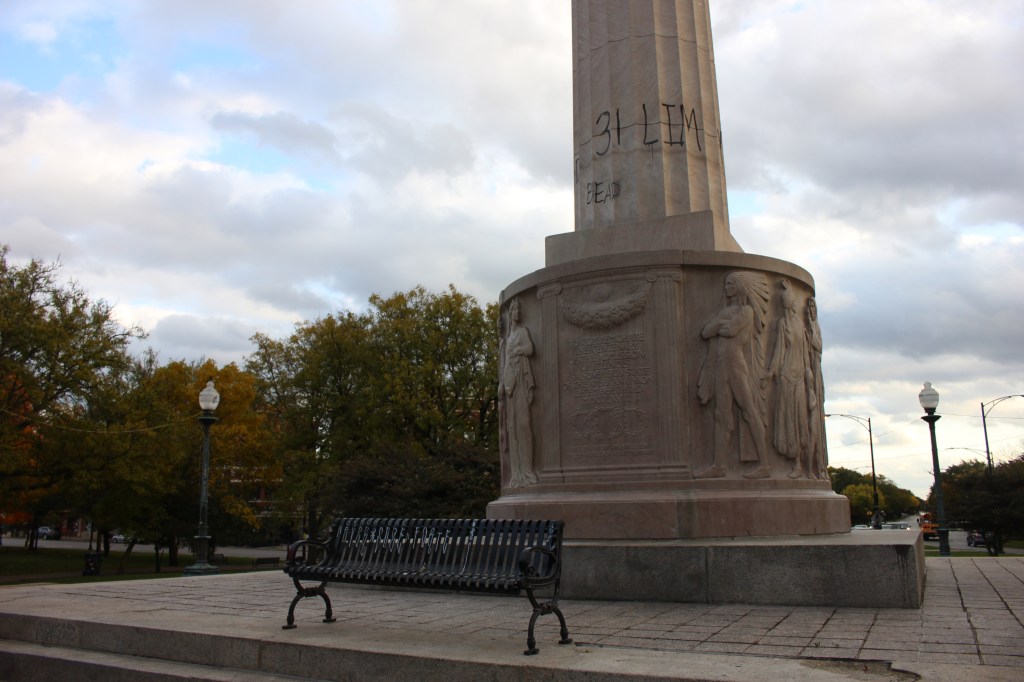 Schneider said Logan Square Preservation is hoping to add more lighting to the area surrounding the monument, both to better reflect the original design and to deter vandals.
The effort is being talked about as part of the massive square redesign project, according to Schneider and Paul Sajovec, chief of staff for Ald. Scott Waguespack (32nd).
Do stories like this matter to you? Subscribe to Block Club Chicago. Every dime we make funds reporting from Chicago's neighborhoods.