LINCOLN SQUARE — DANK Haus German American Cultural Center is celebrating the 30th anniversary of the fall of the Berlin Wall this month.
The free event starts at 5:45 p.m. Tuesday at the Berlin Wall Monument inside the Western Brown Line CTA Station, 4648 N. Western Ave.
Special guest speakers at the re-dedication of the monument include Consul General Wolfgang Mössinger and Dank Haus President Dagmar Freiberger.
During the Cold War, the Berlin Wall was the most famous example of the lengths the Soviet Union would go to separate itself and its satellite states from the Western world behind an "Iron Curtain."
The wall existed from 1962 to 1989. After it was torn down, pieces of the wall were broken off, with some taken as souvenirs. About 120 pieces of the wall can be found in more than 40 countries and in cities around the world, including Chicago.
A gift from the city of Berlin, the Lincoln Square chunk was installed on Jan. 19, 2008, in a ceremony that included then-CTA president Ron Huberman, German Consul General Wolfgang Drautz and Eugene Schulter, the alderman at the time.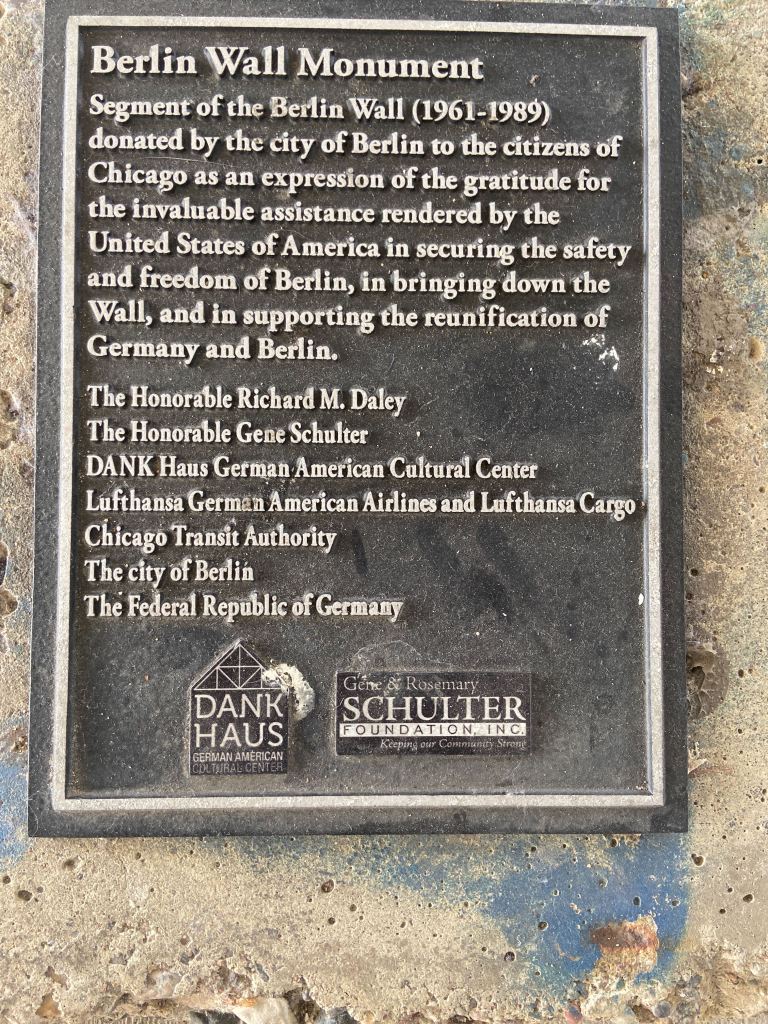 The segment was presented "as an expression of gratitude for the invaluable assistance rendered by the United States of America in securing the safety and the freedom of Berlin, in bringing down the wall, and in supporting the reunification of Germany and Berlin," according to the plaque accompanying it.
The plaque contains the names of the mayors of Chicago and Berlin at the time, Richard M. Daley and Klaus Wowereit, respectively.
After the re-dedication ceremony, the celebration will continue at Dank Haus, 4740 N. Western Ave. where complimentary appetizers will be served along with entertainment and opportunities for guests to share their own experiences that led up to and surrounding the Fall of the Berlin Wall in 1989.
For more information and to RSVP click here.
RELATED
Berlin Wall is Focus of Sulzer Library Event
Do stories like this matter to you? Subscribe to Block Club Chicago. Every dime we make funds reporting from Chicago's neighborhoods.