DOUGLAS — A star-studded roster of speakers affirmed the power of community organizing at the Obama Foundation's 2019 summit, but big-picture ideas didn't come with much detail about the South Side's role in the planned Obama Presidential Center's development.
In separate sessions Tuesday on the campus of the Illinois Institute of Technology, former President Barack Obama and former First Lady Michelle Obama focused on the presidential center's potential to be an economic boon to Woodlawn and the South Side at large. It's a common talking point from center supporters dating back to the plan's earliest stages.
But the Obamas did not address any specific community groups they had worked with while developing plans for the presidential center, nor did they discuss neighborhood activists' push for a community benefits agreement ordinance. President Obama has said in the past that a CBA would grant power to "particular organizations" to be the voice of the entire community.
In the morning session, Michelle Obama and her brother Craig Robinson chatted with journalist Isabel Wilkerson about their South Shore upbringing and what they hoped the center would bring to their childhood homes.
The Museum of Science and Industry and a presidential center would form the South Side's own version of the Museum Campus, Michelle Obama said, adding that the pair of museums would bring "life" to a dormant Jackson Park.
"There would be more than just periodic uses of the park," she said. "It might be protected and loved by its friends, but it's not used by the community."
Jackson Park has been an "underutilized park" dating back to their childhood, Robinson said.
"Washington Park and Douglas Park and Grant Park, those are parks where people come and they congregate and they have resources thrown in to do stuff," Robinson said. Jackson Park "was one of those parks that had a lot of real estate, but there wasn't a whole lot going on unless you golfed."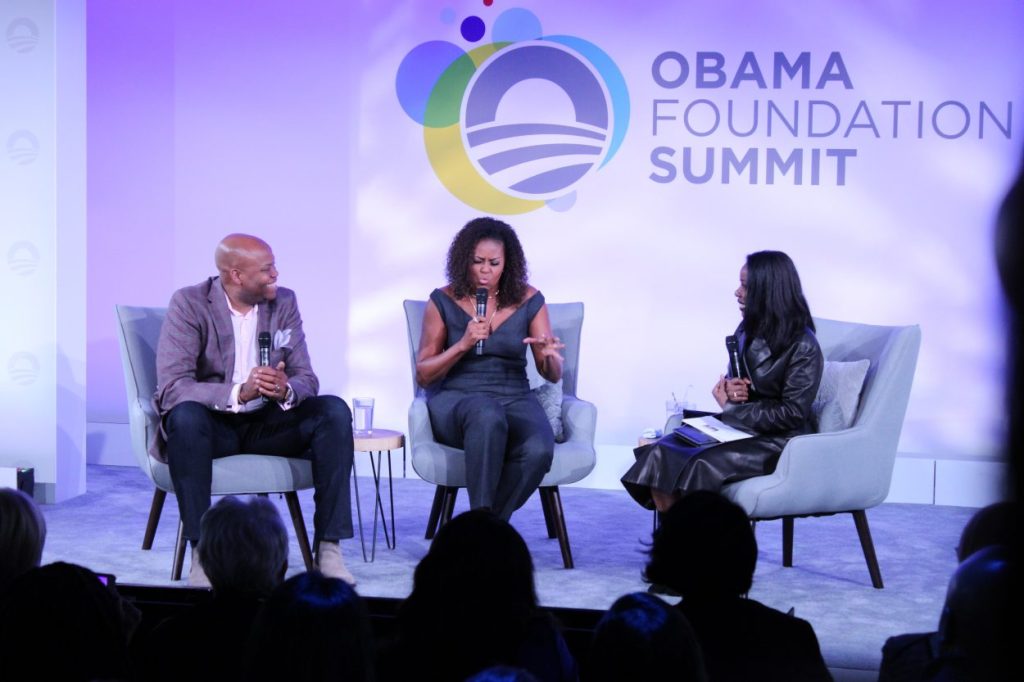 Other neighborhood parks received shout-outs during the siblings' conversation as well.
Robinson mentioned South Shore's Rosenblum Park as an example of a once-thriving community meeting space that fell victim to disinvestment during their childhood.
It's since rebounded, with recent improvements to various sports fields and the addition of a walking trail.
Michelle Obama also recalled day camp sessions at Rainbow Beach where she "got [her] jock on" as a child.
Barack Obama's afternoon session with "Black-ish" star Yara Shahidi was more focused on highlighting the work of four Obama Foundation program participants:
Mimi Gonzalez, a member of the foundation's Community Leadership Corps in Hartford, Conn. who focuses on improving individuals' mental wellness in the city;
De'Andre Brown, a foundation scholar;
Samira Koujok, a foundation scholar and Lebanese researcher who focuses on those gone missing during the Syrian conflict; and
Awah Francisca Mbuli, founding director of Survivors' Network, a Cameroonian group of human trafficking survivors that offers resources to other survivors.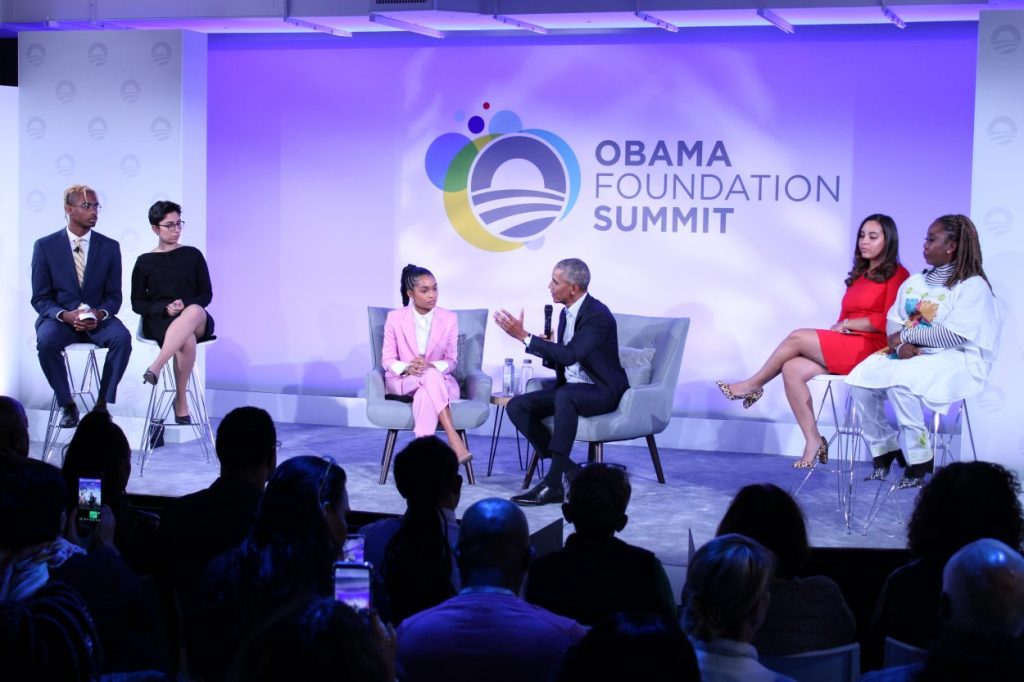 However, Barack Obama discussed the center in some detail, particularly toward the end of his session.
He said the foundation needs to work with local small businesses to prepare them for the influx of customers the center would bring to the neighborhood, although details or real-life examples of such were not given.
Barack Obama said he hoped the center, over time, would "stitch together" the South and West sides with the economic powerhouse that is downtown.
A video narrated by the former president which reviewed the center's site plans — which recently received minor design changes — ran during Michelle Obama's session.
Plans for the center cannot move forward until a federal review of modifications to the historic Jackson Park is completed.
Other summit sessions, under the theme "Places Reveal Our Purpose," urged attendees to incorporate their life stories and places of origin in their activism.
Celebrity speakers and guests included activist Dolores Huerta, actor Billy Porter, filmmakers Ava DuVernay and Lulu Wang, musicians Mavis Staples and Jeff Tweedy and former NBA player Charles Barkley.
Hyde Park's Seminary Co-Op bookstores featured a "curated" selection of books for sale at the event.
RELATED STORIES
North Side Alderman Tours Woodlawn As Obama Center Activists Urge Him To Support Community Benefits Agreement
With Obama Center On Horizon, Rent Hikes Already Hitting Woodlawn Residents: 'They Want To Stay Here'
Obama Center Community Benefits Ordinance Can Be Chicago's Model For Development Without Displacement, Alds. Say
Do stories like this matter to you? Subscribe to Block Club Chicago. Every dime we make funds reporting from Chicago's neighborhoods.