LINCOLN SQUARE — For weeks, a rumor has been making its way around Lincoln Square regarding what will happen to the shuttered Chicago Brauhaus, an iconic German restaurant that was a neighborhood staple for 52 years.
It turns out, the rumors that upset some neighbors were true: a medical office might take over the building on a quaint cobblestone stretch of Lincoln Avenue.
"Northwestern Hospital are looking to rebuild on the spot for offices but preserve the facade. They would likely need a rezoning for that," said Josh Mark, Ald. Matt Martin's (47th) director of development and infrastructure.
This weekend after a state of the neighborhood event at the Davis Theater, residents told Ald. Martin they weren't too keen on having the former restaurant be converted into a medical office.
"I've been hearing that people are less than enthused about having another medical facility going in here," said Paige Worthy, co-founder of the Heart of Lincoln Square neighborhood association.
The neighborhood already has an overabundance of medical practices and nail salons, she said. Instead, she'd like to see a business that shares the sense of community Chicago Brauhaus had before it closed in 2017.
"I think the developer's heart is in the right place if they want to preserve the facade, but what was special about Chicago Brauhaus wasn't on the outside," she said. "It was the community and what was inside, so preserving its look kind of misses the point."
Bork Maronn lives two miles south of Lincoln Square but has been frequenting the neighborhood for food and entertainment for nearly 40 years.
"I think this area should be retail focused, as it has been for years. I don't think a medical office is a good use of the space," Maronn said. "And it'd be an issue for parking too I think. I'd much rather see another restaurant go there."
While Martin would not comment on whether or not he'd support a medical office at 4732 N. Lincoln Ave., Mark said his office would go through their "normal process" if a zoning change is requested.
For 52 years, Chicago Brauhaus served bratwurst, schnitzel and large steins of German beer to hungry neighbors and tourists. On any given day, you'd walk in to traditional German music performed live by musicians dressed in lederhosen.
Since the restaurant's closure, its unique facade has been featured as a stand in for London when crews filmed Fox's "Empire" in Lincoln Square last summer. And the sign from the previous owner Harry Kempf announcing the restaurant's closure can still be found next to the entrance.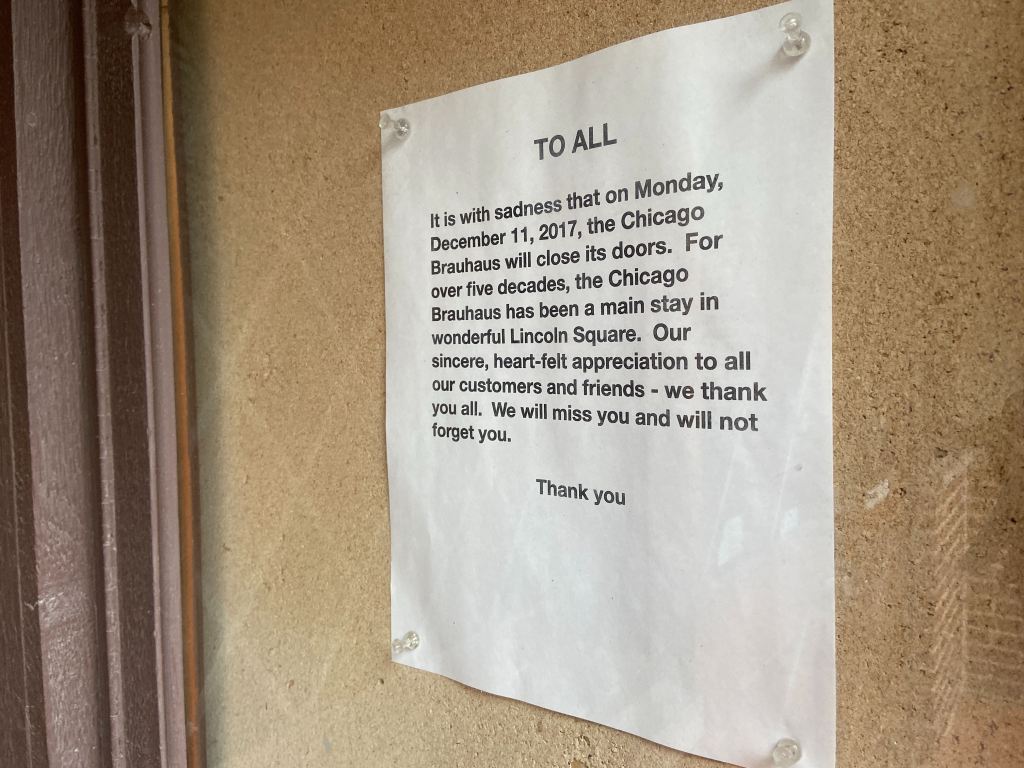 Christopher King, a spokesperson for Northwestern, declined to comment on the hospital's plans for the site.
RELATED
Brahaus Closing Not Imminent; 'We Are Open,' Owner Says
Filmmaker In Race To Finish Brauhaus Documentary While There's Still Time
Do stories like this matter to you? Subscribe to Block Club Chicago. Every dime we make funds reporting from Chicago's neighborhoods.