DOWNTOWN — President Donald Trump's Monday visit to Chicago drew thousands of protesters Downtown.
Trump, a frequent critic of Chicago, hadn't had a public event in Chicago since protesters forced him to cancel a rally in March 2016. But on Monday he returned to speak at McCormick Place for a conference for the International Association of Chiefs of Police, criticizing Supt. Eddie Johnson and saying "Afghanistan is a safer place" than Chicago.
Protesters and police gathered near the president's namesake tower at 401 N. Wabash Ave.
"Lock him up! Lock him up!" protesters chanted as the crowd swelled.
Some activists held up signs calling for Trump's impeachment and criticizing the president. They took off work, drove in from out of town and even pulled their kids out of school to participate.
"It's the end of our democracy if things don't change in November," said Steve Schaibley, a retiree who lives in Livingston Country and came to Chicago to protest Trump.
Jennifer Sontag, who said she is the granddaughter of former Illinois Gov. Dan Walker, joined the rally with her 10-year-old daughter, Caroline Sontag. Jennifer Sontag said she pulled her daughter out of school because "this is more important than what's going on in the classroom today."
Caroline Sontag carried a sign calling for Trump's impeachment and said it's normally taped to her bedroom wall.
"I think it's really cool to be protesting Trump," Caroline Sontag said.
The crowd grew larger during after Trump's speech but, as people started to dissipate, participants marched Downtown. Young activists from GoodKids MadCity — an anti-violence group — planned to also visit ICE offices before finishing.
"We want Chicago to know that we will not tolerate Trump coming here and disrespecting our city with bogus facts," said Camiella Williams, a supervisor to GoodKids MadCity. "He's never visited our neighborhoods."
Protesters also used chalk to write on the streets, leaving behind messages like, "Get out!"
Anti-Trump rallies have drawn large crowds in the city for years, and multiple groups — including the Rainbow PUSH Coalition, Chicago Women Take Action and Indivisible — organized Downtown demonstrations for Trump's visit.
Trump's attempted rally in 2016 was canceled after large groups of protesters gathered outside and within the rally. There were clashes between activists and police.
After Trump's election, thousands of people protested for weeks Downtown, marching, holding anti-Trump signs and chanting against the president and his political policies. The Women's March in January 2017, organized in response to Trump's election, drew an estimated 250,000 people.
Trump has taken aim at Chicago repeatedly on social media and in interviews, likening the city to a "war zone" and sharing incorrect statistics on its violence.
Mayor Lori Lightfoot did not meet with Trump during his visit and Police Supt. Eddie Johnson did not attend the president's speech at the conference.
Trump also signed an executive order allowing a commission to study the root causes of crime.
Photos from the rally: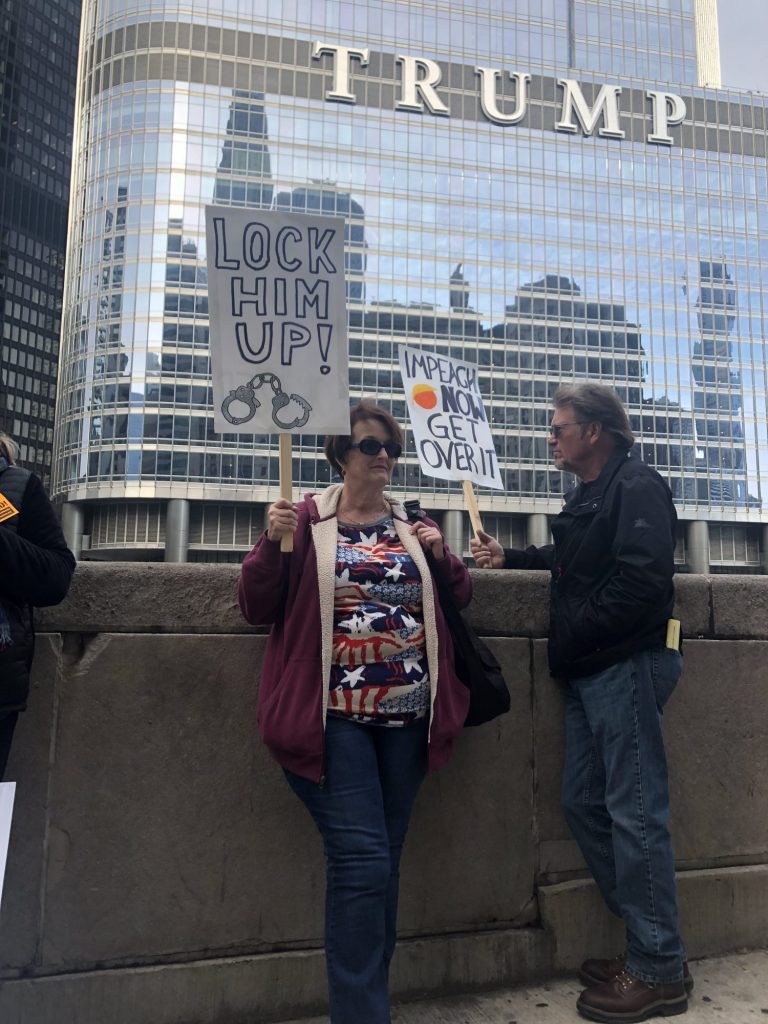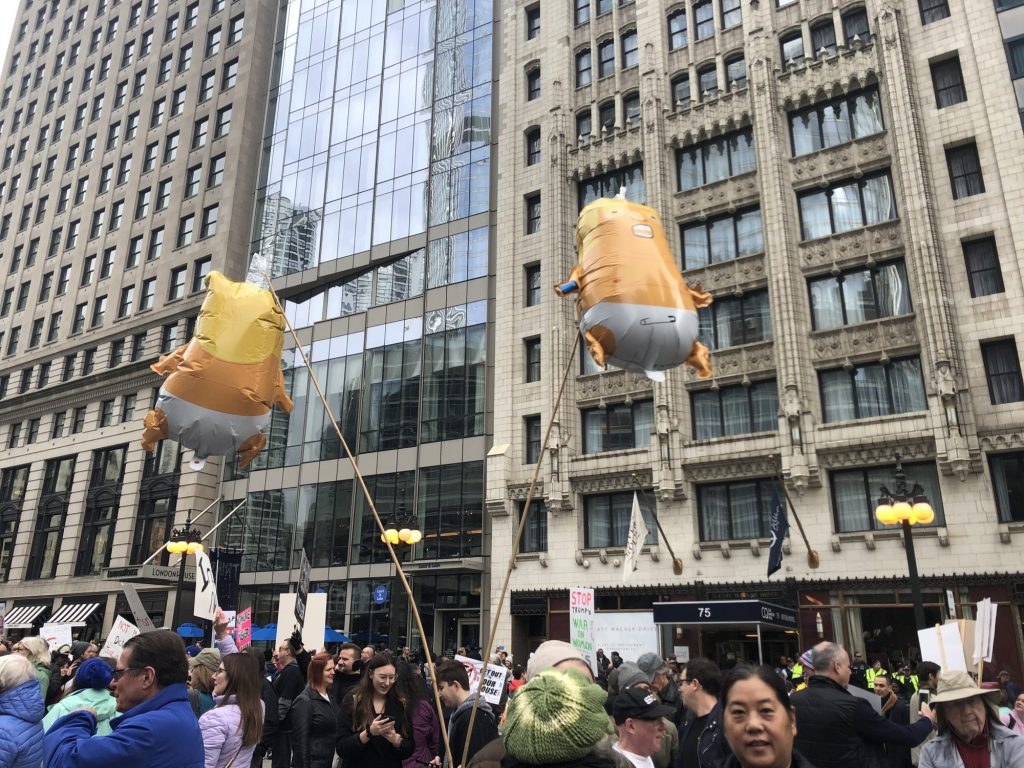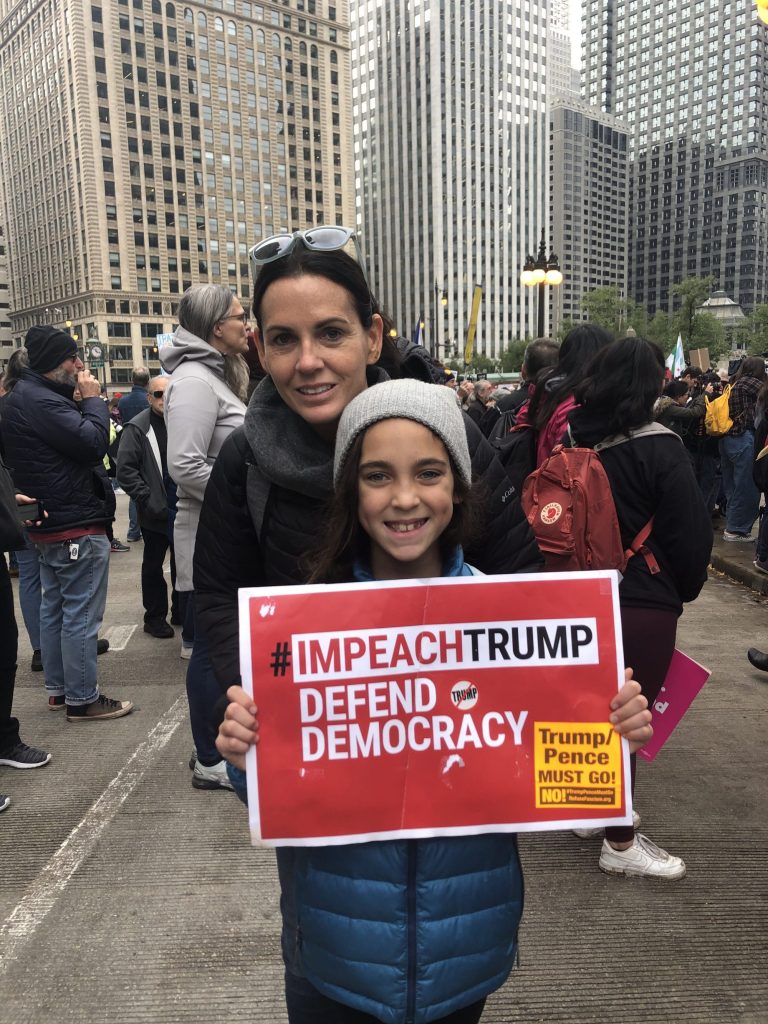 Do stories like this matter to you? Subscribe to Block Club Chicago. Every dime we make funds reporting from Chicago's neighborhoods.