LINCOLN SQUARE — Lincoln Square needs more bike lanes, affordable apartment options and independent businesses to continue to thrive in the years ahead, according to a neighborhood master plan released over the summer.
Now, Ald. Matt Martin (47th) and Ald. Andre Vasquez (40th) are using the plan to set their agenda for the coming years.
The October of 2018, the Lincoln Square Ravenswood Chamber of Commerce began talking to residents about what they loved about the area and what they thought could use improvement. These conversations and meetings evolved into a comprehensive document outlining plans to make the neighborhoods better for everyone in the years to come.
The document, and the level of community input that went into creating it, has impressed the new aldermen, who are now discussing which parts of the plan to prioritize.
More Apartments, Fewer Single-Family Homes
The master plan addresses one issue that former Ald. Ameya Pawar brought up a lot in recent years: the practice of converting two and three-flats to single family homes, reducing the availability of affordable housing in the area.
To help curb these trends, officials will focus on increasing housing diversity in terms of composition and affordability, the plan states. They also want to avoid sprawling, suburban-style developments with glass facades and focus on smaller development that fits in with the neighborhood.
One way to tackle both of these goals is to renovate existing buildings to include affordable rental housing and fund the overhauls through incentives like historic tax credits and housing tax credits.
"The Lincoln Square Master Plan is in line with my own priorities to preserve the picturesque, main-street feel of Lincoln Ave while supporting opportunities for an appropriate level of residential density — which in turn bolsters small businesses and the availability of affordable housing," Ald. Matt Martin (47th) said in a statement.
Ravenswood Hospital, 4501 N. Winchester Ave., would be converted to affordable senior housing under the plan as well.
Connecting the neighborhood
As for commercial corridors, the plan says there should be a focus on local businesses development, encouraging developers to secure local tenants, and coordinating city and county incentives for small businesses to come to the area. 
"The Lincoln Square Master Plan does a phenomenal job showing how much potential there is along Lincoln and Lawrence," Ald. Andre Vasquez (40th) said in a statement. "A reconstruction of Lawrence Avenue will be planned and installed over the next couple years, so it's vital to push for our vision for the commercial corridor now."
As Lincoln Avenue travels diagonally through the Chicago grid, it is disrupted by the intersections of Gunnison Street, Western Avenue and Lawrence Avenue.
Developments in these areas should be designed with an eye toward connecting the heart of Lincoln Square with neighborhoods west of Western and north of Lawrence, according to the plan recommendations.
Plazas surrounding the Lincoln, Lawrence and Western intersection can serve as gateways, creating physical and visual continuity between the separate sides of these major thoroughfares.
Pursuing enhanced and wider sidewalks, more trees and upgraded street lamps could also increase foot traffic and thus increase and support independent retailers in the area, Vasquez said.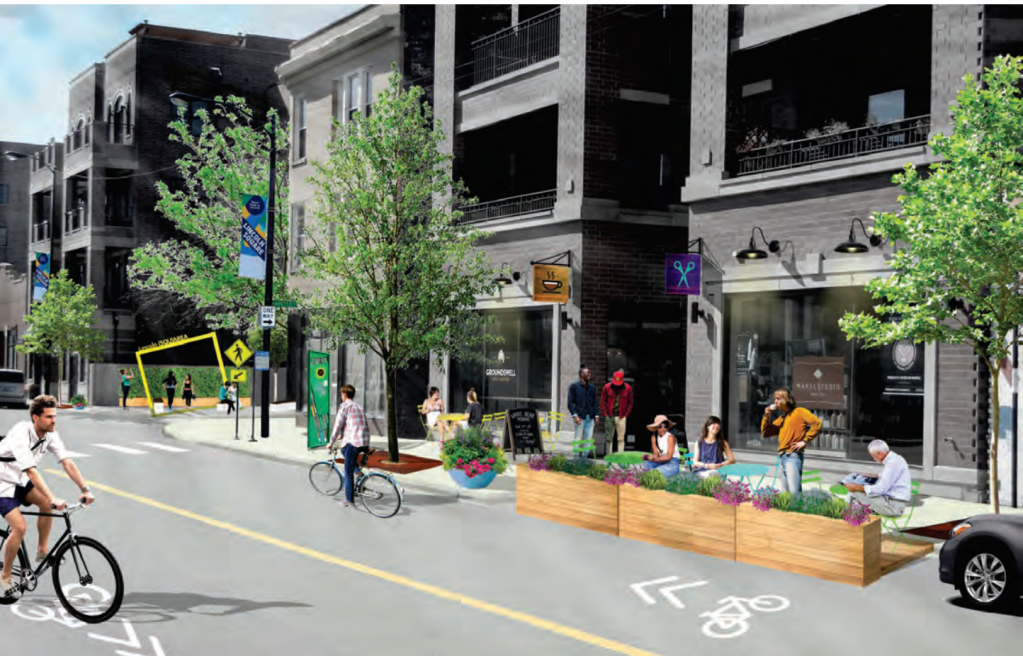 "Lincoln Avenue has a lot of potential and I've engaged with [the chamber] and other community partners to collaborate together on what kind of culture we can foster along this stretch of road to encourage more vibrancy," Vasquez said. 
More Bike Lanes, Safer Pedestrian Access
Regarding pedestrians and cyclists, the plan places importance on reclaiming sidewalks, exploring the creation of a bench and planter art program, developing mini-plazas and enhancing existing plaza spaces, alleyways and walkthroughs beneath the Western Avenue CTA station.
The pedestrian area beneath the CTA tracks at the Western Brown Line station should be improved with better lighting, paving and plantings to appear more inviting as well, the plan states.
Ald. Martin has already funded a new crosswalk at Lincoln and Eastwood as well as a new mid-block crosswalk on Lincoln between Wilson and Sunnyside, near the Old Town School of Folk Music.
And last month Martin also presented a proposal to expand a bike and pedestrian route between the Chicago River and the lakefront.
Expanding the greenway on Leland Avenue would create a continuous, low-stress bicycle connection between the North Shore Channel Trail and the Lakefront Trail by incorporating pedestrian median islands, raised crosswalks, contraflow bike lanes and bike-friendly speed humps.
Both Alds. Martin and Vasquez are also looking at how to improve the CTA Brown Line plaza according to the plan's guidelines.
Improvements for this include maintaining a special event space that connects the Western Brown Line station to businesses on Lincoln Avenue.
Additionally, the master plan suggests improving pedestrian access to and from the station and nearby Divvy bike racks by adding landscaping like low plantings and canopy trees to provide a buffer between the plaza and street.
The new plaza might also feature a segment of the Berlin Wall, which currently resides inside the station, as a nod to the neighborhood's German heritage.
The aldermen are currently figuring out how they would get the money together to tackle these projects, and hope to partner with CTA on the station overhauls.
The plan was developed following four committee meetings, three online polls and 25 stakeholder meetings and hours of community involvement.
The master plan will work as the guiding document that outlines how funds collected through a Special Service Area tax are spent over the next five to 10 years. 
Special Service Area districts, or SSAs, levy a tax on property owners for communal services like snow removal, landscaping, sidewalk cleaning and graffiti removal. 
The Special Service Area in the neighborhood is overseen by the Lincoln Square Ravenswood Chamber of Commerce. 
To read the master plan click here.
RELATED:
New Lincoln Square Master Plan To Be Unveiled May 30, But There's Still Time For Public Comment
How Should Lincoln Square Spend Its Money? Survey Says: Traffic And Bike Lane Upgrades (So Far)
The Future Of Lincoln Square Should Include Brick Buildings That Fit In, Not Strip Malls, Neighbors Say In Poll
Do stories like this matter to you? Subscribe to Block Club Chicago. Every dime we make funds reporting from Chicago's neighborhoods.