LOGAN SQUARE — The sidewalks are so packed with kids they become impossible to navigate. Elaborate displays of witches and graveyards and other spooky scenes fill many of the homes' front lawns. And homeowners are so busy passing out candy — up to 2,500 pieces in three hours — they don't have time for bathroom breaks.
This is Bernard Street on Halloween night.
The 2400 and 2500 blocks of Bernard Street have become one of the city's hottest destinations for trick-or-treating. Kids and parents from across the city travel, sometimes by bus and limo, to trick-or-treat on the usually quiet Logan Square street every Halloween.
"It's just a revolving door of kids — nonstop for hours," homeowner Kyle Stefankiewicz said.
Stefankiewicz and his wife moved to Bernard Street four years ago. The first thing Stefankiewicz's neighbors said when they introduced themselves?
"Make sure you're ready for Halloween."
"I was like, 'Ready for what?'"
Stefankiewicz learned the lesson the hard way. That first year he only bought between 100 and 200 pieces of candy and ran out quick.
"We'll do 2,000 this year and that may not be remotely enough," he said.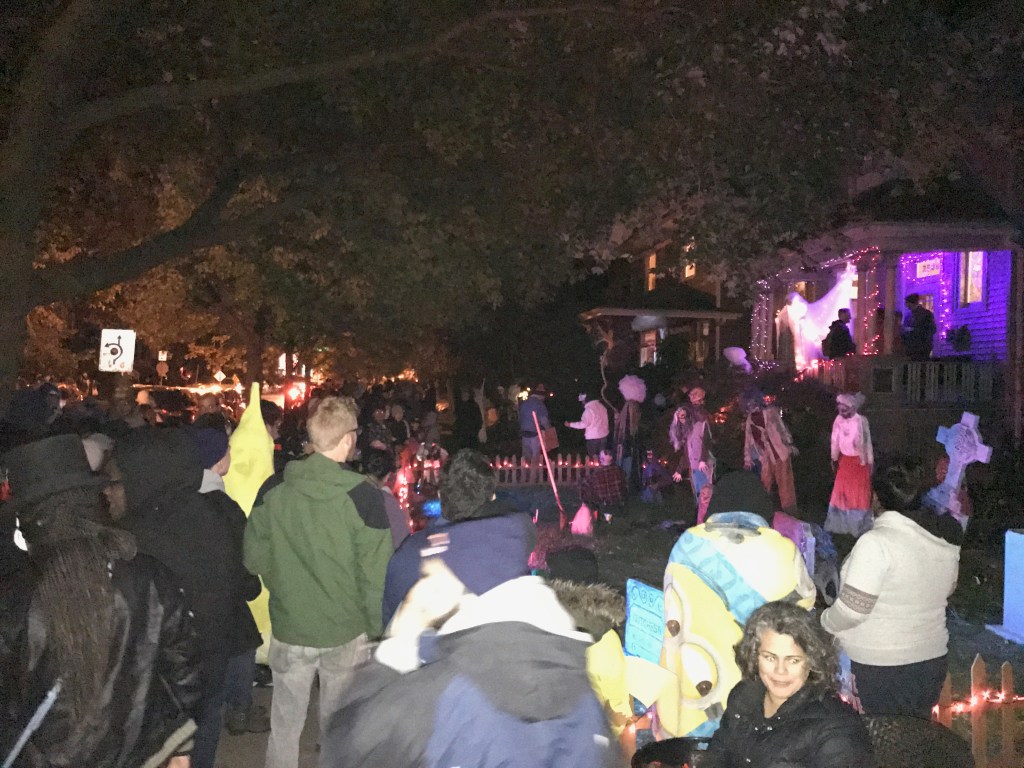 This year, with a few Halloweens under his belt, Stefankiewicz is looking to hire one of the neighborhood teenagers to hand out candy. He wants to take his three-year-old out to trick-or-treat but he can't leave the Bernard Street trick-or-treaters hanging.
"You gotta have somebody there," he said.
Mark Roe, another Bernard Street neighbor, said every year he invites over friends to help give out candy because he and his wife can't handle the crush of kids on their own.
"You can't even get to the bathroom," Roe said.
'Almost every house — probably 90 percent of the houses — are doing this stuff'
Halloween is serious business on Bernard Street — and it has been for years.
Nelson Gonzalez, a resident of Bernard for 26 years, has made elaborate lawn displays every Halloween for about a decade.
Last year, Gonzalez, an electric engineer by trade, made life-sized zombies and programmed them to shake a fence. Other years he built a remote-controlled ghost pushing a baby carriage and a man getting shocked in an electric chair.
Some of his displays are topical. He made the electric chair display the year Illinois banned capital punishment.
"My wife is a big Halloween person. … I have a tendency to take over some of her hobbies," Gonzalez said with a smile.
This year Gonzalez is making a cadre of witches (with help from his next-door neighbor, Beth) and he's rigging one to make it look like it's flying through the trees. Gonzalez is spending his weekends working on the technical project.
"I want people to look up and say, 'Look, there's a witch in the sky!' kinda thing," he said.
Gonzalez isn't the only Bernard Street neighbor who goes all out for Halloween. Neighbors set up fog machines and speakers that blare spooky music and cracks of thunder to go along with their own front lawn displays.
Ron Kaminecki, who has lived on Bernard Street for nearly 40 years, said every year one of his neighbors wears a gorilla costume and jumps out of the bushes and "scares the hell out of kids."
Another neighbor puts a bowl of candy on a table and whenever a kid goes to grab candy, he grabs the kid's hand, he said.
"Almost every house — probably 90 percent of the houses — are doing this stuff," Kaminecki said.
'Can I get the special candy?'
Bernard Street neighbors hand out good candy: Fun-sized and mid-sized chocolate bars and other candy you can buy in bulk at Costco.
Roe, who has lived on the street for 22 years, said one year his neighbors handed out full-sized World's Finest chocolate bars, but he and other neighbors said that's relatively rare.
"Full candy bars? That would be a $2,000 deal," Roe said.
To make sure no one runs out of candy, every year there's a "side bucket for the street," according to Stefankiewicz.
"So you'll have some of the kids whisper, 'Do you have the Bernard candy? … [It's] a speakeasy for kids. Like, 'Hey I live on this street, can I get the special candy?'"
Most of the kids who trick-or-treat on Bernard, though, don't know about "the Bernard candy" because they don't live on the street or adjacent streets. They travel there from other neighborhoods — sometimes by bus or limo.
Just how many neighborhoods are represented each year? Neighbors don't really know. They're too busy handing out candy.
"You're going like this," Kaminecki said, pretending to hand out pieces of candy, one after the other. "You don't ask them where they're from. It's just ding, ding, ding."
Why is Bernard Street such a popular trick-or-treat destination?
Kaminecki knows Bernard Street. He's lived on the street with his wife, Sharon, for 39 years.
According to Kaminecki, the street has been a trick-or-treating destination since the late 1980s.
"What happened was one of our neighbors had their kids in a school in Lincoln Park and they couldn't go trick-or-treating because they lived in an apartment building. So they had a party here and they said bring your kids over and you can trick-or-treat in our area because it's safe. .. it caught on from there," Kaminecki said.
Logan Boulevard is a busy destination for trick-or-treaters, too. But Bernard is only two blocks long, so it's safe and contained, Kaminecki said.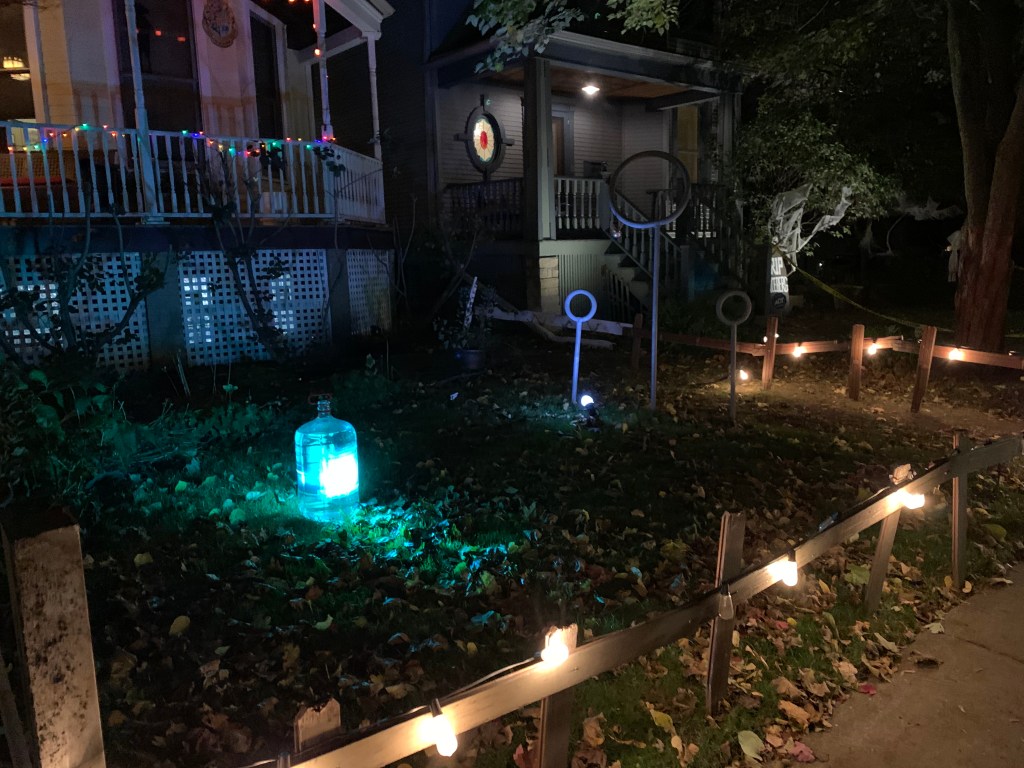 Another reason Bernard is so popular Halloween night: The street is lined with historic homes dating back to the founding of Logan Square.
"There's something spooky about Bernard in a good way," Stefankiewicz said.
"There's not too many streets like it with the old Victorian-style wood-frames. It plays into the mystique."
The homes are also set back from the street, which allows for more elaborate decorations and displays, Stefankiewicz noted.
Perhaps most importantly, the street is home to many longtime residents, which fosters a strong sense of community. And newcomers like Stefankiewicz plan on staying for decades.
"When you've got families that stick around and have been there for a long time, they get a kick out of entertaining their neighbors, their families, their friends," Stefankiewicz said.
"The parents get into it just as much as the kids, if not more."
Do stories like this matter to you? Subscribe to Block Club Chicago. Every dime we make funds reporting from Chicago's neighborhoods.