HYDE PARK — Ignore the name: The Seminary Co-Op bookstores are now nonprofits to better reflect their "cultural value" to the city, director Jeff Deutsch announced.
The Seminary Co-Op oversees the Seminary Co-Op Bookstore, 5751 S. Woodlawn Ave., which focuses on academic texts; and 57th Street Books, 1301 E. 57th St., which has a wider selection of novels and fiction. It has operated as a co-operative in Hyde Park since 1961.
The switch is "unrelated to tax exemptions" and wasn't made to attract potential donors, Deutsch said. Donors are welcomed, but those who can only focus on 501(c)(3) organizations won't be able to support the stores.
"Everything that is good about the co-op model will continue," Deutsch said. That includes community engagement, the neighborhood's sense of ownership and the store's commitment to improving in-store experiences.
"The work of cultural book-selling is about creating browsing experiences — experiences that lead to discovery, insight and reflection," Deutsch said. The stores provide "moments of calm and moments of quiet that we are sorely lacking in this day and age."
The co-op hasn't paid out dividends to shareholders for the last quarter-century, so it didn't exactly live up to its name.
Nonprofit status is "a more honest way of approaching the structure" that "allows us to shift the conversation locally and nationally about what a bookstore could and should be," Deutsch said.
Derek Wolter, a first-year master's student at the University of Chicago, was visiting the academic bookstore on Woodlawn Tuesday. The Atlanta native has attended the bookstore since before he started at U of C, as he stopped by during one of his initial visits to the campus.
Wolter uses the Seminary for his divinity studies, as it has an "extensive" selection of academic books — "more than any other bookstore I've ever seen in the U.S., for sure."
The co-op model "made sense when the people buying the books were the people that were making the decisions," Wolter said. "But [the stores have] grown to such a point that it doesn't seem really necessary to have a co-op when you could have a nonprofit."
Sneha Annavarapu, a U of C anthropology student, was a member of the co-op.
Annavarapu has been away from campus for the past year, so she hasn't really kept tabs on the transition to a nonprofit. But she said there don't seem to be many changes from when she was a regular.
Plenty of residents use the Woodlawn Avenue location as a community spot to study and attend events like book readings, Annavarapu said. She knows 57th Street Books is beloved too, but she prefers the academic focus at the main Seminary shop.
"I buy stuff here so that I don't buy stuff online, and I quite like the events that they have here," she said. "This is more the space that I come to and gravitate towards."
Going forward, Deutsch hopes Chicago will mirror San Francisco's 2018 move to provide municipal funding for the city's independent bookstores, whether or not they're nonprofits.
"Independent bookstores in this day and age are a cultural treasure," Deutsch said. "It's more about culture than commerce — what we can provide to communities beyond the mere availability or sale of a book."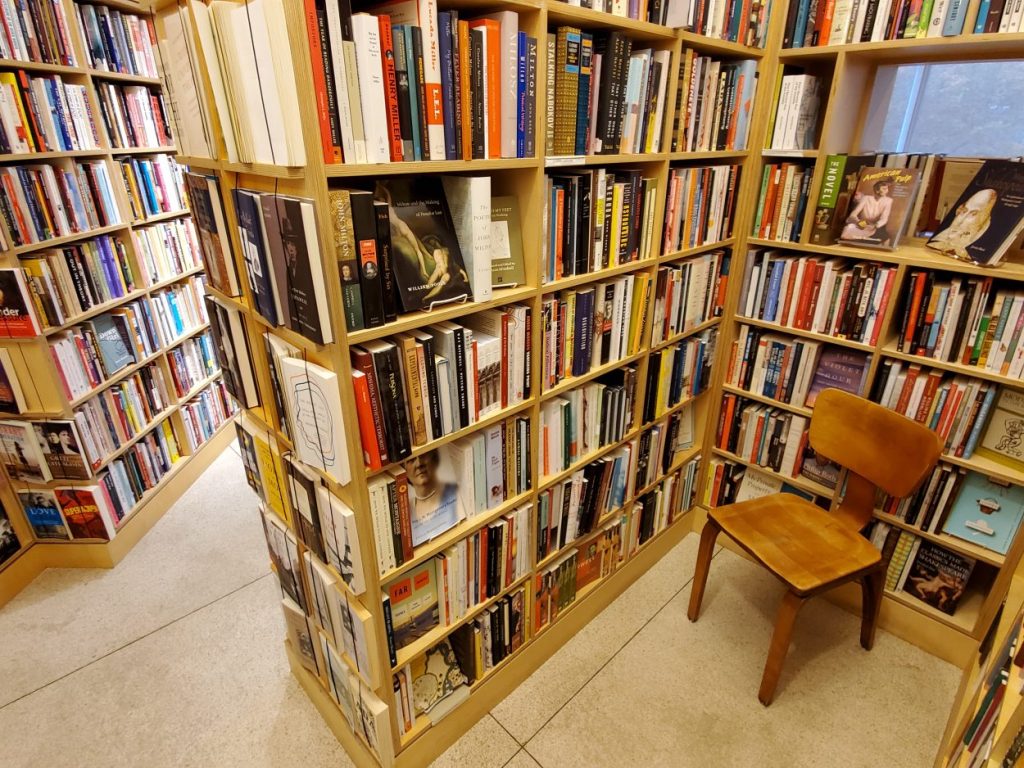 Do stories like this matter to you? Subscribe to Block Club Chicago. Every dime we make funds reporting from Chicago's neighborhoods.