ROGERS PARK — For years, rising lake levels and shoreline erosion have been a concern. On Monday evening, aldermen and city experts described a crisis that Chicago can no longer wait to address, including lakefront flooding that could impact homes and roads this winter.
Alds. Harry Osterman (48th) and Maria Hadden (49th) were joined by a team of experts at a packed public meeting at Loyola University's lakefront campus, 6339 N. Sheridan Road.
The longterm health of Chicago's lakefront was discussed, but the main priority was public safety ahead of a potentially dangerous winter that is likely to bring further flooding and accelerated erosion.
"Tonight is about the immediacy of the winter ahead of us," Osterman said. "As a community we are going to try to get through this together."
Experts expect flooding similar to the massive floods experienced in 1987, when Lake Shore Drive and Sheridan Road became immersed in water. 
Problems areas have already been identified on the North Side at the lakefront and Juneway Terrace, Howard Street, Rogers Avenue and Thorndale Avenue. Jersey barriers — concrete slabs that link together — are already slated for those areas.
Barriers will also target Lake Shore Drive from Oak Street to North Avenue and along the lakefront at 49th, 50th and 75 streets.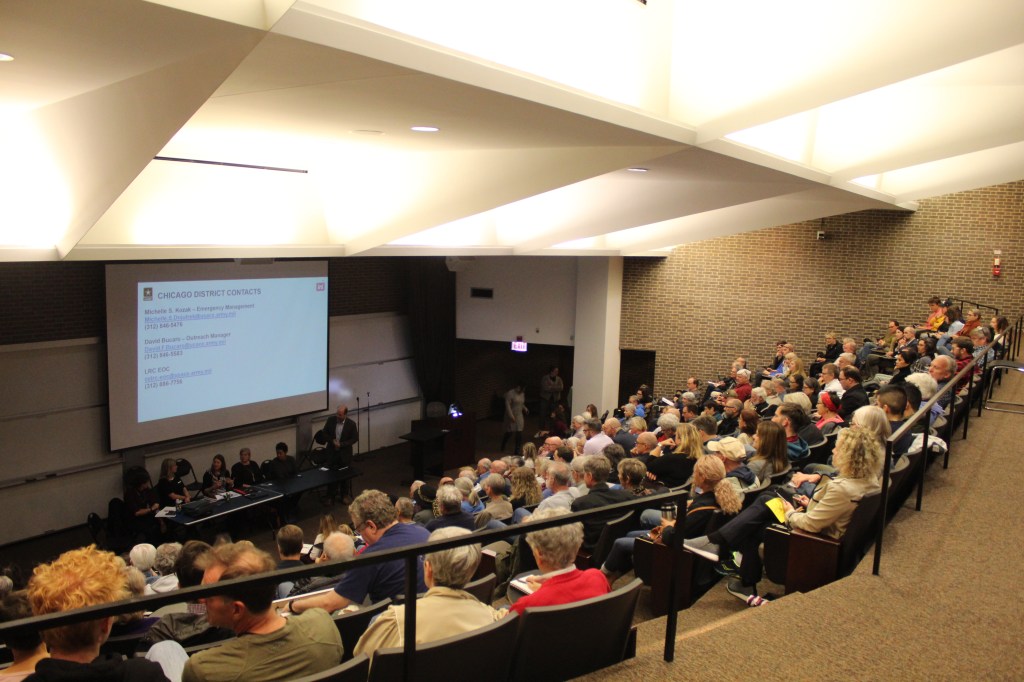 Vasile Jurca, an engineer with CDOT, is responsible for public safety and keeping the roads and public way safe during times of flooding. He is responsible for more than a mile of jersey barriers lining areas where flooding is likely.
"We are here to protect our critical infrastructure," he said. "We will keep transportation and commerce moving in the city."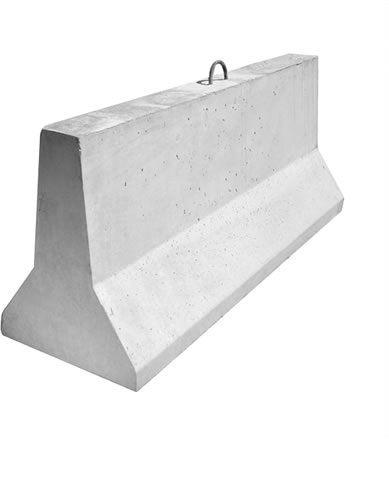 Jurca said jersey barriers are not a permanent solution, but he called them "the most expedient solution" for a problem that "is coming this very winter."
Unlike in 1987, this time the city is better prepared. The city has sandbags ready to deploy and it has received water pumps from the Department of Homeland Security. Jurca said the pumps will play a big role in keeping water away from the city's most important infrastructure.
The big question of the night was jurisdiction along the lakefront: Who is in charge of making repairs and where will the money come from?
A massive lakeshore improvement project was completed in the 1980s by the U.S. Army Corps of Engineers. Revetments, breakwater walls and stone boulders were all used to help stop shoreline erosion. 
While many have hoped the federal agency will step in again during Chicago's time of need, the Army Corps has made it clear those projects were passed to the Park District, which would be responsible for the maintenance and upkeep. 
But Sarah White, lakefront planning coordinator for the Park District, told the crowd the maintenance was no longer the Park District's responsibility. White did not have an answer as to which agency was responsible if not the Park District.
In May, a spokesperson for the U.S. Army Corps of Engineers told Block Club the responsibility for maintenance and upkeep fell to the Park District.
All of the experts agreed no city agency has the budget to tackle the crisis alone. Chicago will need to seek state funding in the short-term, but ultimately federal dollars will be needed to address a project that will take decades and massive sums of money. 
"There is not a golden chunk of money in our jurisdiction that can pay for this," Osterman said. "The Park District is not an organization that is flush with cash."
Although the meeting primarily focused on the shoreline in Rogers Park and Edgewater, city officials made it clear this is a citywide issue.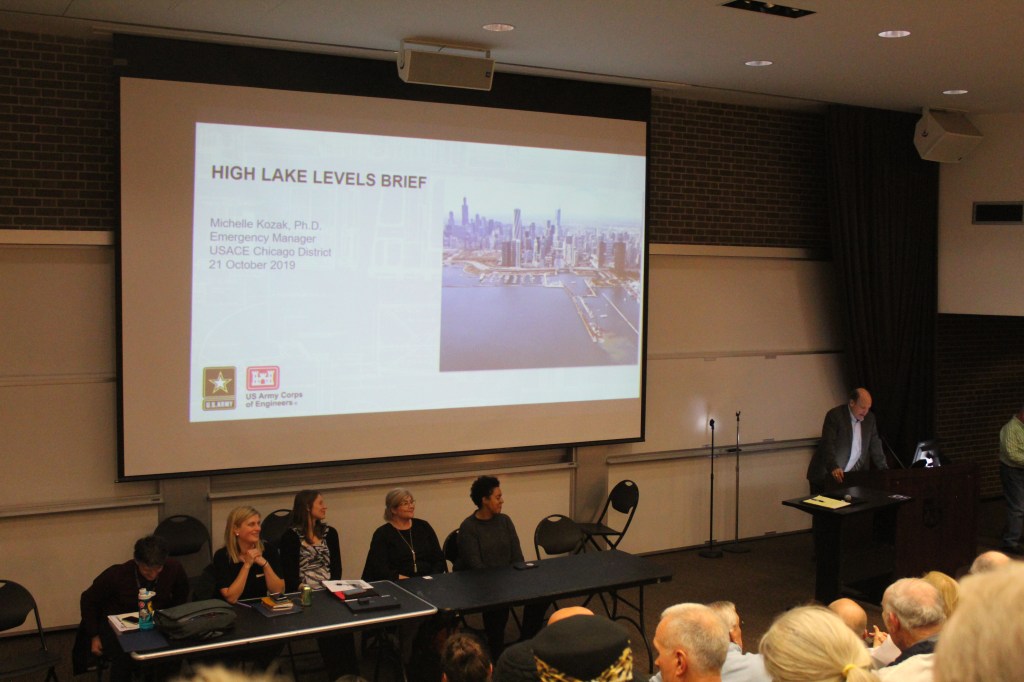 White said flooding and erosion have "affected park property throughout the entire city." She said the Park District would not continue to repeat the mistake of trying to add costly breakwater walls that can't stand up to erosion.

She mentioned the barriers at Juneway Beach, some of which have almost fallen into the lake less than a year after being installed.
"It was a fairly significant investment in capital and did not hold up very well," she said. "We need to look at this problem holistically and figure out what the big-picture solutions are."
Sandy Chaet, president of the Association of Sheridan Condo Owners, had several questions for the panel. Chaet represents 32 buildings and more than 6,000 units along Sheridan Road.  Her biggest concern was safety this winter.
"How are you going to help us in and out of our homes in the case of an emergency?" she asked.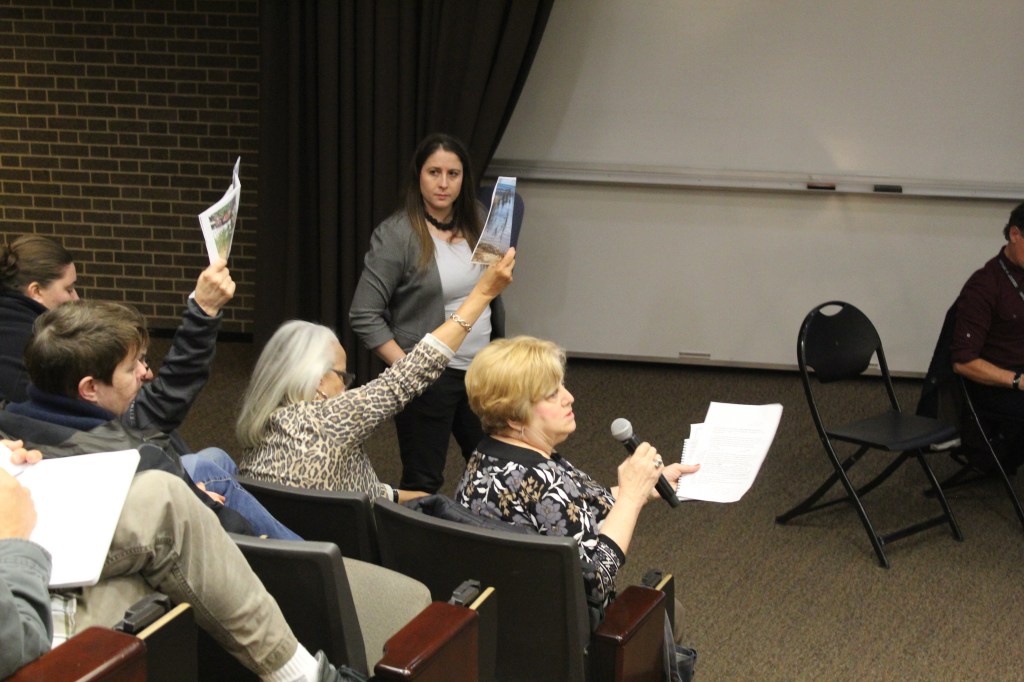 Osterman said if the worst happens and buildings need to be evacuated, it will be a massive coordination under the jurisdiction of the Office of Emergency Management and Communications.
Renters asked what would happen to them if their building becomes condemned and if they would be allowed to break their lease. Condo owners asked if the city would be somewhat responsible for accelerated erosion.
Aldermen made it clear shoreline on private property is not under government jurisdiction, although the city would try to help by installing sandbags where needed. 
One woman said her building was hit on Monday with 30-foot sprays from the lakefront that "felt like an earthquake."
"We aren't even in November yet and things are already bad," she said. "What are we going to do?" 
Hadden acknowledged none of the experts have a bulletproof plan yet. She expressed deep concern for neighbors along the lakefront.
"I think [this winter is] what everyone is afraid of," she said. "That's what I'm afraid of."
While much of the evening's discussion was focused on disaster preparedness, the longterm future of Chicago's lakefront was also addressed. Many in the crowd expressed concern that the city may be only thinking about infrastructure rather than addressing the issue of erosion from an environmental standpoint. 
Crowd members asked the panel why the city wasn't talking more about sand management and planting natural grasses to prevent erosion. Many expressed concern that if Chicago did not think about the problem from an environmental standpoint, there would be few beaches left.
Hadden and Osterman said the issue has created a silver lining in that Chicago has an opportunity to improve the lakefront for generations to come. 
"We have a chance to reimagine what we want Lake Shore Drive and our lakefront to look like," Osterman said. 
Crowd members made radical suggestions such as selling Chicago's lake water to other cities and towns to pay for repairs while simultaneously lowering lake levels. 
Although experts said a plan to sell the lake water was highly unlikely, Hadden said creative solutions would need to happen. 
"A lot of tonight's focus has been on emergency management," she said. "But I don't think any idea is completely off the table."
The panel said part of the challenge was the massive coordination required between multiple city, state and federal agencies. That kind of coordination can take time, Hadden said. 
But on Monday, residents said they wanted more expedient solutions now.
"What can we do today?" said one woman. "What can we do while this is a crisis so that it doesn't become a state of emergency?"
"We've been asking the city to address this crisis for years," said another man. 
Jurca said he wished he could install another eight revetments to go with the eight installed by the Army Corps in the '80s. When the crowd asked how much it would cost to install those revetments, he estimated around half a billion dollars. 
Osterman said seeking funds from the $45 billion capital bill in Springfield was possible but not a permanent solution. 
"It's a Band-Aid," he said. "We need to get federal money to shore up the lakefront. It's going to take many years and we may get funding from the state along the way. But in the short-term we are going to do what is necessary this winter to keep people safe."
"We are not trying to dig in our feet or pass the buck when we tell you this is going to take a lot of time and work," Hadden said.
On Tuesday, the Park District will kick off a huge effort to further study Chicago's lakefront. They have already taken drone photos during the summer and will now rely on boats and foot patrols to assess the rest of the lakefront. 
During the assessment aldermen and state reps will begin working on securing avenues of funding for repair and maintenance while also preparing for the safety of residents this winter. Expect things to get very costly, Osterman said. 
"The work we are talking about is with a 'B' and not an 'M' when it comes to money," he said.
Do stories like this matter to you? Subscribe to Block Club Chicago. Every dime we make funds reporting from Chicago's neighborhoods.