CHICAGO — The teachers strike isn't ending soon.
That was the warning from the Chicago Teachers Union after daylong bargaining ended Monday evening with little progress to report. 
"Unless there's a change at the top of the city in regards to their willingness to make meaningful changes, we're not likely seeing a quick settlement to the current strike," union President Jesse Sharkey said. 
The glum outlook contrasted with the hopeful tone and tentative agreements announced over the weekend. 
He accused the mayor of essentially halting bargaining by telling news media that she wasn't putting any new proposals on the table. 
Responding to a letter from Mayor Lori Lightfoot asking teachers to stop their strike while negotiations continued, Sharkey said that teachers won't go back to work without a legally binding settlement. 
Earlier on Monday, an exasperated Lightfoot said she had met some of the union's key demands in writing, but that the city cannot afford its multiple requests. "Beyond what we've put on the table, there is no more money," Lightfoot said.
The union has insisted that Chicago Public Schools, with an increase in state funds and a rosier financial picture, has a large budget to dole out. But the district faces outsized pension obligations and long-term debt that now tops $8 billion, making it the second most indebted school district in the country.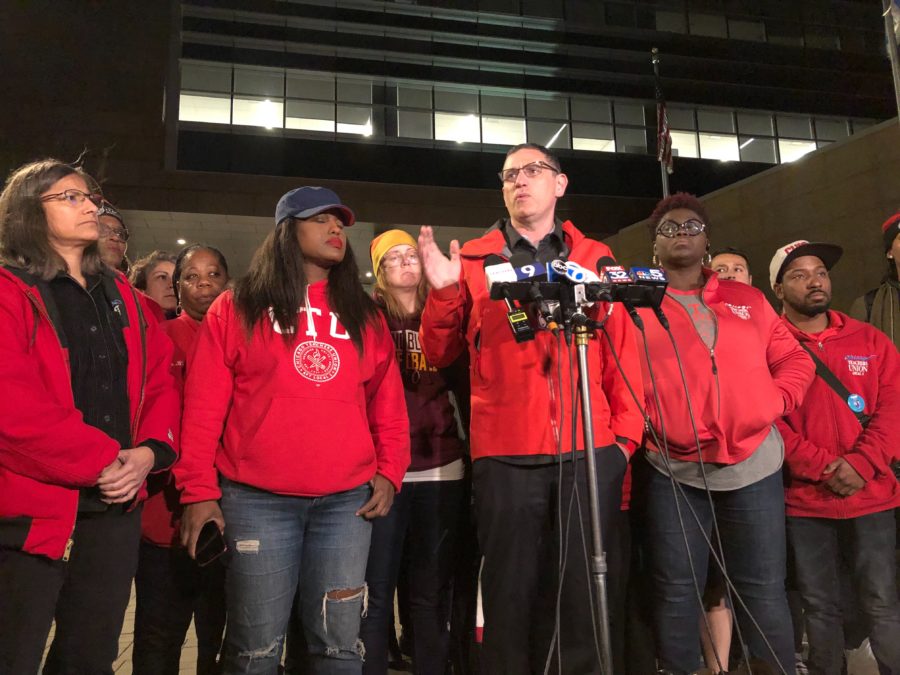 The city of Chicago — which oversees the school district and could contribute additional funding to the deal — is facing a projected $838 million shortfall in its 2020 budget. The mayor has said she faces tough choices ahead, including possible hikes in taxes on ride-share companies and on restaurant sales. 
"You have told us and the public that the most essential issues to resolve in order to reach an overall agreement are class size and staffing," Lightfoot wrote in the letter co-signed by schools chief Janice Jackson. "What we've offered on both core issues addresses concerns for the highest-need schools first — an approach grounded in equity. And what we've offered is something CPS can both afford, and achieve. That is no small feat."
Union Vice President Stacy Davis Gates blamed the mayor for being dismissive of the union's efforts in contract talks, particularly the union's push for improvements the mayor said she also supports. In response to the mayor's statements, the union said it won't send its full bargaining team into negotiations on Tuesday, leaving only four officers to take part in talks with the city. Scaling down the team makes any resolution Tuesday unlikely. 
"The mayor holds all the power," Gates said, noting that the union offered contract proposals back in January. "We are asking to be partners in making the city better." 
In a statement on Monday night, Lightfoot said she hoped for an agreement that would immediately end the strike, and said the city had initially left negotiations on Monday feeling positive. "It is now deeply concerning to hear that CTU is pulling members of its bargaining team away from the negotiating table tomorrow at this crucial juncture," the statement said. "Our full team will be ready first thing tomorrow morning to continue working toward the fair contract our teachers, students, and families deserve."
One of the most significant  outstanding issues remains class size. The union wants a lower cap on class sizes and a mechanism to enforce them. Both sides have agreed to phasing in support to meet the current class size cap at the schools that need them most. 
Negotiators had discussed creating a committee that would have funds to offer solutions like more aides. But that committee wouldn't have enough money to ease overcrowding in high school classes, the union said.  
Lightfoot said in the letter that the city's counteroffers on class size had prioritized high-poverty schools. A separate offer, on staffing, would provide a nurse and a social worker for every school within five years.
Her plea to the union, the letter said, was to continue negotiations but let students return to classes. "The economic hardships to families will be difficult to ever calculate," she wrote, going on to voice concerns about disruption to seniors' college applications, student sports competitions, and general safety of the district's 361,000 students. "Given where we are in negotiations, this hardship seems unnecessary." 
The union, meanwhile, said it's keeping rank-and-file teachers updated and gauging support for the strike, by holding a daily meeting of strike captains who then report to union delegates across the city. 
On Tuesday, Democratic presidential candidate Elizabeth Warren is expected to rally with Chicago teachers. Educators from Passages charter school on the city's North Side also plan to walk out on strike, marking the fourth charter teachers strike in Chicago in less than a year.
Chalkbeat is a nonprofit news site covering educational change in public schools. Sign up for its newsletter here.