WICKER PARK — A popular sports bar in Wicker Park has closed after 12 years in the neighborhood.
The Boundary, 1932 W. Division St., closed this month. The restaurant was one of a handful of beer-focused establishments from Bottleneck Management.
In a note to customers on Bottleneck's website, The Boundary co-founder Nate Hilding said the company closed the restaurant to focus on a "vigorous national expansion."
"It was a difficult decision to close The Boundary, a restaurant that marked so much of Bottleneck Management's beginnings," Hilding said. "It will always hold a special place in our hearts, and we will never forget the beloved memories we have there of watching The Blackhawks win the Stanley Cup and The Cubs win the World Series, among other major sporting events. Ultimately, we have to do what makes the most sense in order to focus our time and energy on our vigorous national expansion."
A sign posted to the restaurant's window thanked employees and guests for "12 incredible years."
"We've loved being a part of this neighborhood and will hold the memories close to our hearts," the sign said.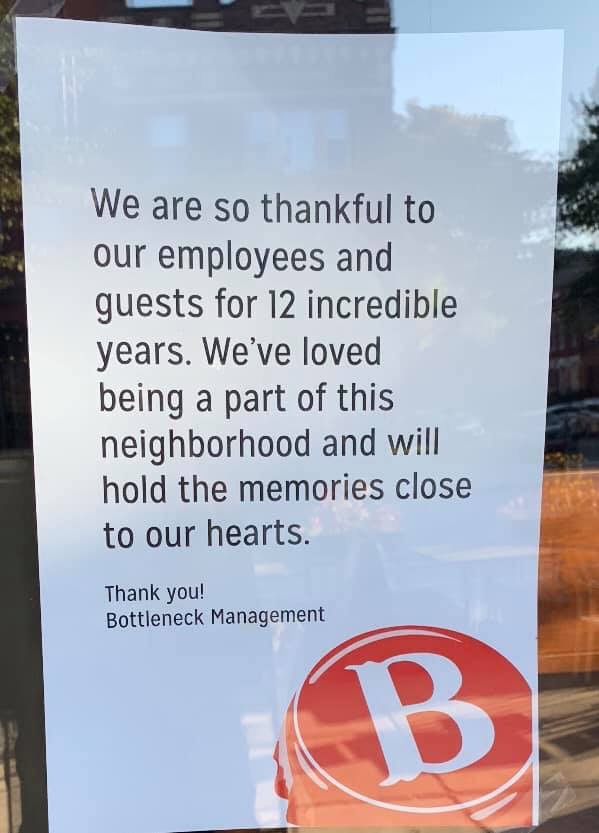 Bottleneck began with Illinois Wesleyan University classmates Jason Akemann and Hilding, who opened Trace in Wrigleyville in 2001.
In 2007, Akemann and Hilding teamed up with another Illinois Wesleyan classmate, Chris Bisaillon. In September of that year, the three partners opened The Boundary — their first full-service restaurant.
Learn more about the history of The Boundary and Bottleneck Management online.
This story will be updated.