AUSTIN — When Acacia Chambliss perfected her first body butter, she had no intention of starting a skincare line.
But her son's own struggle with eczema, and the difficult she faced finding handmade soaps and skincare to treat it, led her to launch Nubian Soaps by Acacia in early 2018. The luxurious handmade line will launch a new line of bath products Nov. 1.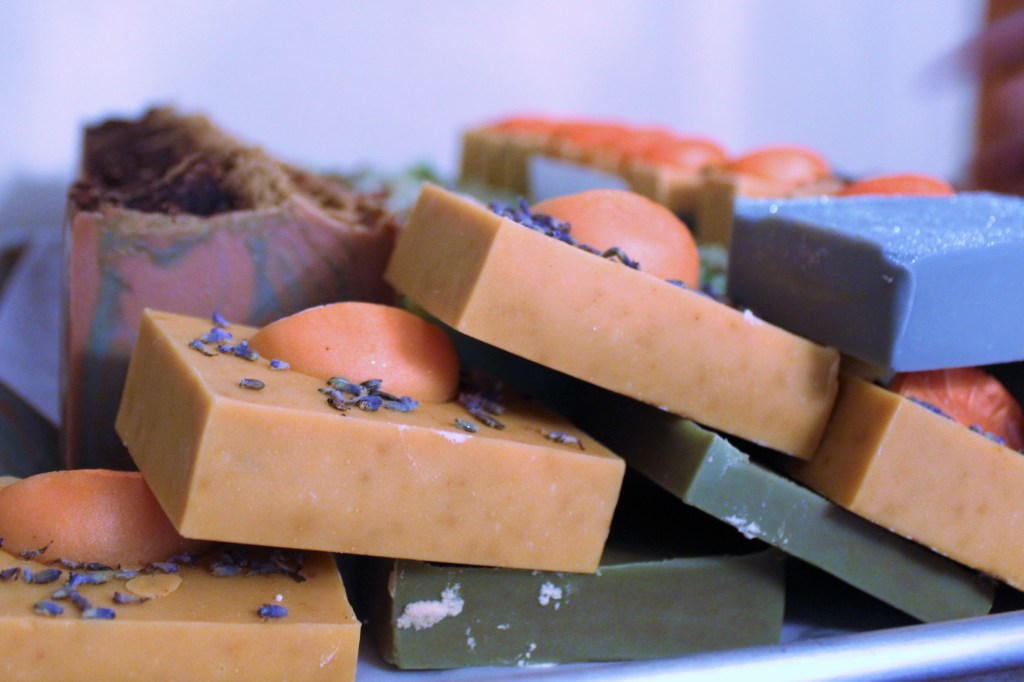 Like many who struggle with eczema, Chambliss' young son Amarus' skin was itchy, and the flaky patches were spreading. His flare-ups were becoming more and more common, and even his pediatricians couldn't bring them a lasting solution.
They tried product after product, and Chambliss said it made her heart ache after each one failed to improve her son's condition. Frustration began to sink in deeper each time a product didn't work and she began to feel like creams, ointments, soaps and lotions currently on the market for eczema simply were not made for she and her son's skin — black skin.
"Being a black person at all in this country, there are a lot of things that are just not made for us. They just aren't. Our skin, we need the sun for nourishment, we need natural things to be healed," Chambliss said.
So she decided to make her own concoction by hand in the kitchen of her Austin home.
Chambliss said she grew up in a family that valued self-sufficiency, from her grandmother's vegetable garden to the homemade cleaning products. So she would take that self-starter attitude and pour it into a skincare product that her son desperately needed.
Chambliss scoured the internet, talked to experts and consulted with her doctor to figure out what types of ingredients she could use to make something to treat her son's eczema that was also geared towards the unique needs of his skin type.
She knew from her own experience going natural with her hair that she wanted to stick to raw, natural ingredients. She also wanted to tap into skincare practices that were passed down from ancestors in Africa who used things like shea butter and jojoba oil to moisturize and protect the skin and hair.
"They had taken us from our homeland and all the natural things we were so used to using, and brought us into this way society has it now where everything has chemicals in it," Chambliss said. "But you don't realize it's damaging your skin. You don't realize it is drying you out."
When her son began using the body butter, Chambliss noticed immediately how effective it was, as his dry patches cleared up considerably.
And so when a friend asked her what she was using for her son, she gave them a small jar of her handmade eczema butter to pass along to a family member also suffering from eczema. Then, a coworker asked to try the body butter to see if it would improve her psoriasis.
Both reported back that the little jar of hand-whipped natural oils and butters were incredibly effective at moisturizing their skin and helping to improve their conditions. When talk of her eczema butter began to spread, Chambliss knew she was onto something, and decided to start making bigger batches of her product to see if people might want to buy it.
But she wanted to make sure that all her son's skincare products would be healing and nourishing so she also began to experiment with batches of natural soaps too.
When she tested the waters by setting up a table at a friend's small event with just a few dozen bars and jars of soap and body butter, she sold out.
From there things snowballed: Chambliss set up an online store with Etsy, and began selling her soaps at the monthly Hyde Park Handmade Artisan Bazaar.
A year and a half after officially launching Nubian Soaps By Acacia, the line of bath and body products is more expansive than ever. The eczema body butter, which is now sold as a convenient roll-on, is still one of her bestsellers.
Blossoming from her creative background in culinary arts and pastry design, Chambliss' soaps have become handheld masterpieces, with some bars resembling scones and truffles.
The line of brightly colored soaps with intoxicating smells use organic essential oils as scents and natural clays and plant-based colorants like turmeric to avoid chemical additives that could be irritating to sensitive skin.
Some of Chambliss' newest products are designed to transform an ordinary bubble bath into a rejuvenating, relaxing and healing experience.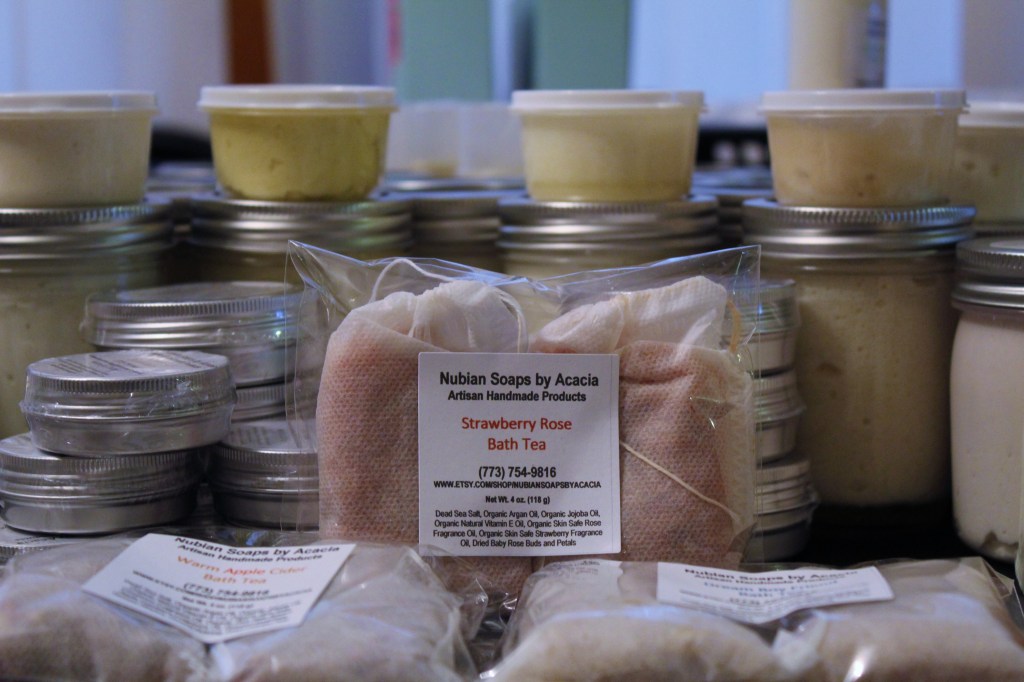 On Nov. 1 Chambliss will premiere her bath teas, packed with Dead Sea salt, said to have therapeutic benefits for arthritis and psoriasis, as well as dried lemon peel, rose petals, calendula flowers, rosemary, and a slew of essential oils to steep in.
She will also launch her new bubble bath truffles in pumpkin spice latte and vanilla lemon scents. Alongside the truffles are Chambliss' new blueberry crumble bars and ginger cinnamon toffee bubble cookies that are indistinguishable from desserts.
Don't be fooled by their crumbly and delicious appearance, the sweet-smelling baked goods are meant for bath time, not dinner time!
"You crumble it under warm running water and it makes tons of like super great smelling bubbles in your bath and you take a nice, luxurious bath," Chambliss said.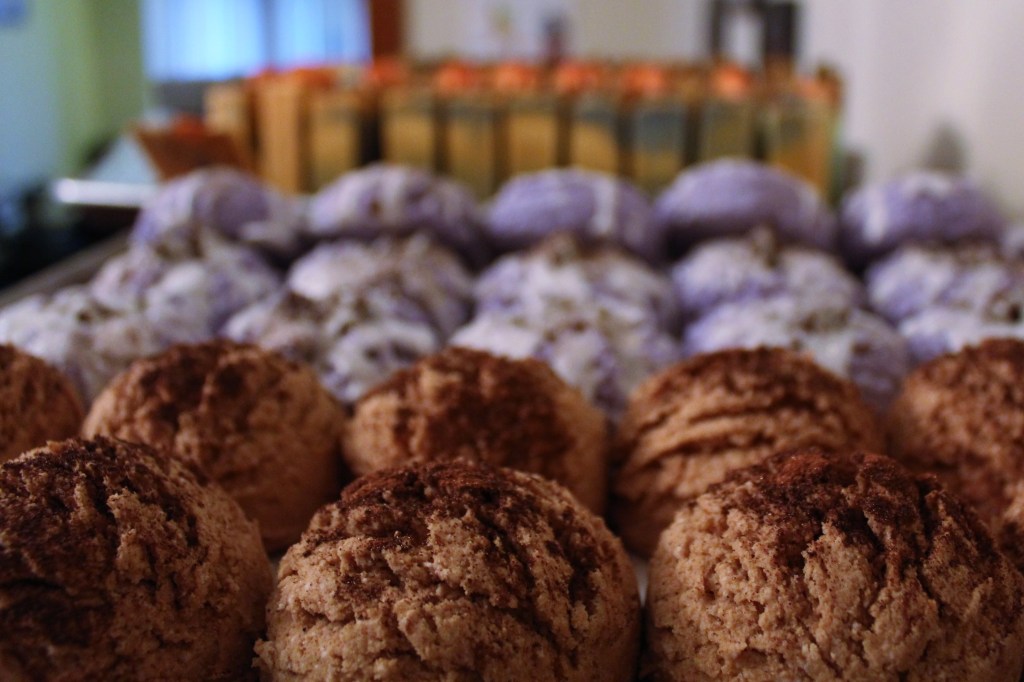 Chambliss' son, now 10, was inspired by his mom's tasty looking soaps and decided to try making his own as an afterschool project. Amarus Chambliss takes the dessert-themed bath products to a whole new level, creating soaps that look like cupcakes and slices of pie with glittering pieces of fruit on top.
Right now Chambliss and her son sell most of her products on her digital Etsy store and at the Hyde Park Handmade Bazaar. But she wants to be able to open up a brick-and-mortar shop in the neighborhood so that people in the area can see and feel and smell her soaps and lotions for a more hands-on experience.
"Human nature is people want to smell things, they want to touch them they want to sample before they buy," Chambliss said. "And so I would just love to be able to have it moved to a location where I could work, and I could sell, and people could come in and try things."
Pascal Sabino is a Report for America corps member covering Austin, North Lawndale and Garfield Park for Block Club Chicago.
Do stories like this matter to you? Subscribe to Block Club Chicago. Every dime we make funds reporting from Chicago's neighborhoods.