LINCOLN SQUARE — Here's a stat that might spoil your dinner: 25 percent of all food purchased in the U.S. is never eaten.
More info that's tough to swallow: According to the Environmental Protection Agency, nearly all food scraps wind up in landfill, accounting for more garbage than plastic or paper, and emitting more methane than coal mining.
Where some see further evidence of humans' disregard for the planet and its resources, others see opportunity.
"How do you accommodate the challenges of a disposal economy? We need new solutions," said Dane Christianson, a 26-year-old entrepreneur.
Christianson's startup, Block Bins, is one of a growing number of Chicago-area companies — WasteNot, Collective Resource and The Urban Canopy, to name a few — tackling waste management from a different angle: composting.
By collecting food scraps and other organic material, which are then composted, these businesses have the potential to take a significant bite out of Chicago's trash. In tandem with recycling, composting could deliver a powerful one-two punch against landfills.
Granted, Chicago's dysfunctional relationship with recycling — a 2018 report by the Better Government Association placed the city's recycling rate at a paltry 9 percent — doesn't exactly inspire confidence in composting's future, but proponents are cautiously optimistic.
"When I first started talking about [food scraps] 10 years ago, people looked at me like I was an alien; they thought I was crazy," said Erlene Howard, founder of Collective Resource compost collection service. "Very few people said, 'You're so right.'"
They're agreeing with her now. Collective Resource has grown from three customers to 1,400 residential and 300 commercial clients. In an average week, Howard's team collects 20 tons of food scraps and other compostable material.
"Anything that was once alive, we want it all. We take the burnt, we take the mold, anything you don't want to eat," said Howard. "Let it become dirt again. We need [compost] to grow good, healthy food and right now we're putting all that nutrition into landfill instead of the soil."
The ease of explaining compost's circle of life — old food becomes new food — is one factor working in its favor versus recycling, said researcher Shantanu Pai, who's also a board member with the Chicago Recycling Coalition.
"What happens when you recycle a plastic bottle? It goes to any number of things," said Pai.
People also have a different relationship with food waste than other forms of trash, he said.
"We have a visceral reaction, we feel worse," said Pai. "Our guardians taught us food isn't something you waste."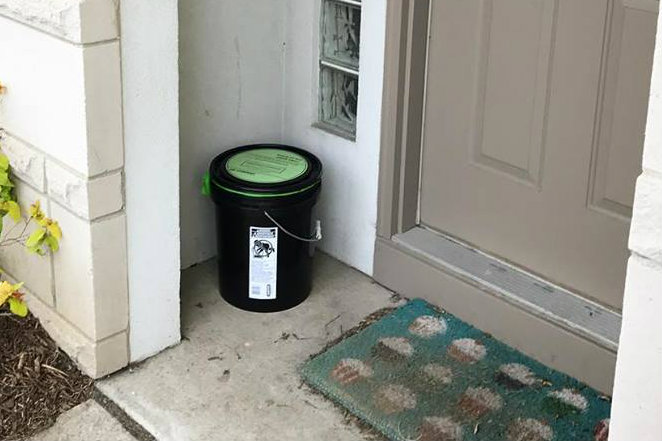 Cutting contamination
Up until now, the model most Chicago composting collection services have followed is the container-swap. Individual customers receive a bin or bucket for their scraps — typically five gallon-sized — that the composter regularly retrieves and trades out for a clean, empty bin.
With Block Bins, Christianson has created a system scaled for shared use. His 36-gallon green bins are designed for multiple households, at a cost of $10 per month per subscriber, and can be placed in communal areas including alleys.
"I called up Streets & San and they said, 'Let's do it,'" Christianson said.
Potential subscribers can log onto the Block Bins website to either locate a nearby existing bin or to request one. To date, Christianson has placed nearly 100 bins and is crowd-funding to purchase more.
Christianson said he needs approximately six subscribers per bin to make a placement cost-effective.
Key to his concept: The bins are locked. The code to open a container is only provided to subscribers of that specific bin.
The lock, Christianson said, solves the problem of stray contamination, which has been one of Chicagoans' biggest complaints about the city's recycling program.
But in a case of putting the cart before the horse, Christianson's idea for Block Bins was missing one crucial element — a hauler. Enter Collective Resource.
While Christianson manages Block Bins customer support side of the business, collection of the compostables is handled by Collective Resource's small fleet.
"It's exciting to see how many people he's been able to engage with," said Howard.
While it may seem counterintuitive for Howard to help out another business angling for a share of the same market as her own, agreeing to the partnership was a no-brainer.
"My mission is to keep food scraps out of landfill," she said. "I mean, we don't look at any of the food scrap collectors as competition. There's so much work to be done."
The price of good behavior
Once considered a sort of hippy-dippy pursuit, composting is increasingly gaining wider acceptance.
Pai recently co-authored a case study on the feasibility of decentralized community composting solutions in Chicago, outlining concrete, practical benefits.
In terms of the environment, the study cited the enormous amount of methane, a potent greenhouse gas, produced globally by food scraps dumped in landfills. Project Drawdown, a global organization that analyzes climate change solutions, ranked the reduction of food waste third out of the 100 most important actions. (Refrigerant management and wind turbines were first and second, respectively.)
And then there are compost's economic implications. Pai's research pegged Chicago's yearly food waste at approximately 293,000 metric tons. He and his co-authors estimated 27 percent of that waste, or nearly 80,000 metric tons, could be diverted from landfill for an annual savings to the city of $4 million.
"If these small situations [like Block Bins, et al] are allowed to mature, they should be able to divert a sizable waste stream," Pai said.
Importantly, Pai's study recommended a multi-pronged approach — individuals composting in their yards, the creation of drop-off sites, and pick-up services — rather than a municipal-run curbside program.
Pai pointed to lessons learned from recycling, namely that a one-size-fits-all program can lead to contamination and apathy.
"Data shows that when you drop off recycling, there's way less contamination," said Pai. "A voluntary opt-in program also increases participation."
Based on her decade of experience collecting food scraps, Collective Resource's Howard concurs with Pai's assessment.
"Some people are just not interested, and you can't make them do it," she said. "You really don't want to make people compost. They don't care, they don't get it, and then you get contamination."
By their very nature, subscription-based programs will self-select passionate, invested users. Howard said she knows of clients who take their bucket with them whenever they picnic at Ravinia, and another who incorporated a slot for her bucket into a patio deck design.
The primary downside to private subscription food scrap collection becomes accessibility, or lack thereof, said Pai.
"The unfortunate part is affordability. We don't want to make good behavior exclusive to people who can afford to do the right thing," he said. "That's something we're still reconciling with."
Pai's study proposed community compost drop-off points at Chicago parks as a voluntary opt-in solution. But for now the city is taking a wait-and-see approach.
In response to a request for comment from Block Club Chicago, the Department of Streets and Sanitation emailed the following statement:
"The city does not currently offer composting service but is in support of resident's individual recycling efforts. At this time the Department of Streets and Sanitation is not planning to roll out a full organics service but does offer separate yard waste collection."
The time in now
Composting has come a long way in a relatively short amount of time.
When Howard first began diverting her food scraps, she was shocked to learn she was essentially committing a crime.
"Food scraps were labeled toxic. So that apple you were eating one minute, is then toxic," she said. "Things are so much better today."
But there is still ample room for improvement. The city's convoluted compost ordinance makes small-scale commercial composting all but impossible, and education is lacking.
One of the concerns most often raised about compost is that it will attract rodents, an argument people like Christianson find perplexing.
"Your food waste is already going out into your alley," he said, making a Block Bin no more problematic than the average garbage dumpster.
The time for debate is past, said Pai. "We should be doing it now."
Climate change is here, and waste is only making a bad situation worse, he said. If people aren't prepared to consume less, then consuming smarter — choosing products that can be recycled or composted — is the next best thing.
"We need to think about what we're buying in terms of where it's going to end up," said Pai.
Baby steps, including services like Block Bins, are encouraging, but Pai harbors no illusions about the magnitude of the challenge ahead:
"It took 400,000 men to send one man to the moon. It will take more to compost."
Do stories like this matter to you? Subscribe to Block Club Chicago. Every dime we make funds reporting from Chicago's neighborhoods.