COOK COUNTY CRIMINAL COURTHOUSE — A man with a history of domestic violence who is now charged with having an arsenal of weapons asked that his case be moved to a court for veterans.
James Mather's request to have his gun case moved to Cook County Veterans Treatment Court on Friday upset his victims, who described the move as "desperate."  
If his request is granted, Mather could get probation and a chance to expunge his record in exchange for a guilty plea. A judge is expected to rule on Mather's request on Friday. 
Veterans Treatment Court was established in 2017 by a state law to service military members with a goal to "reduce their risk of further involvement in the criminal justice system in the future, and to improve their overall quality of life," according to the court's website.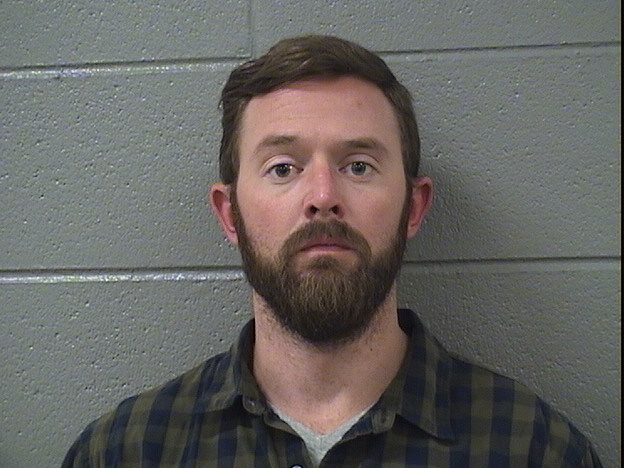 Additionally, veterans who qualify for Veterans Treatment Court must plead guilty in exchange for an "intensive probation sentence" but ultimately can expunge their record.
The court site also lists reasons why a defendant can be excluded from Veterans Court Treatment. For example, if the defendant has been convicted of a crime of violence within the past 10 years, they can not be considered for the court program. Enrollment in the program must also be approved by the court and agreed on by the prosecutor and the defendant. 
As part of a plea deal on Sept. 10, the Cook County State's Attorney's office dropped the two domestic battery charges against Mather in exchange for him pleading guilty to one count of battery. The plea deal blindsided two women who pressed domestic violence charges against Mather. Both told Block Club they were misled by the Cook County State's Attorney's office. They had pushed for a guilty plea to domestic violence charges.
Asked Friday if battery is considered a crime of violence, Tandra Simonton, a spokeswoman for the State's Attorney's Office, said that would be up to a judge to decide. She would not comment on whether the State's Attorney's Office would fight or agree to Mather's request.
Mather said he suffers from PTSD, anger management and other possible mental health issues, according to a health care order issued by the court Oct. 9.
But Amy Pudlo and another woman, Gina, both of whom pressed domestic violence charges against Mather, said he is "trying to manipulate the system" and does not deserve to have his case heard in Veterans Treatment Court. 
"He's trying to manipulate the system. If he has PTSD it's not from the Army," Pudlo said.
Both women said Mather told them he was a Green Beret who saw horrific things in combat that resulted in PTSD, which resulted in his abusive behavior. 
But U.S. Army spokeswoman Liz Chamberlain could not find any evidence of Green Beret service.
David Nunn, a public affairs specialist with the Arizona National Guard, said in an email that "James C. Mather was a member of the Arizona National Guard from 2010 until 2013 … . Mather did not deploy while serving with the Arizona National Guard."  
While out on bond for the attacks on Gina and Pudlo, Mather was arrested Aug. 9, police said. This time, he was charged with felony possession of a firearm without a valid Firearm Owner ID as well as five misdemeanor counts of unlawful use of a weapon, misdemeanor possession of exploding bullets, misdemeanor possession of anabolic steroids and a city violation of possessing a firearm silencer. 
In that case, Cook County Judge Arthur Willis set Mather's bond at $5,000, allowing him to walk free by posting a 10 percent deposit bond of $500.
The decision was publicly criticized by Chicago Police spokesman Anthony Guglielmi in an Aug. 15 tweet, which said, "Is this the Chicago you want? For $500, you could walk out of jail after being arrested for possession of this arsenal."
On Oct. 9, days after first being questioned by Block Club Chicago about Mather, prosecutors filed a motion to increase Mather's bond. A judge complied, increasing it by 20 times to $100,000.
Mather is scheduled to appear at 1:30 p.m. Friday in Branch 50 court in Skokie.
Do stories like this matter to you? Subscribe to Block Club Chicago. Every dime we make funds reporting from Chicago's neighborhoods.