DOWNTOWN — Thousands of Chicago Public Schools teachers went on strike early Thursday.
The strike, the first since 2012, means more than 300,000 are out of class. But teachers said they voted for the strike to help those same kids.
While some teachers said they do want raises, they pointed to other concerns: There is not enough support to help students suffering from trauma, they want more nurses and counselors, they don't want to lose prep time and they're worried about the sizes of their classes.
Mayor Lori Lightfoot has said she agrees about the need for more support staff, but the teachers union wants something in writing assuring them these roles will be filled.
Chelsea Hosler, who teachers special education in Wicker Park, said teachers are "overwhelmed" as they try to fulfill their own duties while also acting as nurses and counselors to students. Chief among Hosler's concerns: She wants more paraprofessionals in schools to help children.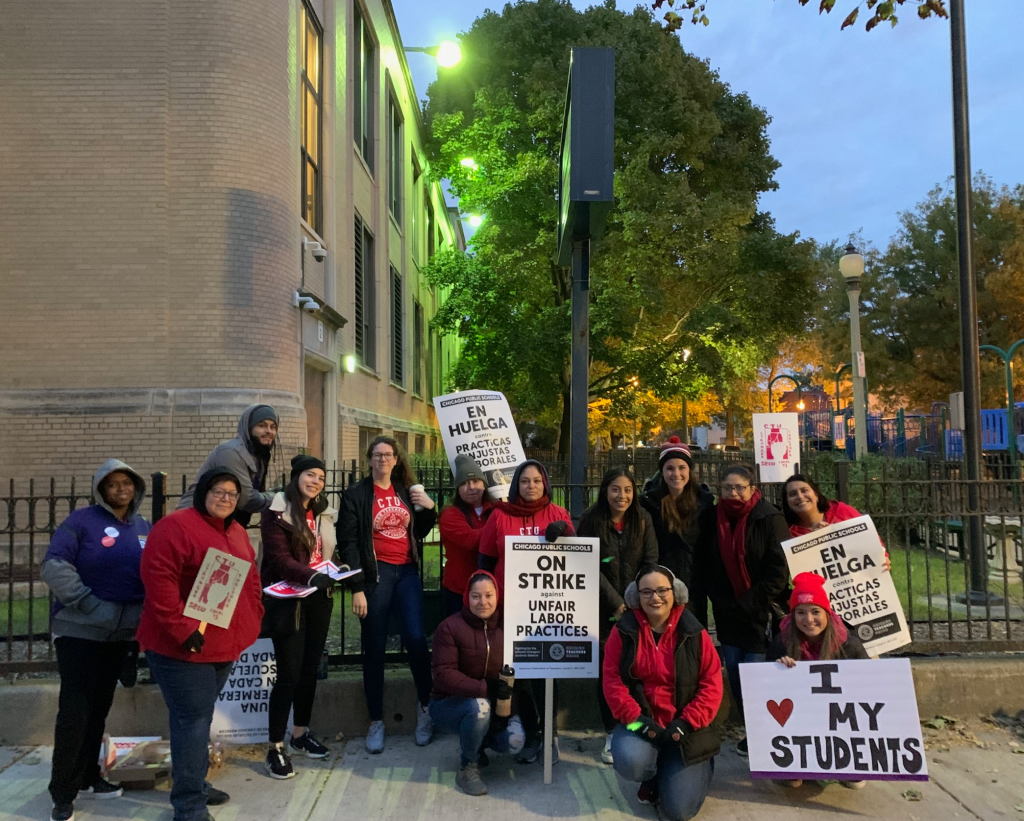 Hosler also said it's worrisome the city is trying to reduce the amount of personal prep time teachers are given. That time is valuable for teachers as they use it to make lesson plans, help students, grade assignments and work on administrative tasks.
Jodi Miller, a veteran teacher at Avondale-Logandale Elementary School at 3212 W. George St., said her third grade classroom is "slam packed" with 34 students this year. The class is so crowded it's hard for students and staffers to get in and out of the room, she said.
Miller said a few of her students have special education needs that aren't being met. It's "very difficult," she said, to get all 34 of her students where they need to be academically — and it's a benchmark grade.
"It's like three jobs in one. It's exhausting," Miller said.
One Northwest Side teacher, who asked to be anonymous for fear of reprisal from the district, said she has colleagues who work on the weekends just to keep up and knows teachers in the suburbs with significantly smaller class sizes.
The Board of Education "keeps making more demands of us and they don't take our concerns seriously," the teacher said. "It makes me want to leave teaching and look for another career."
Our reporters will be out at schools across the city Thursday talking to teachers and this story will be updated throughout the day. Here's what some of them said so far:
More Counselors, Nurses Wanted
"You never know what you have to do from day to day when you are at multiple schools. Sometimes I'd get so exhausted I would forget which school I was supposed to be at. I felt like a nomad."
– Louise Smith, a social worker at George Leland Elementary School
"Students are so much in need of a lot more resources that we, the one individual [teacher], would be able to provide. You have the students that need to be brought up to grade level, you have the trauma that need to be dealt with, and all of these things are put onto one person."
– Mrald Calhoun, who teaches music at O'Keeffe School of Excellence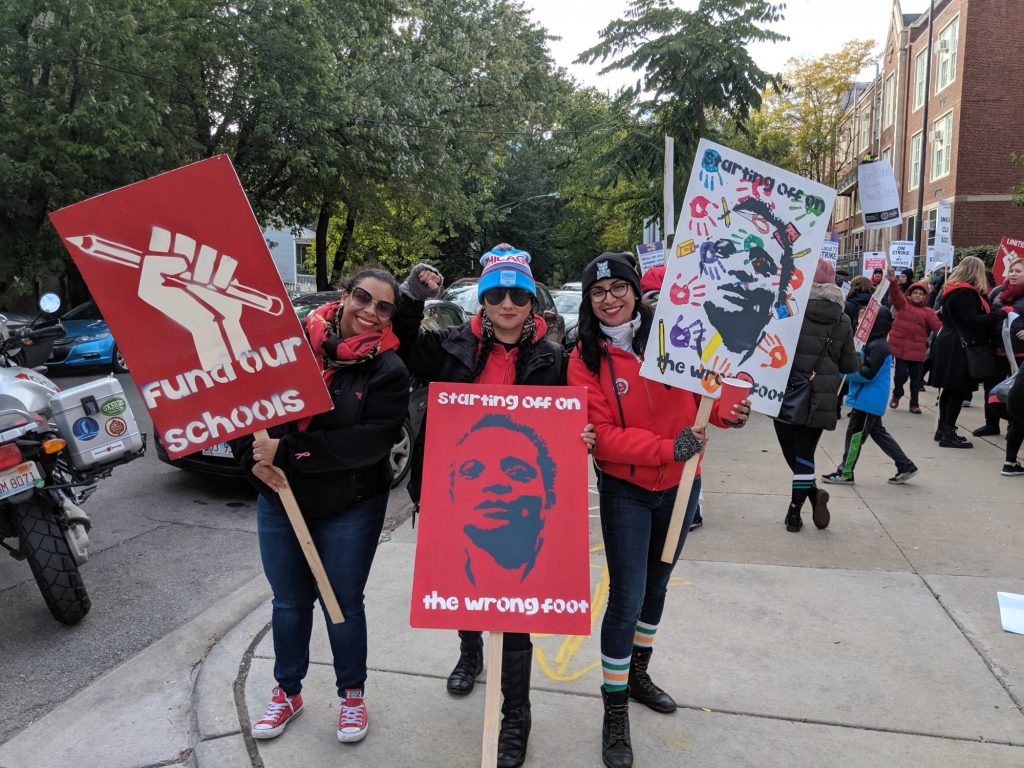 "We are feeling very overwhelmed. We take on many roles. We become the social worker or the nurse out of necessity because we often don't have those roles in our building."
– Chelsea Hosler, who teaches special education in Wicker Park
"I voted for the strike because I see every single day just how hard our paraprofessionals and counselors work. They work very hard every day and they are underappreciated. As far as salary goes, I can't imagine working for the amount of money that the paraprofessionals get paid. They do so much work; they're the lifeline of our school sometimes."
– Sandy Torres, who teaches at Philip Armour Elementary School
"We come into this profession knowing that the salary is not great. But on top of that, to not have these kinds of support systems for students, it makes the job that much more difficult. I voted on the strike because I want paraprofessionals and counselors to be valued at our schools. That's more of an issue for me than the salary for teachers."
– Sandy Torres
"Librarians encourage our kids to learn outside the classroom. So much added responsibility falls to the teachers right now. I'm only one person, it takes a village to support our kids."
– Ana Raba, a special education teacher who would like to see more librarians in schools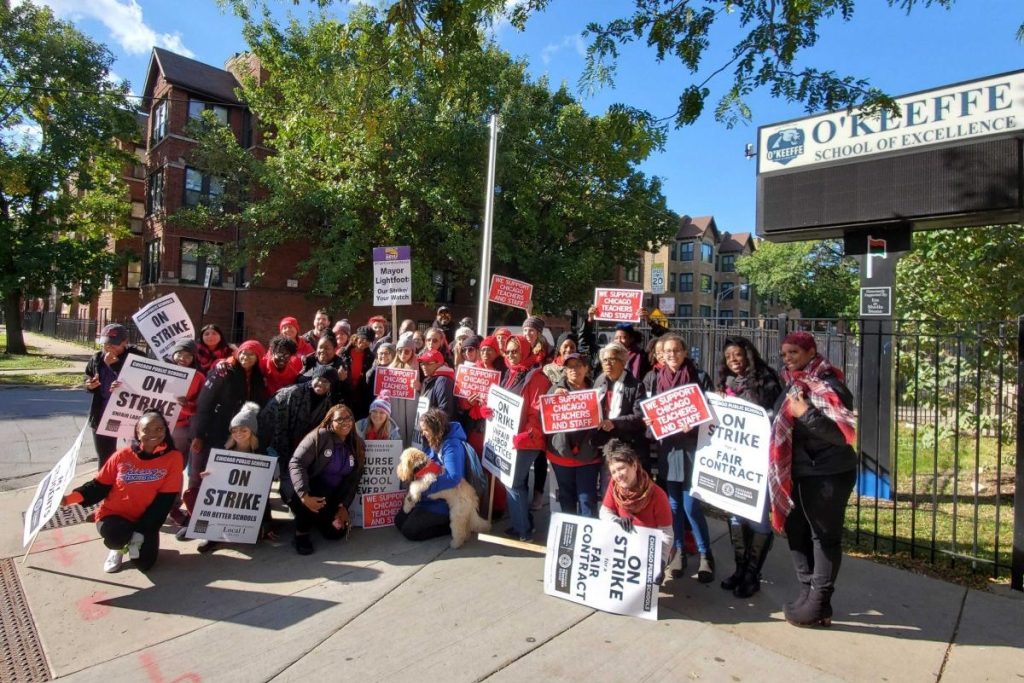 "My child that comes to this school has never been able to see a librarian. I was a product of CPS schools, my oldest daughter was a product of CPS schools. … We're fighting for things that we're living. We're not fighting for things we're not seeing."
– Victoria Llagumo, longtime teacher at Avondale-Logandale
"I work with students who tend to have a lot social emotional troubles like anxiety, depression … . These students don't have enough supports to deal with these troubles. As a teacher, now, I have to take a role that i'm not professionally trained to deal with."
– A teacher at Benito Juarez high school
Class Size
"Right now I'm teaching 28 children how to read. Every extra kid makes a difference."
– Anonymous Northwest Side teacher
"They shouldn't be in crowded classrooms. For us to get to know our students and build a rapport, we need smaller classes sizes — that's where deeper learning happens."
– A teacher at Benito Juarez High School
"One of the strongest pieces of teaching is building relationship with students. When classes sizes are too big, that relationship building process takes a lot longer."
– A teacher at Benito Juarez High School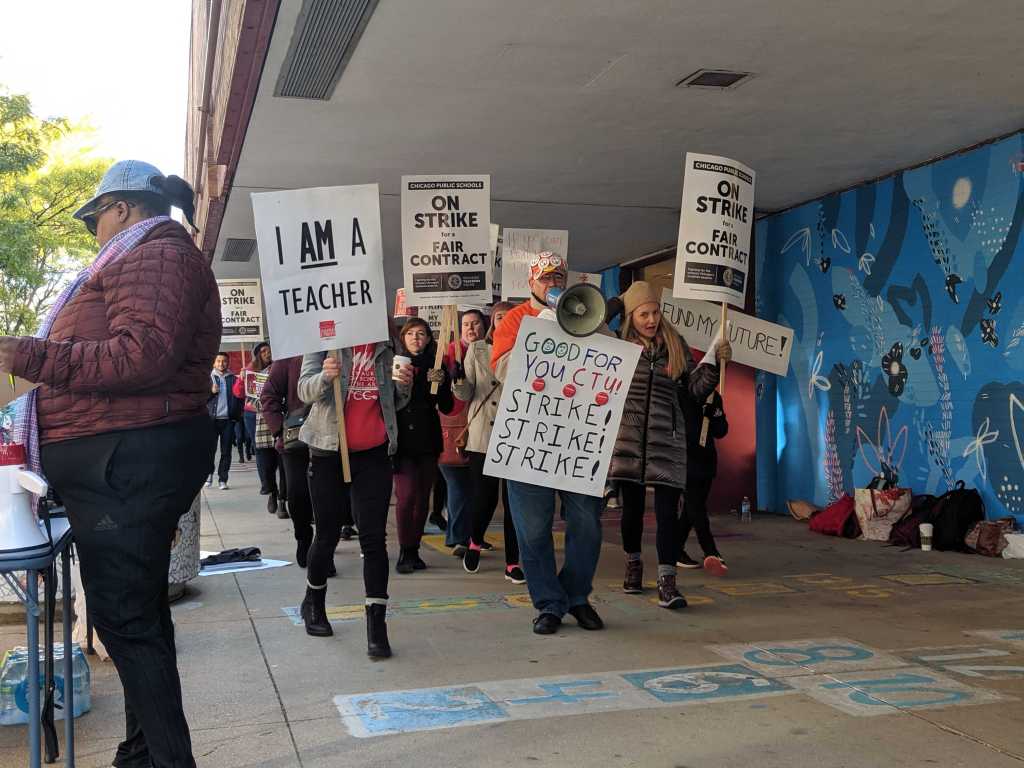 Salary
"We are being portrayed as if we are greedy and just want to get paid more. Do I think the raises are great? No. But I would be OK with them if students were receiving the services they need."
– Chelsea Hosler
"I have a small two-bedroom place. And I don't take vacations. I just take care of myself and my son. I can barely keep up with cost of living increases. It's not like we're asking to live a luxurious life, but we just want to remain in the city because we have to." – Megan Fennelly, veteran teacher at Monroe Elementary
"I used to teach at a high school and was able to take on an athletic director position. Once I took it on I found out that in CPS that's not a paid position. … Think about all the work that goes into organizing a high school athletic program. Luckily, I was able to work with my principal to get a small $5,000 stipend together for it. But there's nothing in the contract right now that says athletic directors deserve to get paid. Only coaches get paid but they haven't gotten raises in a long time."
– Scott Legan, who teaches at Philip Armour Elementary School
"People need to be recognized for not just the work they do in the classroom but that they provide to the school community overall. So many people are willing to tutor or coach after school. We have a lot of people who want to go that extra mile for their students. But the conflict is we're spending upwards of two hours after work helping our students and that's time that's being taken away from my family. So we need to be compensated equitably for that."
– Scott Legan
Costs
"I feel like we don't get the respect we deserve as teachers. I have a Master's degree from a great school. In what other profession would I be responsible for buying copying paper?"
– Anonymous Northwest Side teacher
"I am paying out of my own pocket to provide the things my kids need to be successful. We would never ask [other professionals] to be OK with that."
– Chelsea Hosler
Loss Of Prep Time
"It is a rare occasion I get to sit down and enjoy a lunch."
– Anonymous Northwest Side teacher
"But sometimes it's just a chance for me to catch my breath. Prep-time is a big issue among a lot of teachers."
– Chelsea Hosler
Do stories like this matter to you? Subscribe to Block Club Chicago. Every dime we make funds reporting from Chicago's neighborhoods.